11 best Christmas gifts for board game lovers 2021
Plenty to play on the sleigh.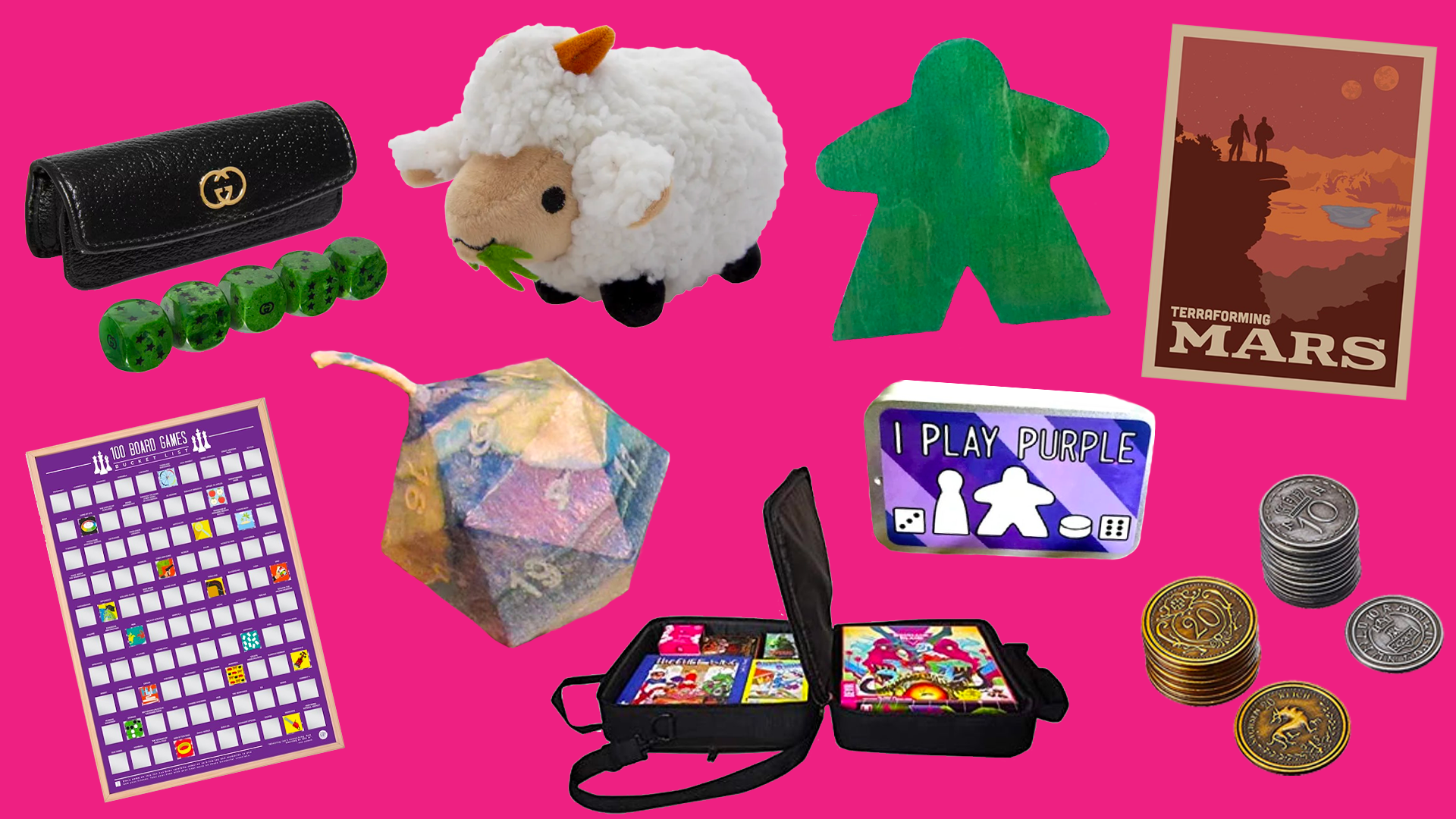 It's that time of year where we're desperately looking for the perfect present ideas and if your recipients happen to love the tabletop, then we have a selection of the best Christmas gifts for board game lovers. It can be extremely tempting to just buy people another board game to add to their collection - from co-op board games to two-player tabletop titles - but getting the right board game can be an expensive risk that you might not want to take if you're not sure.
That's why we've curated a list of gift ideas designed for people who love playing board games, that aren't actually board games. Whether they enjoy getting snug on the sofa, want to display their affinity for board games at home or need a sturdy way of carrying their collection, our suggestions should be able to accommodate all these needs and tastes. Tick off the names on your list with seven of the best Christmas gift ideas for board game lovers.
Best Christmas gifts for board game lovers
---
Cuddly Catan-themed plush toys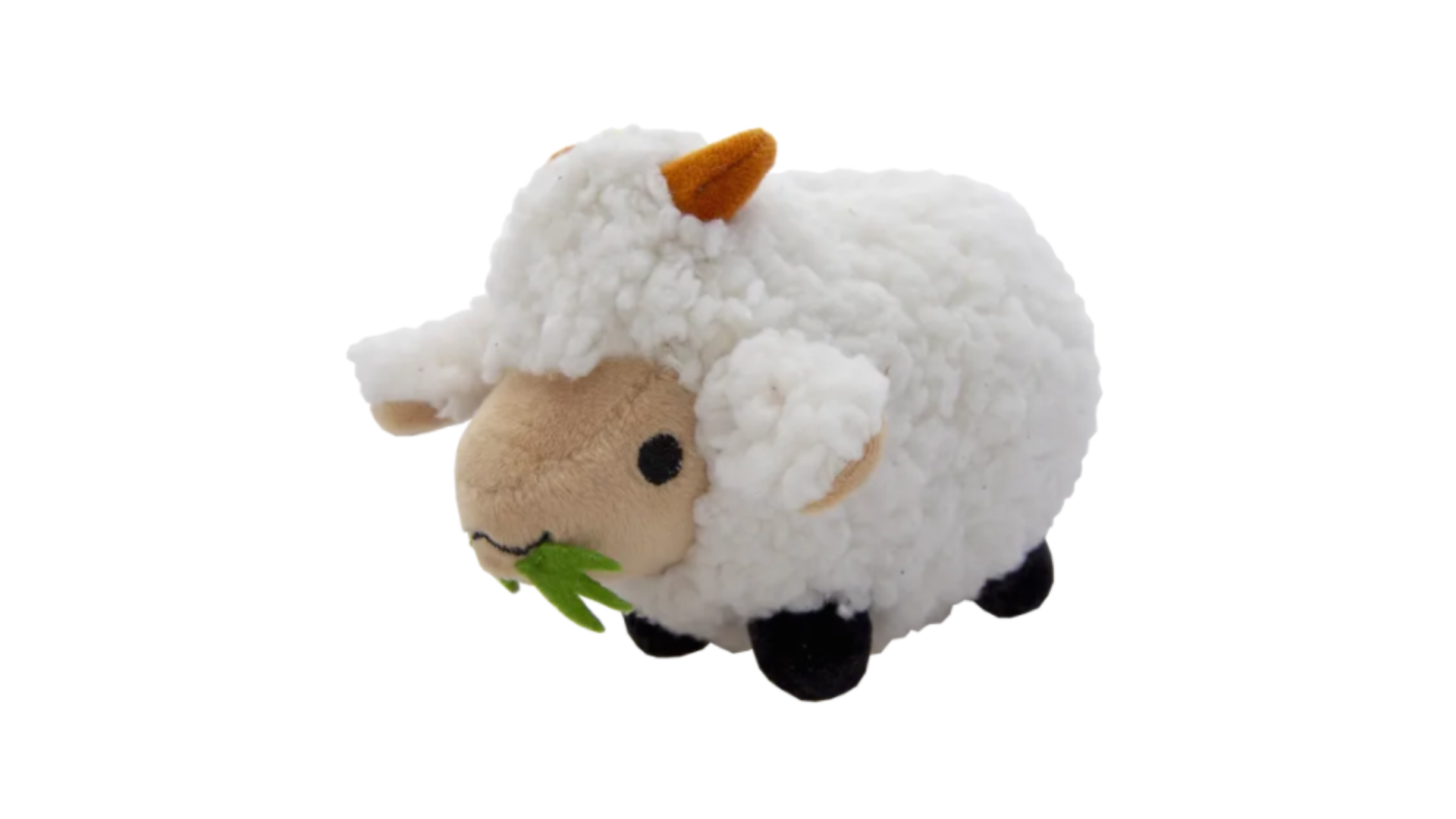 Revealed at the very beginning of 2021, these adorable cuddly plush toys are personified versions of the classic resources found in the beginner board game Catan. The two sheep - one is a reference to the robber token in the game - seem fairly straightforward. The other toys in the collection are rather more bizarre, but no less cute. A smiley log, brick, ore and wheat are also featured, paying homage to the elements players need to build their various settlements, roads and cities in Catan.
If your friend, family member or loved one happens to be a big fan of the beloved board game, and especially of any of the specific resources in the game, then a 'Catanimal' plush toy could be exactly what they're looking to put on their pillows. Alternatively, you could even get one for a friend or family member's child to play with, preparing them for the board game sessions to come.
Buy a cuddly Catan-themed plush toy from the Catan Shop
---
D20 candles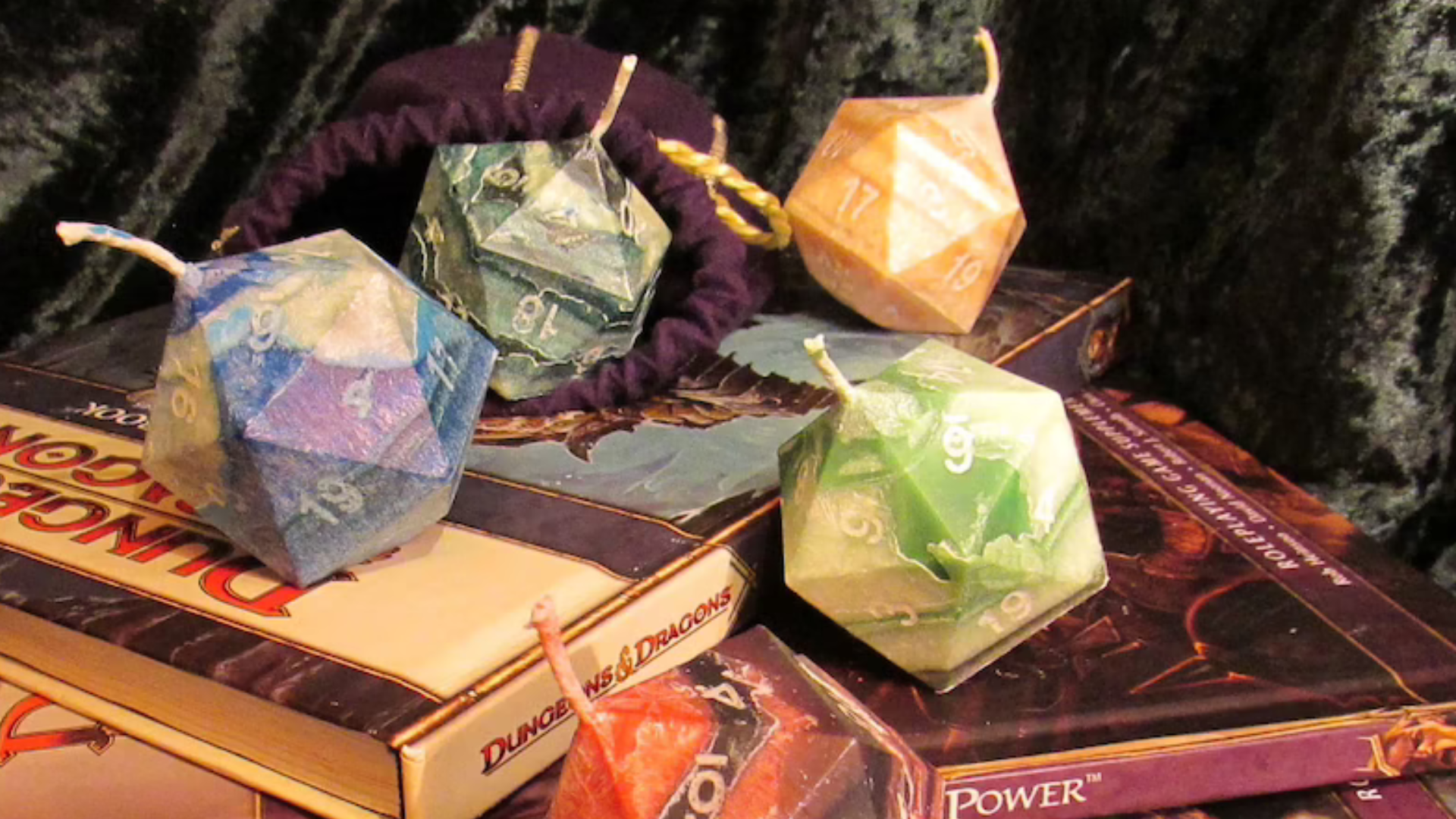 When it's dark and cold there's nothing quite like the inviting glow of a candle, especially if that candle happens to be in the shape of a d20. These d20 shaped candles are ideal for tabletop gamers who want to make their home a little more welcoming and well-lit. We've specifically included the Wild Mage d20 candle from the Spirit of the Wilds Etsy store because it randomly selects one candle from their collection, but the store has a selection of natural-smelling candles for buyers to choose from themselves.
These candles burn cleanly, meaning that they do not produce any smoke, and are made from sustainably sourced beeswax and natural essential oils. If your special someone has their own unique d20, then Spirit of the Wilds can even replicate it in candle form for you. Offer a comforting glow to someone who appreciates their dice with this particular present.
Buy D20 candles from SpiritoftheWilds on Etsy
---
Board game posters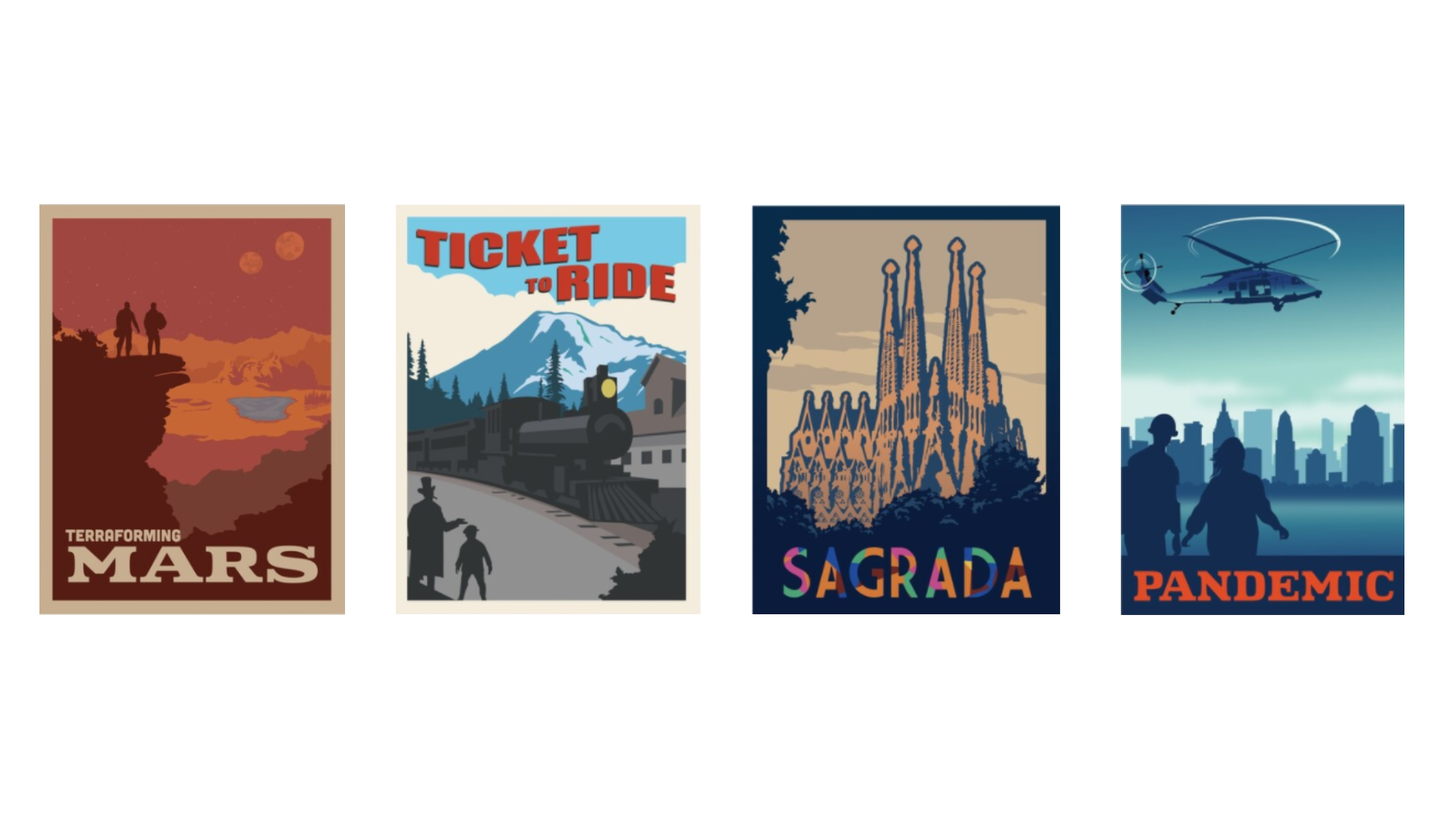 Some board games have such iconic visual designs that they're worth celebrating, which is what these board game-inspired posters do. They're not one-to-one representations of the artwork for the board games they reference, but they tastefully evoke the ideas and themes of the titles they're based on. For example, the Ticket to Ride poster features a block print of a train coming into the station, whilst the Terraforming Mars design depicts an image of astronauts exploring the Red Planet.
These posters are a perfect way for board game lovers to express their enthusiasm for the hobby and display a knack for interior design. Who ever said that board game art couldn't be smart and very adult? Getting your friends one of these posters will help them find the balance between impressing the relatives and treasuring their beloved hobby.
Buy the Terraforming Mars poster from MeepleDesign at Redbubble
Buy the Ticket to Ride poster from MeepleDesign at Redbubble
Buy the Sagrada poster from MeepleDesign at Redbubble
Buy the Pandemic poster from Meeple Design at Redbubble
---
Board game bag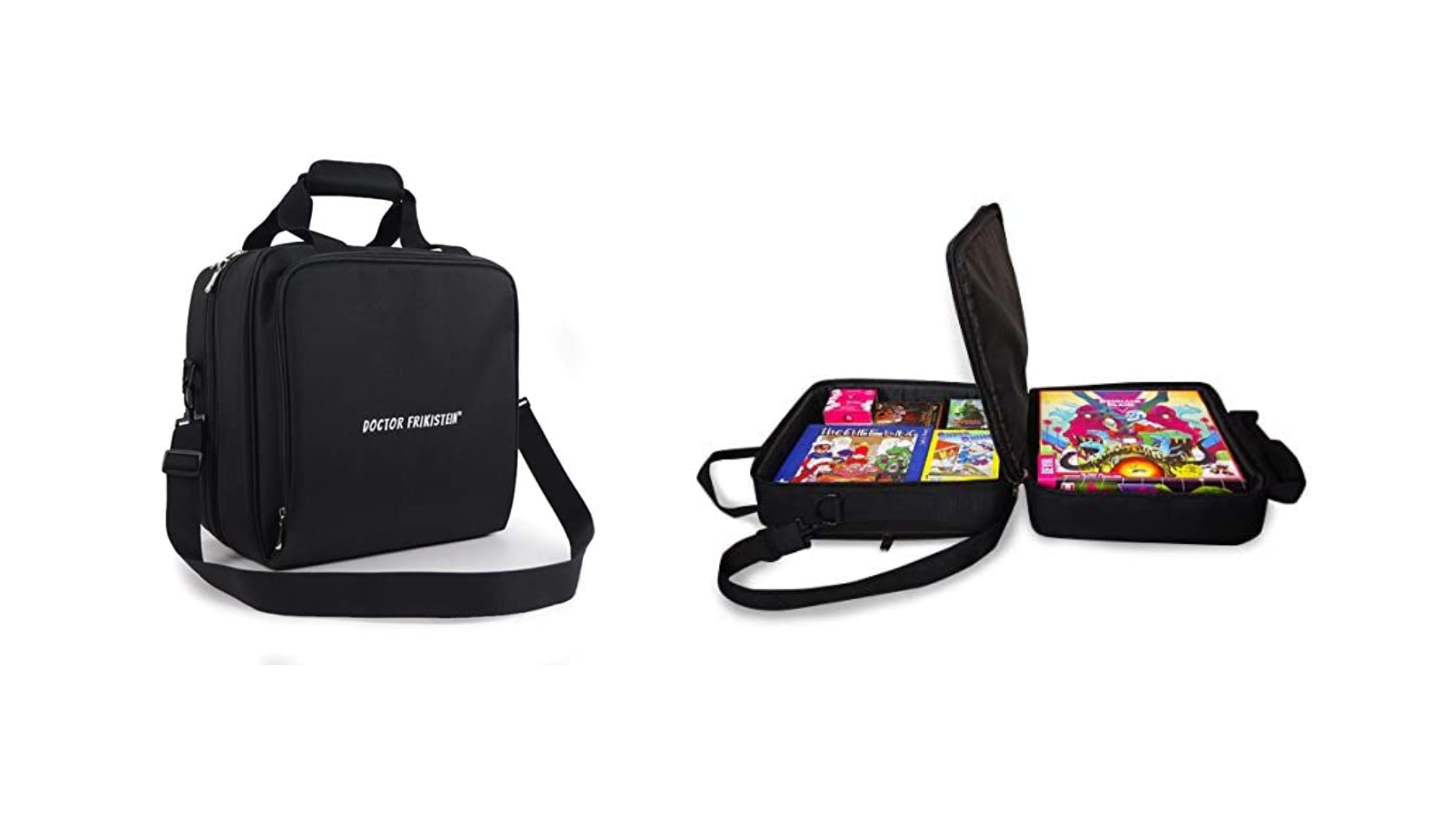 As any board game enthusiast knows, besides trying to convince people to play with you, the hardest thing about the hobby is having to lug your games around without the luxury of a car. Which is why this travel bag that's designed to carry board games is the ideal gift for people who regularly like to share their tabletop titles with others. Featuring two large inside padded compartments, as well as an outside compartment that's perfect for smaller games, this game travel bag should make friends and family's board game lives much easier.
Besides the handle at the top, the bag also comes with a larger shoulder strap and a trolley sleeve to enable users to attach it to their wheelie suitcases, making it more than suitable for taking on a tabletop holiday or using to carry home goodies from conventions - I know we certainly could have used one for our trip to Essen Spiel 2021. Sometimes the best gifts are the most practical ones.
Buy the board game bag from Amazon UK
---
Board game shelving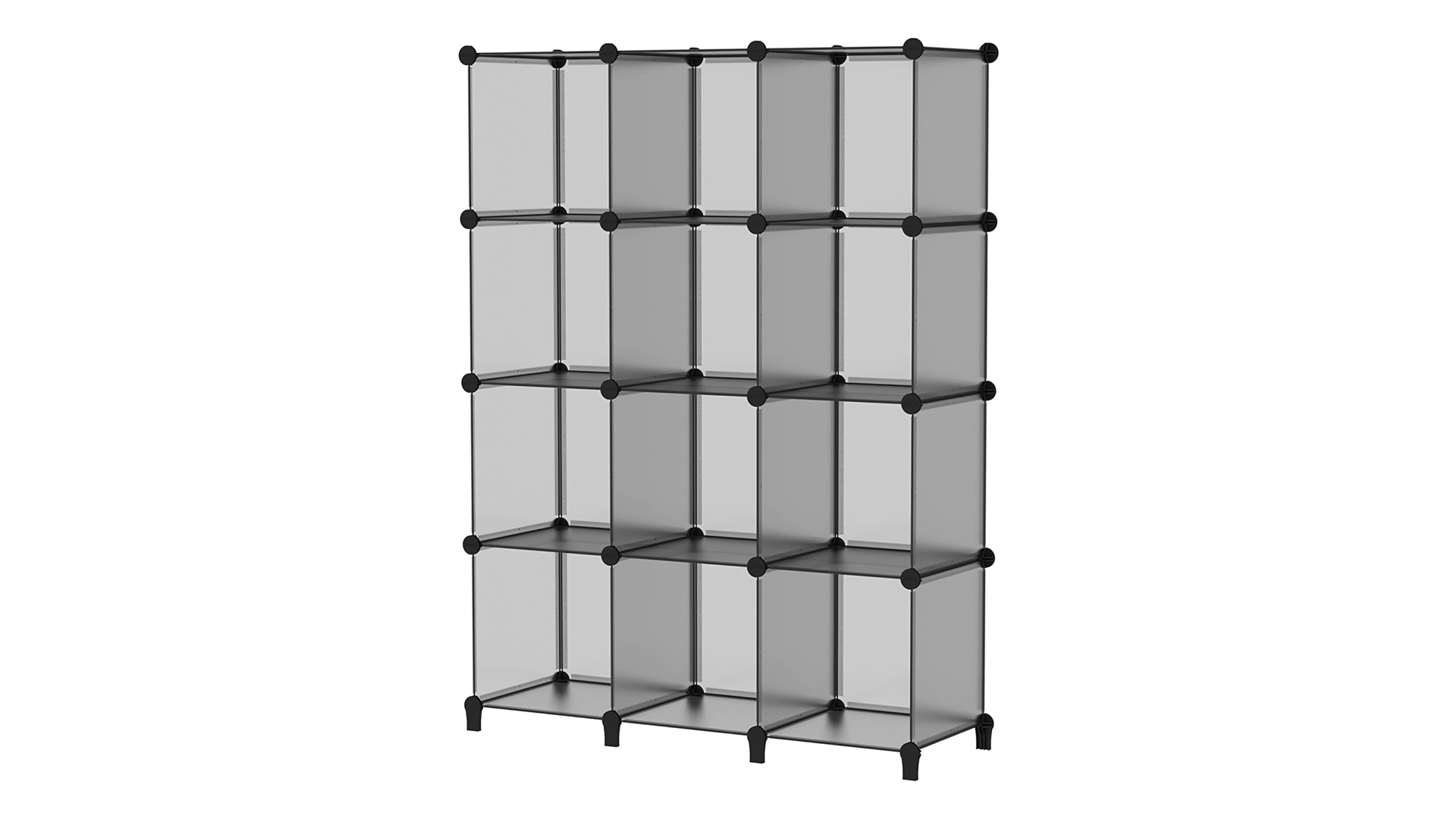 Speaking of practicality, this SIMPDIY storage unit could offer a fitting solution to anyone's disorganised board game collection. Kallax-style storage solutions are all the rage at the moment, but not everyone can afford a fancy piece of Ikea furniture, which is why this SIMPDIY option is a good alternative - because it provides a similar kind of shape as a traditional Kallax unit, but for less.
The cubic cubbies are perfect for stacking board games in, with plenty of space available for all sorts of tabletop titles. This storage unit is available in semi-transparent and opaque finishes, allowing its owners to get a nice view of their beloved collection from multiple angles in their home. Help your board game loving friends and family better organise their collection with this SIMPDIY storage unit.
Buy board game shelving from Amazon UK
---
Board game bucket list scratch-off board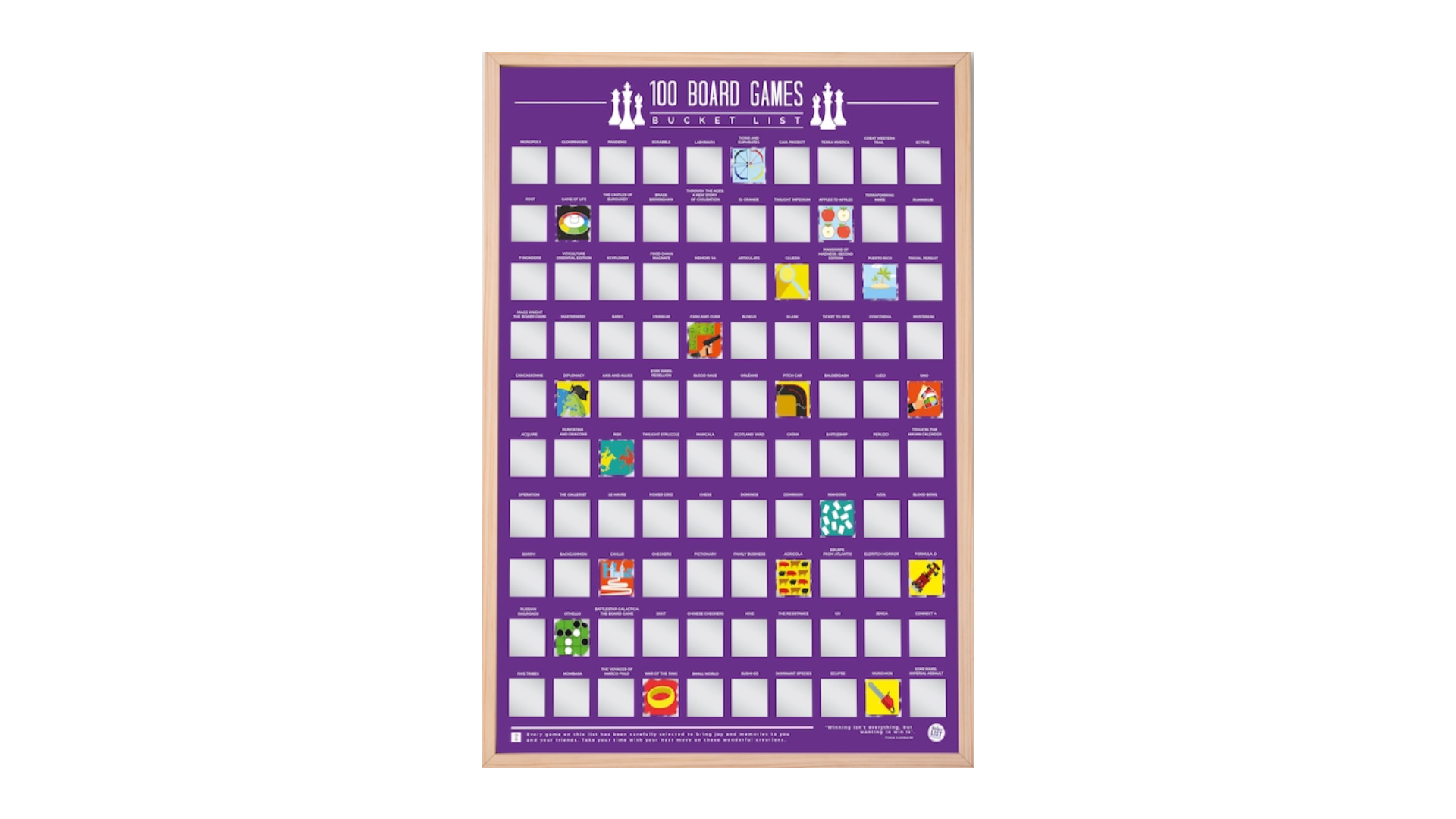 Finding suggestions for new board games to play can be tricky, especially if you're new to the hobby and don't know what's good. Other than perusing the many board game lists right here on Dicebreaker, getting someone a poster covered in suggestions for new games to play is another option. This 100 board games bucket list is a stylish way of encouraging friends and family to try out some games they may not have experienced before - from family favourites like Cranium to hidden gems like Bang! or Cash 'n' Guns.
Every time that they manage to play a game featured on the board games bucket list, they'll be able to have the satisfaction of scratching off its panel on the poster to reveal a neat little image evoking the title underneath. Not only is this a great decoration for a board game lover's abode, it's also an excuse to get them to play the games you like that are featured on the poster as well - so it's a win-win situation.
Buy the board game bucket list scratch off board from SpinningHatGifts at Etsy
---
Meeple Christmas decorations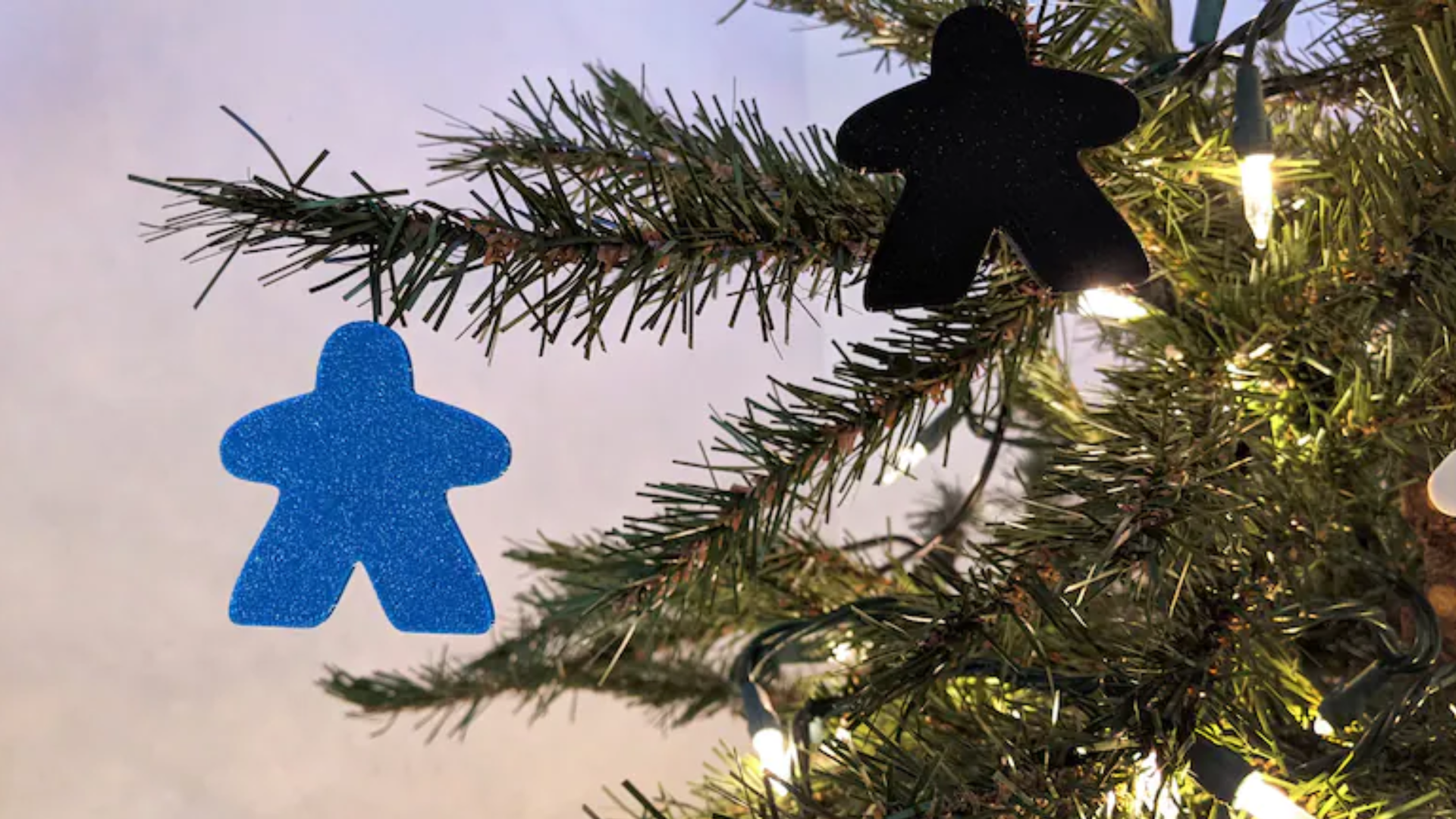 This is possibly one gift that you'd want the recipient to open before December 25th, simply because it's best used in the run-up to Christmas. These meeple Christmas ornaments are adorable handmade decorations designed to be hung on any board game lover's Christmas tree. Coming in a variety of colours - modelled after the standard player colours usually found in a board game - including red, green, blue and yellow, these meeple decorations are tasteful little reminders of one's love for the hobby.
Buy the Meeple Christmas decorations from 8BitBuilder at Etsy
---
Meeple coasters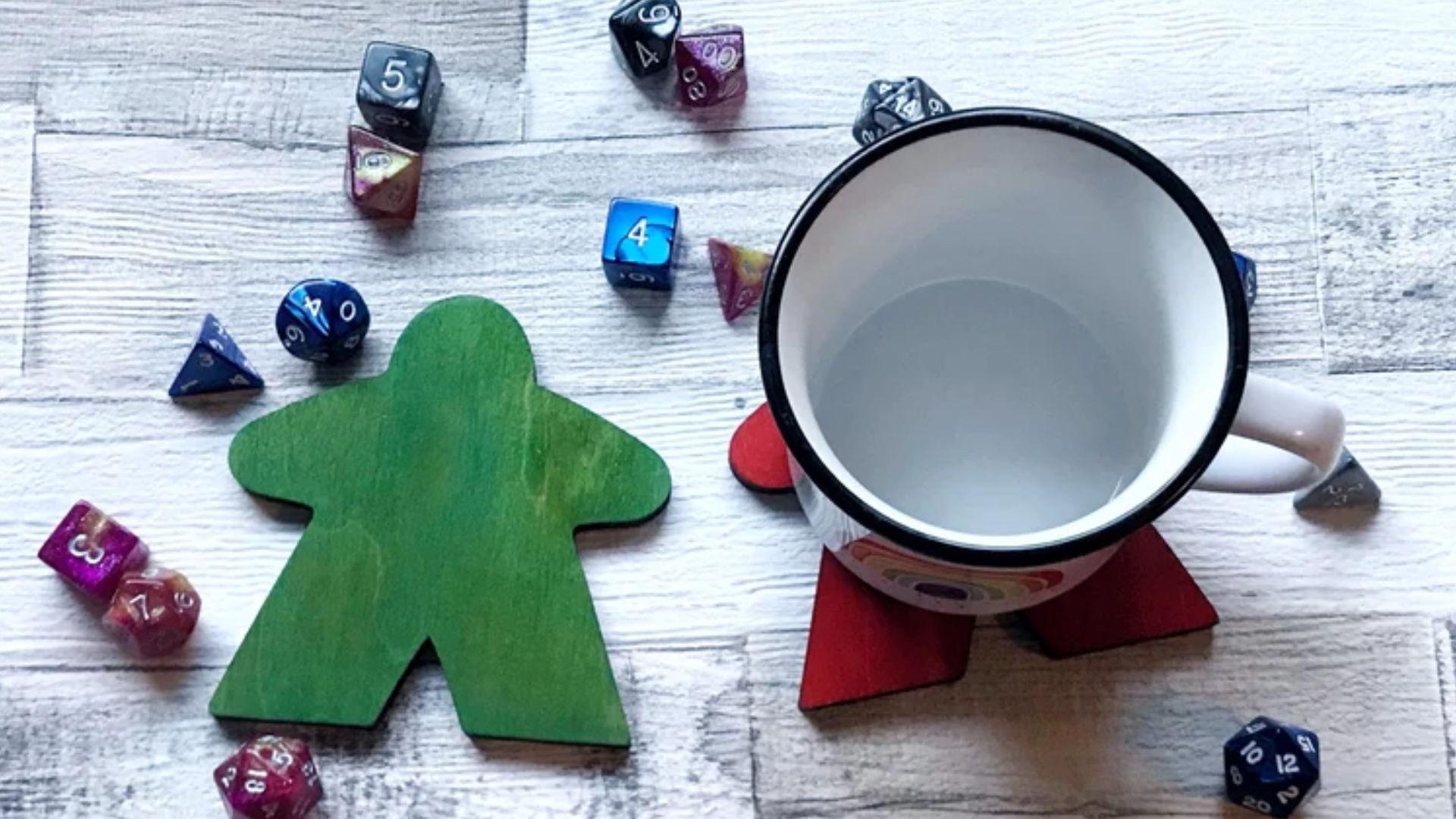 The last thing anyone needs is coffee mug rings and sticky spills on their table, especially when they're trying to play games on them! Thankfully, some bright spark invented coasters to prevent such incidents. These snazzy meeple coasters are practical, while also announcing to all and sundry that this is a gaming table. For games.
This is one of those excellent gifts that is not only a lovely present for the receiver, but they help the giver too. Scared to take your favourite games round to a certain friend's house because of that time your Carcassonne tiles got covered in gooey fizzy pop residue? Just present them with a lovely, handmade gift that will also protect your precious game components when you visit. They're also dead handy for intimidation too. Just pick your arch-rival's favourite meeple colour, then, during the game, slam your drink down forcefully while maintaining eye contact. Just not too forcefully because you'll make a mess and that sort of misses the point of the coasters in the first place.
Buy the Meeple coasters from BindwoodGaming at Etsy
---
Board Game Survival Kit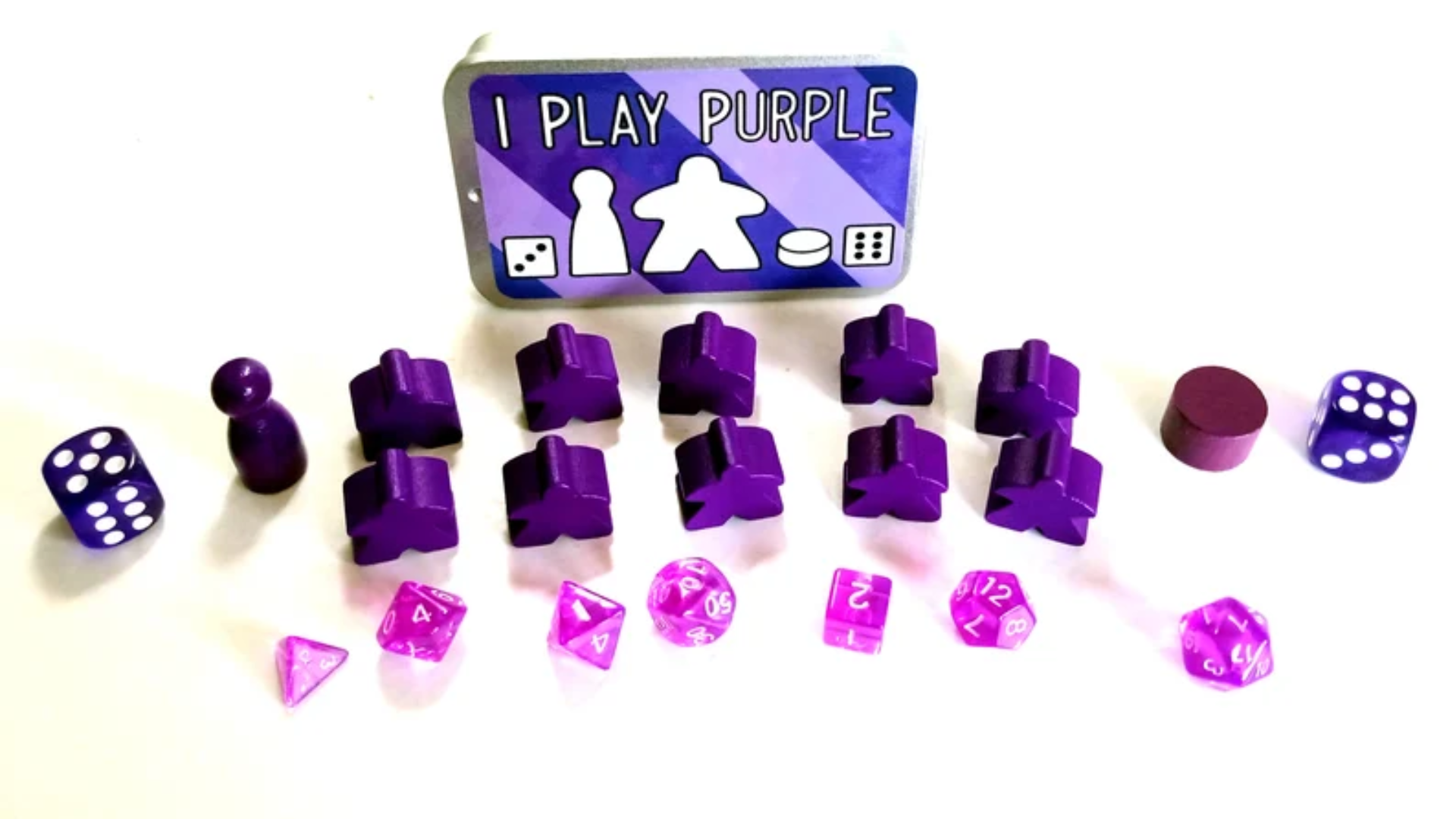 We all know someone who picks the same colour piece every time. Maybe they even get a little irate if someone takes their favourite, or the game of the day doesn't even have that colour. Fear not, these super cute little accessory sets may be the answer to preventing fisticuffs at the gaming table! They come in a variety of colours, I just picked purple for the picture because it's the best, obviously.
In addition to preventing chromatic affrays, the Board Game Survival Kit is just handy to have, especially for someone who frequently travels to games. Not sure what's on the cards? Just throw the tin in a bag and every eventuality will be covered. As well as the colour selection, the kits have a bunch of contents options at different price points, though even the most tricked out tins won't break the bank, making this a perfect stocking stuffer if you have lots of people to buy for.
Buy the board game survival kit from AtikinGames at Etsy
---
Scythe metal coins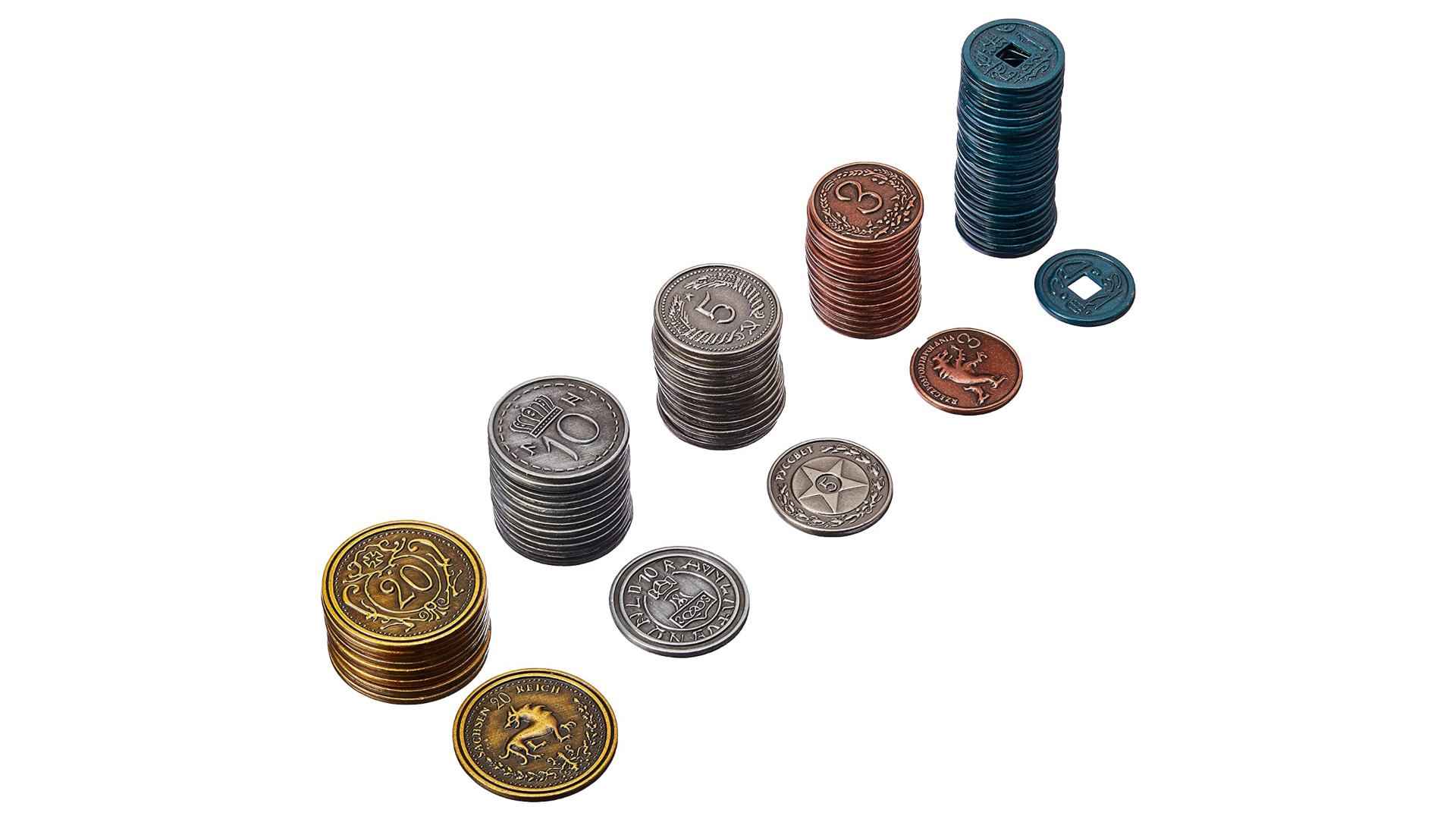 There's something satisfying about a heavy fistful of change, even if the currency in question won't even buy you a Freddo. Anyone who has been to a LARP that uses metal coinage knows how much the clink of coins can add to a game's atmosphere. Now you can give the Scythe fan in your life the warming feeling of cold, hard cash and they don't even have to go camping in a field in the Midlands to get it.
The set contains eighty coins in five different denominations and they give a real premium upgrade over regular card tokens. While they are intended for Scythe, they can be used in plenty of other games. Gold pieces in D&D? Sure! Magic: The Gathering life tokens? Why not! Whatever your chosen recipient plays, they're sure to get plenty of use out of these.
Buy the Scythe metal coins at Amazon UK and Amazon US
---
Gucci Dice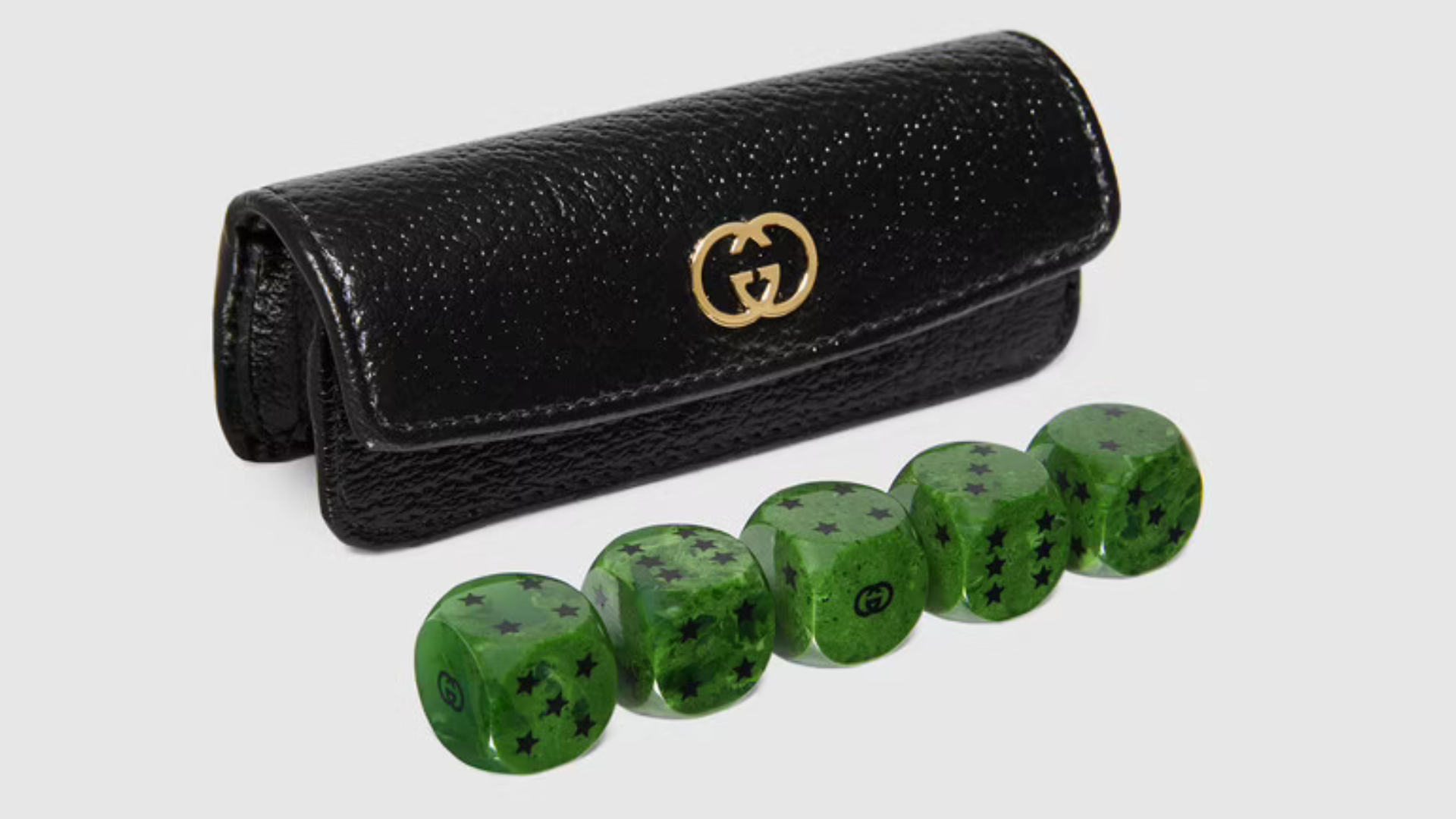 A nice dice set is a point of pride for any board game lover and many have their favourites, but you can take this even further beyond your standard metal or gradient dice sets. This set of dice from Gucci - yeah, that Gucci, the fashion company that now has its own film starring Lady Gaga - are made from a deep emerald green resin, featuring a stars and interlocking G design, come in their own Demetra case and cost almost £300 ($400).
Unless you know someone incredibly fashionable who loves tabletop gaming, and that you're willing to spend such a significant sum of money on, this entry is very much a bit of a festive Dicebreaker joke that we wanted to include.