Azul is getting a new expansion and a card game this year
A game of tile and error.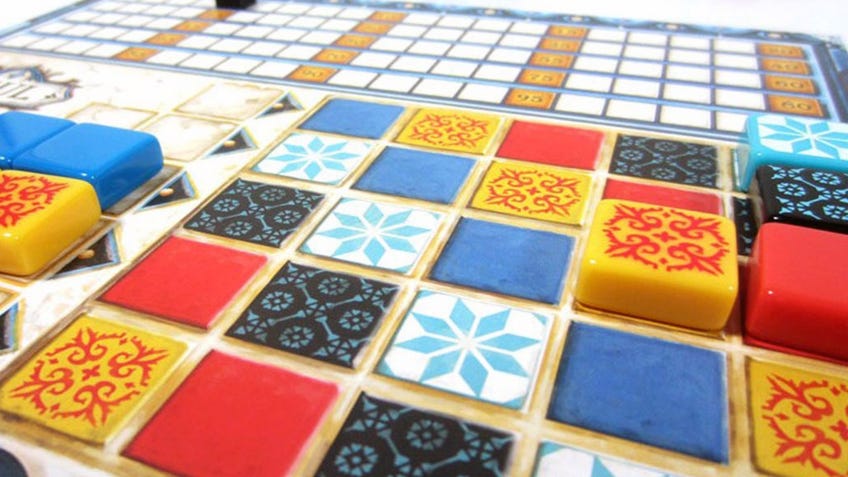 Abstract beginner board game Azul is getting a new expansion and an upcoming card game spin-off later this year.
Titled Azul: Crystal Mosaic, the expansion includes four plastic board overlays with raised edges (these help keep the game's tile components neatly in place) that are fully compatible with the original game's boards, as well as new double-sided game boards that present new strategic possibilities, such as which tiles to prioritise drafting. (Thanks, BoardGameGeek.)
From designer Michael Kiesling, the original Azul board game won the Spiel des Jahres - the German Game of the Year prize - in 2018 and has shifted over a million copies since. One of the best board games of recent years, it sees you drafting brightly-coloured tiles, then placing them on a board in order to create beautiful pattern sets. Thematically, you're decorating the walls of the Royal Palace of Evora in Portugal.
Azul has received two sequels following its release. 2018's Azul: Stained Glass of Sinatra sees you selecting ornate glass panes to complete windows, while in last year's Azul: Summer Pavilion you use diamond-shaped tiles to build a grandiose pavilion.
Publisher Next Move has additionally revealed a new Azul spin-off of its card game 5211, featuring individual cards sporting graphics in the style of Azul's vibrant tiles. In the game, players place cards to try and score for the most common colour - with the twist being that if too many cards of a colour are played, they become worth nothing.
The studio also has upcoming board game release Beez in the pipeline, which involves controlling a hive of bees to gather sweet, sweet nectar.
Azul: Crystal Mosaic will be released in April 2020 for retailers at $14.99 (£11.55). Release details for the Azul version of 5211 are yet to be confirmed.