Gamewright releases free print and play version of Sneaky Cards for socially distanced stealth
Can you win? Sure-you-can!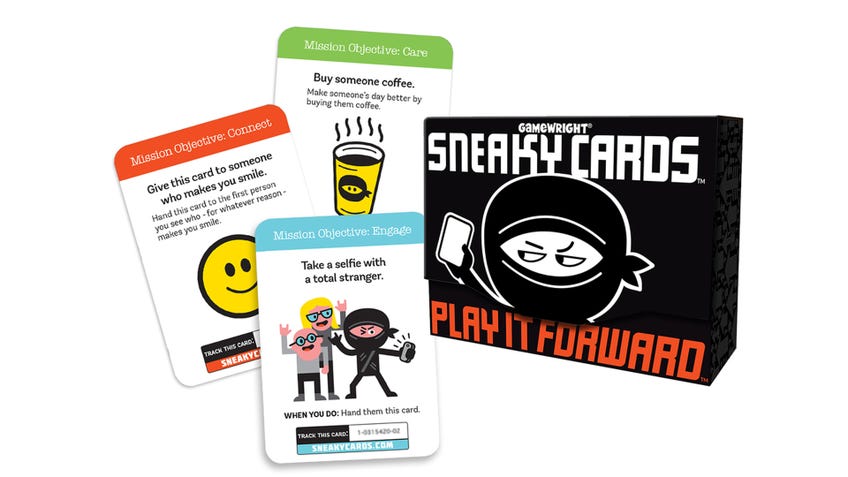 Sushi Go publisher Gamewright has released a free print and play version of its social scavenger hunt game Sneaky Cards, aimed specifically at people practising social distancing.
Sneaky Cards, for those not in the know, is a ninja-themed social game in which the player draws a card to receive a mission. Missions vary from such things as buying someone a coffee, taking a selfie with a stranger or lying down in a public place until someone checks on you.
Once a mission is completed, the card is passed to the person who helped achieve the objective (the coffee recipient, say) - they then take on the mission and so the game spreads. Each card has a serial number that allows it to be tracked across the world. It's kind of like a party game, only nobody knows they're playing with you.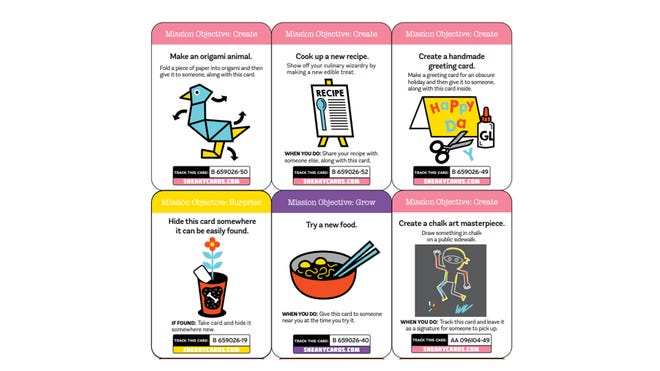 The Sneaky Cards Print & Play game contains 18 cards, each belonging to one of the base game's five mission types - Create, Surprise, Grow, Solve and Care - and includes missions such as encouraging a local business, going stargazing, cooking up a new recipe and er, painting a rock.
Sneaky Cards is the creation of Cody Borst, a designer who is also well known in the escape game industry, having hand built 23 escape rooms and licensed 34 designs for use across the United States.
Gamewright, of course, is known for publishing co-op adventure game Forbidden Island and its sequels Forbidden Desert and Forbidden Sky. It is also responsible for publishing Sushi Roll, the dice rolling version of Sushi Go that has caused some fairly savage arguments in the Dicebreaker office.
While it's a smaller variant - the two existing Sneaky Cards games each have 55 missions - the print and play version seems like a nice way to mix things up during the COVID 19 pandemic which has made it significantly harder to socialise, exercise and, of course, play tabletop games.
You can download Sneaky Cards Print & Play on the Gamewright website. The ninja outfit depicted on the cards is presumably optional although, usefully, it does cover the nose and mouth.