Castle TriCon is an online board game convention held in a 3D virtual world
Taking place next week.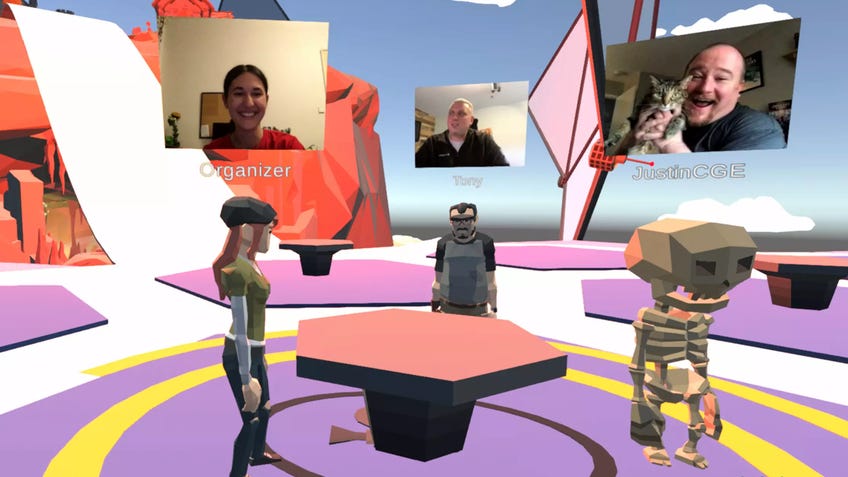 The publishers behind Codenames, The King's Dilemma and Volt have announced a free online board game convention hosted in a Second Life-like virtual world, and it's being held next week.
Castle TriCon is jointly organised by Czech Games Edition, Horrible Guild and Heidelbär Games, which describe the event as an online replacement for the in-person 'Castle Event' held at an actual castle, Stahleck Castle, in Germany.
Unlike various other tabletop conventions that have moved online in the wake of the COVID-19 pandemic - including this year's Gen Con, UK Games Expo, Essen Spiel and PAX Online x EGX Digital, run by Dicebreaker owner ReedPop and taking place this week - Castle TriCon doesn't consist of a website linking to various video streams and interactive virtual demos. Instead, the event is being held entirely in a dedicated 3D virtual environment, similar to massively multiplayer PC games such as Second Life and World of Warcraft.
Players create an avatar to walk around the virtual world, able to interact with other attendees and stroll up to tables featuring demos of new and upcoming releases from the three publishers. Each table will have a host to explain the game's rules and help players learn.
Several of the demos will be hosted via existing board game platform Tabletopia, with some games running inside dedicated apps, such as the browser-based Codenames Online. A Tabletopia account won't be required to play the demos, with the whole of Castle TriCon free to attend for those who register for a ticket.
Castle TriCon will run from next Thursday, September 24th, to Sunday September 27th. Following dedicated days for media and retailers in the week, the show will be open to the public during the weekend. The app required to play/attend the show is only available to download on PC.