Dungeons & Dragons co-op board game Adventure Begins announced, out in October
Gateway game first revealed back in January.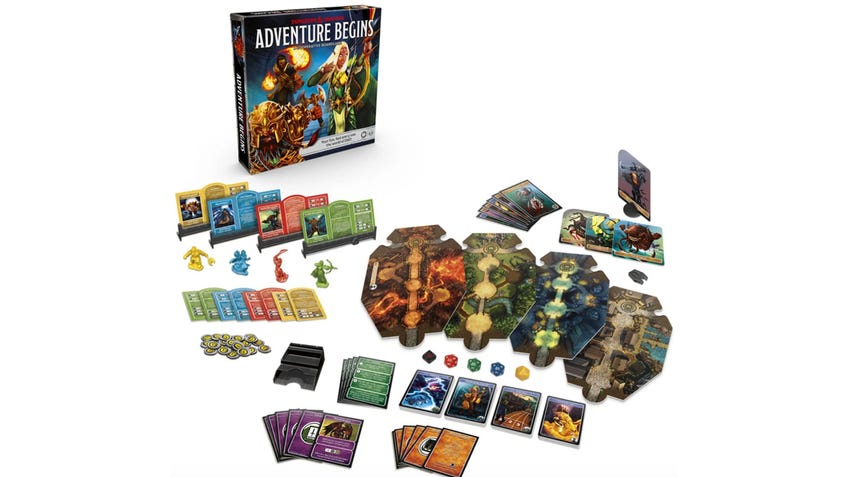 A new co-op Dungeons & Dragons board game, Adventure Begins, has been revealed ahead of its release this autumn.
Adventure Begins is a co-op game for two to four players that's designed to be a gateway game into the wider world of D&D. Set in the land of Neverwinter, the dungeon-crawling game sees players venturing out to defeat fearsome monsters before eventually challenging the grand boss of the area. Potential bosses include classic D&D monsters such as a beholder, green dragon, fire giant and kraken.
Step into the exciting world of #DnD with the Dungeons & Dragons Adventure Begins board game! Choose your characters, face fantastic obstacles, and defeat the Boss monster terrorizing the realm.

Preorder: https://t.co/5vHvq87PzG pic.twitter.com/d8JGnV6XDu

— Dungeons & Dragons (@Wizards_DnD) July 22, 2020
There are four different playable characters to choose from, each one representing a character build found in a game of Dungeons & Dragons, such as an elven bard and a dwarven fighter. Players also take it in turns to be the dungeon master for the board game, narrating the story to the other players.
Adventure Begins was first revealed by Dicebreaker earlier this year, following its appearance at the Toy Fair trade show in January. The game appeared under two different titles - Adventure Begins and Adventurer's Gate - with similar but different box artwork.
Dungeons & Dragons maker Wizards of the Coast has now confirmed the upcoming game's title as Dungeons & Dungeons: Adventure Begins via Twitter, announcing it for release in October. The game will cost $25 (£19).
Adventure Begins joins a number of other Dungeons & Dragons board games released over the years, such as dungeon-crawlers Tomb of Annihilation and Waterdeep - Dungeon of the Mad Mage - based on the tabletop RPG's campaigns - unconventional horror spin-off Betrayal at Baldur's Gate, and party games Rock, Paper, Wizard and Dungeon Mayhem.