Magic: The Gathering release schedule 2023: Every upcoming MTG set and release date
Phyrexians, Hobbits and Doctors, oh my!
Magic: The Gathering's 2023 release schedule is absolutely filled to the brim with Phyrexians. After a few very busy years, Wizards of the Coast shows no sign of slowing releases down, and that's reflected in the fact that we're looking ahead at a very packed 2023 for MTG players and collectors.
It does mean that we're probably in another perpetual preview cycle - but if you're into that, that's good news. We've gone ahead and split the MTG releases of 2023 into Standard and non-Standard, so you can peruse whichever section takes your fancy. Let's jump in, shall we?
MTG release dates 2023
Dominaria Remastered - January 13th
Phyrexia: All Will Be One - February 10th
March of the Machine - April 21st
March of the Machine: The Aftermath - May 12th
Shadows over Innistrad Remastered (MTG Arena) - mid-2023
Wilds of Eldraine - Q3 2023
Universes Beyond - The Lord of the Rings: Tales of Middle-Earth - Q3 2023
The Lost Caverns of Ixalan - Q4 2023
Universes Beyond - Doctor Who Commander Decks - Q4 2023
---
MTG Standard Sets 2023
Lore-wise, MTG's 2023 Standard sets is where it's all happening this year. Based on what we've seen, it's quite possible that the Phyrexians are about to take over and turn everyone into living machines. It's pretty exciting for lore nerds, and the cards look cool too, so we're excited about all of the new sets this year. We're also getting a sneaky extra set again, but we'll talk about that when we get to it.
Phyrexia: All Will Be One
Release date: February 10th
Our first MTG Standard set of 2023 began previewing cards fairly early, and it seems to mark a big turning point in the lore for the game, with a lot of heroes being processed and becoming Phyrexians. It's an exciting - if slightly unsettling - prospect, and we're excited to see how things change going forward.
March of the Machine
Release date: April 21st
March of the Machine will have us seeing the end of this Phyrexian war, whether the goodies win or the planes are changed forever. We're assuming that even a win here could be very costly though, because of the next Standard set in our list.
March of the Machine: The Aftermath
Release date: May 12th
March of the Machine: The Aftermath isn't going to be a full-sized Standard MTG set, but will apparently be designed to help wrap things up. We're expecting it to serve as a transitional set of some sort between how things were and how they're going to be. It's exciting, but we're going to wait for more information before getting our hopes up too high.
Wilds of Eldraine
Release date: Q3 2023
We're assuming that Wilds of Eldraine is going to serve as a proper palette cleanser after the doom and gloom of the Phryexians. Eldraine, for those who don't know, is a fairytale-inspired plane complete with speedy gingerbread men and all sorts of magical creatures. The first Eldraine set wasn't especially well-received, so we're hoping the setting, and the cards within it, might be less obnoxious this time around.
The Lost Caverns of Ixalan
Release date: Q4 2023
Ah Ixalan, what a plane. We've not been to Ixalan in a while, but it's the plane of dinosaurs, pirates, vampires and merfolk. Needless to say, a lot of Commander players are going to be hyped to be getting more of all of those creature types, and we're just happy to see more monkeys in pirate hats. Well, we're actually really hoping for a Ragavan reprint, but we'll see how it goes.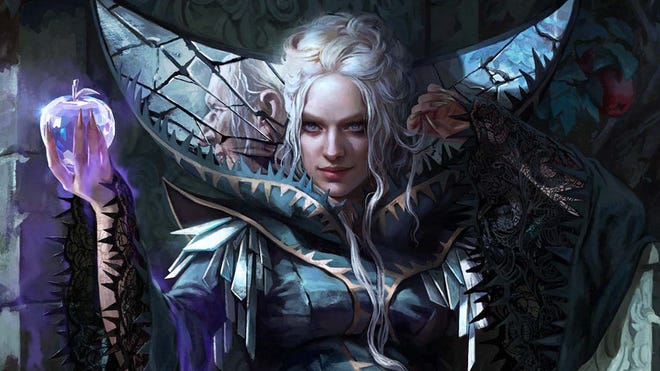 ---
Other MTG releases 2023
We usually find out a few supplemental sets as the year goes on, so this list could grow as we get further into 2023. Even without them, it looks as though we could be in for a lot of fun outside of Standard in MTG, especially when it comes to the Universes Beyond.
Dominaria Remastered
Release date: January 13th
Our first MTG set of 2023 is a doozy, bringing together a collection of cards from a massive 27 different sets and distilling them into one draftable experience. The set's pretty incredible, and we're actually happy with the pricing of it as well - which is a novel experience at this point as a Magic fan.
Shadows over Innistrad Remastered (MTG Arena)
Release date: mid-2023
Shadows over Innistrad Remastered is going to be bringing a plethora of cards from the block into MTG Arena. It's an Arena-only set, which means paper players won't get to enjoy this, but it's always nice to see more of MTG's history being added to the digital version of the game. Maybe one day we'll get four-player games too.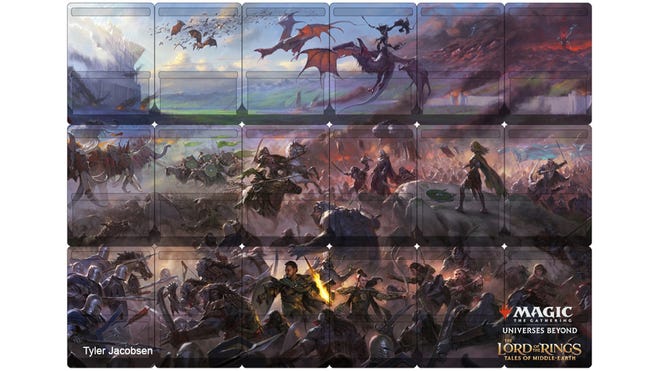 Universes Beyond - The Lord of the Rings: Tales of Middle-Earth
Release date: Q3 2023
Here it is, the first proper crossover set for Magic: The Gathering outside of its D&D releases. It's definitely going to be a big moment for MTG as we finally see how well Wizards of the Coast can implement another universe into the game, but The Lord of the Rings is a fairly safe bet thanks to its classical fantasy setting. We don't know much about the card selection in this set, but there's no doubt in our minds that it's going to be one to keep an eye on.
Universes Beyond - Doctor Who Commander Decks
Release date: Q4 2023
Finally, we have another Universes Beyond set with the Doctor Who Commander decks. This time last year, we'd have been fairly nervous about this, but given how impressive the Warhammer 40,000 Commander decks were, we're actually quite hopeful for how these will be done. The only difference here is that Doctor Who isn't a franchise we think of when it comes to epic battles, so it'll be intriguing to see how everything is implemented while keeping it faithful to the show.
---
Don't forget to check-out our list of MTG Arena codes, and nab yourself a bunch of free boosters and cosmetics.