Cancelled Essen Spiel 2020 board game convention replaced by online event Spiel.Digital
Taking place during October weekend of 'postponed' games fair.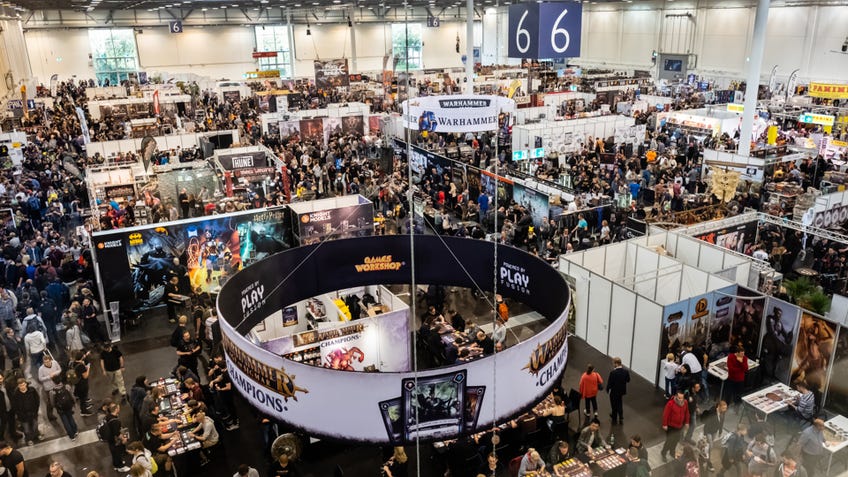 This year's cancelled Essen Spiel board game convention will be replaced by an online event called Spiel.Digital, the organiser of the German games fair has announced.
Friedhelm Merz Verlag confirmed earlier this week that Essen Spiel 2020 would not take place this October as planned due to health concerns in the wake of the worldwide COVID-19 pandemic, which has seen large gatherings restricted across the globe.
The organiser said it had made the decision to 'postpone' the event to 2021 - effectively cancelling this year's event - after "explor[ing] all possibilities for the implementation of Spiel '20, also in coordination with the authorities". Essen Spiel 2021 will take place from October 14th to 17th next year.
"We will not be able to run Spiel '20 on the intended date, either factually or technically," it said.
At the time, no details were given as to any digital replacement for this year's show. Other major tabletop gaming events cancelled due to the coronavirus crisis, including UK Games Expo and Origins Game Fair, have announced counterpart events to be held online in place of the physical conventions.
It has now been revealed that Essen Spiel 2020 will be replaced by a virtual convention later this year, which will take place during the cancelled show's original October 22nd to 25th dates.
We are taking SPIEL to the next level and have been preparing a https://t.co/GmB0JXqMqv for you for several weeks. Let's bring SPIEL online with hundreds of exhibitors, countless new products and a great program. Detailed information will follow. The date will be 22.10.-25.10.20 pic.twitter.com/wd4dcRTinP

— SPIEL@Essen (official) (@SPIEL_Messe) May 19, 2020
Spiel.Digital was announced on Twitter by Friedhelm Merz Verlag, which said that the online event - seemingly in the works for "several weeks" - would feature "hundreds of exhibitors, countless new products and a great program".
No information has been given on where or how Spiel.Digital will be held, the games or publishers included as part of its line-up, or how visitors will be able to 'attend' the online games fair. The announcement tweet said that "detailed information will follow".
Despite the announcement, the website address given for Spiel.Digital - http://spiel.digital - is currently a holding page for the domain name. Replying to users pointing out the apparent oversight, the Essen Spiel Twitter account acknowledged that it owned the URL but didn't shed any light on why it hadn't gone live with the event's website.
We own this already The URL belongs to us. But thank you so much.

— SPIEL@Essen (official) (@SPIEL_Messe) May 19, 2020
Essen Spiel is generally considered to be the world's largest board game convention, with approximately 209,000 visitors last year - a new record for the long-running show. The second-biggest board game event, the US-held Gen Con, is still apparently due to be held this July, despite the ongoing disruption and concern caused by COVID-19.