Get started with Pathfinder RPG for 78p in the latest Humble Bundle
Orcin' them wares.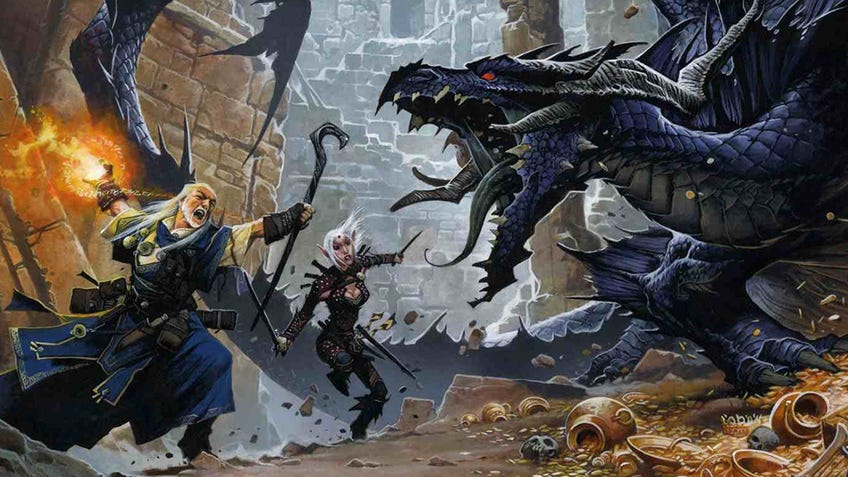 If Dungeons & Dragons doesn't appeal, Pathfinder is an excellent D&D alternative. Luckily, the folks at the mighty Humble Bundle have made it so that you can get started with the Pathfinder RPG for as little as 78p.
They've discounted a raft of Pathfinder digital books, ranging from rulebooks to one-off adventures. Let's take a look at the all the Pathfinder goodness you can net with Humble Bundle - moving from cheapest to priciest.
For around 78p, you can grab the Pathfinder RPG Beginner Box, a core rulebook, 10+ comics and tales, a strategy guide, and your very own bestiary. All of this will set you up well to both play and GM a Pathfinder game.
Upgrading to a not-so-shabby £6.21 will net you a ridiculously high amount of further comics, the mysterious Masks of the Living God adventure, an equipment guide, a second bestiary and advanced rules guides.
Lastly, the princely sum of £11.21 will grant you the final instalment of the thrilling bestiary series, the City of Death adventure (over by the ol' Isle of Terror - take the first exit left on the M25), even more comics and stories (this time with bonus goblins), plus guides to magic, combat, class and more.
Part of all proceeds will - as is Humble tradition - be donated to charity. In this case, your purchases can help out non-profit Star Wars museum Rancho Obi-Wan.