Best new board games in July 2021: latest tabletop release dates
Hot releases half-way through the year.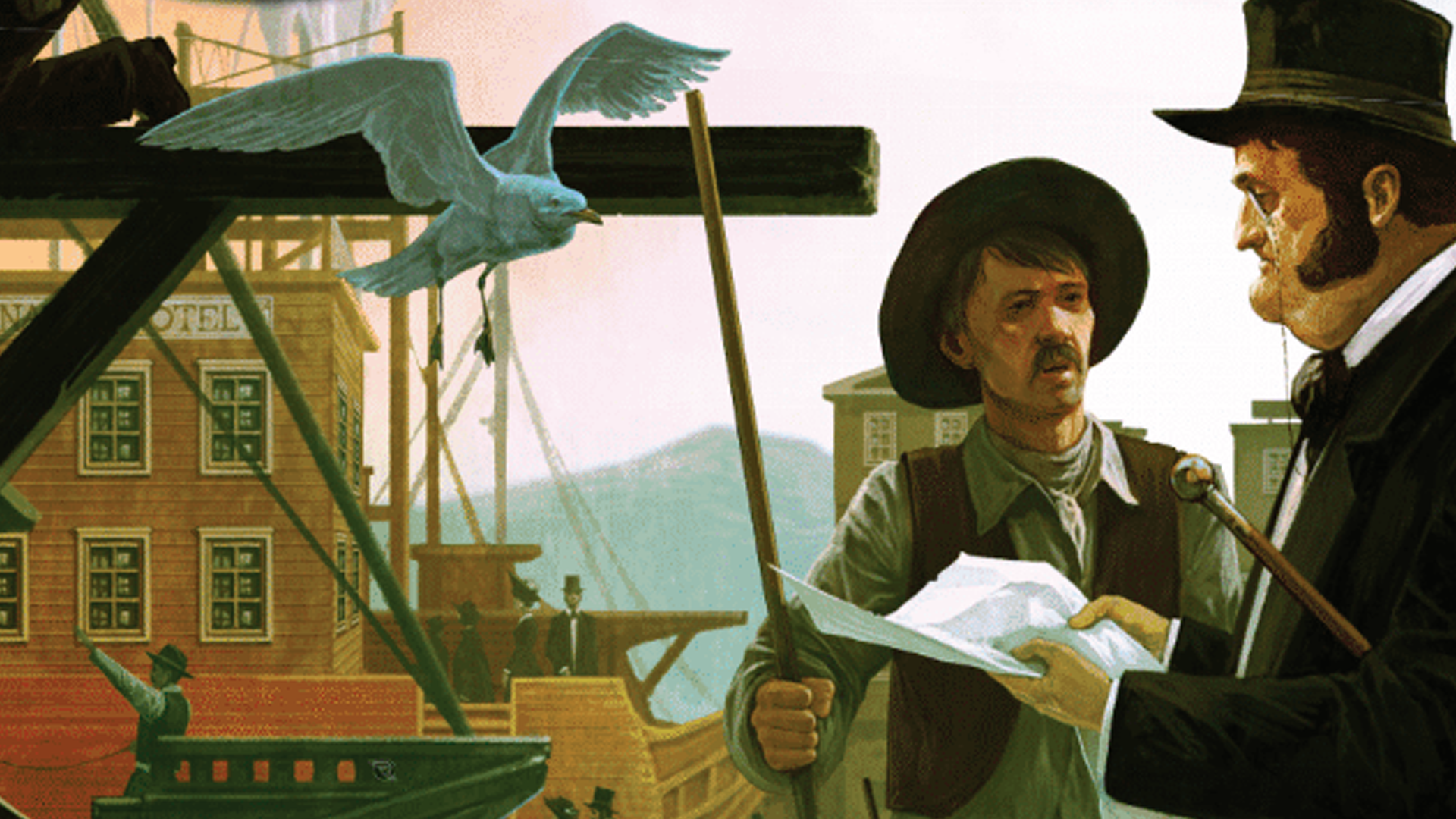 We've made it half-way through 2021, and yet, the tabletop releases keep on coming!
Summer may generally be a quieter time in the tabletop industry calendar, especially with Gen Con not happening until later in the year, but there are still some noteworthy releases to look forward to this month. Whether it's new board games, expansions for your favourite titles, fresh miniatures or brand new cards for a trading card game, this article is here to help you keep track of all the latest tabletop content. We will be updating this throughout the month of July, so be sure to check back every now and then to avoid missing out.
One new release that's certainly worth paying attention to is Embarcadero, the latest title from the studio behind the likes of Raiders of the North Sea and Clank!. Set during the time of The Gold Rush in the US, Embarcadero challenges players to build and manage their own business empire off the back of the recent surge of wealth in San Francisco. A board game for two to four players, Embarcadero focuses on the city docks - which are teeming with ships carrying profitable goods - with players laying down cards and tiles to establish their dominance over trade in the city. Originally launching in a Kickstarter campaign last year, which was successful, Embarcadero is now available to the wider public.
Another new board game releasing this month is Nanga Parbat, a title that's set within the Tibetan mountains. The Sherpa community is renowned for their ability to climb the challenging mountains of Tibet, and so, they're commonly hired to act as guides on mountaineering expeditions. In Nanga Parbat, players become a Sherpa mountaineering guide with the aim of establishing a series of base camps for explorers and wannabe mountaineers to visit. A two-player game featuring card play and strategy, players will need to think carefully about where they build their camps, place their hikers and trade for food and clothing.
Other notable releases this month include the latest expansion for the quick card game One Deck Dungeon - called Abyssal Depths - an adorable little game called Sheepy Time, new models for Marvel Crisis Protocol, fresh boosters for Yu-Gi-Oh! TCG and another entry in the D&D 5E supplementary series Epic Encounters.
That's just the start of July! To hear about the rest of the tabletop releases coming up this month, be sure to come back here to get the latest updates.
Best New Board Games July
UK release dates
July 1st
Sheepy Time
One Deck Dungeon: Abyssal Depths
Delta Green: Black Sites
Shadowrun: Power Plays
Battletech: Tactical Operations: Advanced Aerospace Rules
BattleTech: Campaign Operations
Nanga Parbat
Biblios: Quill and Parchment
Marvel Crisis Protocol: Captain America and War Machine
Marvel Crisis Protocol: Jean Gray and Cassandra Nova
Marvel Crisis Protocol: Omega Red
Gorinto
Yu-Gi-Oh! TCG: King's Court Booster
Exceed: BlazBlue - Ragna Box
Exceed: BlazBlue - Jin Box
Exceed: BlazBlue - Noel Box
Exceed: BlazBlue - Hazama Box
Ptolus: Monte Cooks City by the Spire 5e
Ptolus: Monte Cooks City by the Spire Cypher System
Ptolus: Players Guide
Pirates of Pugmire
Cthulhu Mythos: Yig Snake Granddaddy Act 1: Land Out Of Time
Cthulhu Mythos: Yig Snake Granddaddy Act 2: Against The Serpentfolk
Cthulhu Mythos: Yig Snake Granddaddy Act 3: The Prehistory War
Cthulhu Mythos: Yig Snake Granddaddy Act 4: The Ancient Ages Again
Wakening Lair: The Dark Forest
Embarcadero
Epic Encounters: Chamber of the Serpent Folk
July 7th
Dixit Refresh
Dragon Ball Super: Card Game- Expansion Set BE17 - Saiyan Boost
Dragon Ball Super: Card Game- Expansion Set BE18 - Namekian Boost
Vampire The Eternal Struggle 5th Edition: Malkavian
Vampire The Eternal Struggle 5th Edition: Malkavian
Vampire The Eternal Struggle 5th Edition: Toreador
Vampire The Eternal Struggle 5th Edition: Tremere
Vampire The Eternal Struggle 5th Edition: Ventrue
Taco Hat Cake Gift Pizza
Marvel Champions: Venom Hero Pack
Rajas of the Ganges Goodie Box 1
Rajas of the Ganges - The Dice Charmers
Cthulhu Mythos Sagas Dark Worlds Act 1: The Ritual
Cthulhu Mythos Sagas Dark Worlds Act 2: Nithon
Cthulhu Mythos Sagas Dark Worlds Act 3: The Zepzeg Cycle
Cthulhu Mythos Sagas Dark Worlds Act 4: The Great Pyramid
Between Two Castles of Mad King Ludwig: Secrets & Soirees Expansion
Munchkin: SpongeBob SquarePants
Catapult Kingdoms

July 22nd

Dobble Marvel Emoji
Digimon Card Game: Tamer's Set
Throw Throw Avocado
Symbaroum RPG: Alberetor - the Haunted Waste
Symbaroum Adventure Collection
Super Mario Jenga
Veilwraith
Veilwraith: Absolution Expansion
Dragon Parks
Kemet: Book of the Dead Expansion
The Walking Dead: All Out War: The Kingdom Faction Starter
The Walking Dead: All Out War: The Kingdom Taylor & Gus Booster
The Walking Dead: All Out War: The Kingdom Guard Booster
The Walking Dead: All Out War: Teamwork and Event Cards
Gulp
Kemet: Blood and Sand
A Roleplaying Game of Urban Fantasy and Occult Horror: Sigil & Shadow
Summoner Wars: 2nd Edition Master Set
Kids on Bikes Board Game: The Snallygaster Situation
Power Rangers: Heroes of the Grid: Squatt and Baboo Character Pack
Power Rangers: Heroes of the Grid: Legendary Rangers: Forever Rangers Pack
Power Rangers: Heroes of the Grid: Villian Pack #3: Legacy of Evil
Subastral
Lawyer Up
Lawyer Up - Godfather
Lawyer Up - Witch Trial
Munchkin Apocalypse Kaiju

July 28th

Flesh and Blood TCG: Crucible of War Unlimited (Booster Pack)
Gladius
Life Siphon
Sonar Family
Cyberpunk Red Miniatures: Edgerunners A
Cyberpunk Red Miniatures: Edgerunners B
Cyberpunk Red Miniatures: Edgerunners C
Cyberpunk Red Miniatures: Edgerunners D
Cyberpunk Red Miniatures: Lawmen A
Cyberpunk Red Miniatures: Lawmen B
Cyberpunk Red Miniatures: Combat Zoners A
Cyberpunk Red Miniatures: Combat Zoners B
Cyberpunk Red Miniatures: Generation Red A
Cyberpunk Red Miniatures: Generation Red B
Cyberpunk Red Miniatures: Rockerboys A
Cyberpunk Red Miniatures: Trauma Team A
Cyberpunk Red Miniatures: Trauma Team B
Cyberpunk Red Miniatures: Combat Zoners C
Tentacle Town
Pokémon TCG: Marnie Premium Tournament Collection
Pokémon TCG: Ice Rider / Shadow Rider Calyrex V Box
Pathfinder Abomination Vaults Pawn Collection
Starfinder Adventure Path #39: The Gilded Cage (Fly Free or Die 6 of 6)
Starfinder Adventure Path #40: Planetfall (Horizons of the Vast 1 of 6)
Pathfinder Adventure Path: Despair on Danger Island (Fists of the Ruby Phoenix 1 of 3)
Pathfinder Adventure Path: Ready? Fight! (Fists of the Ruby Phoenix 2 of 3)
Pathfinder Adventure Path: King of the Mountain (Fists of the Ruby Phoenix 3 of 3)
Pathfinder Lost Omens: The Mwangi Expanse
Pathfinder: Malevolence
So Clover!
Epic Encounters: Village of the Goblin Chief
FF TCG: Opus XIV (14) - Crystal Abyss
Magic the Gathering: Adventures in the Forgotten Realms Bundle Gift Edition
Magic the Gathering: Arena Starter Kit 2021
These release dates are sourced from distributors Asmodee North America and Asmodee UK. Spotted something we missed? Get in touch: contact@dicebreaker.com