Best new board games in April 2021: latest tabletop release dates
Don't be a fool.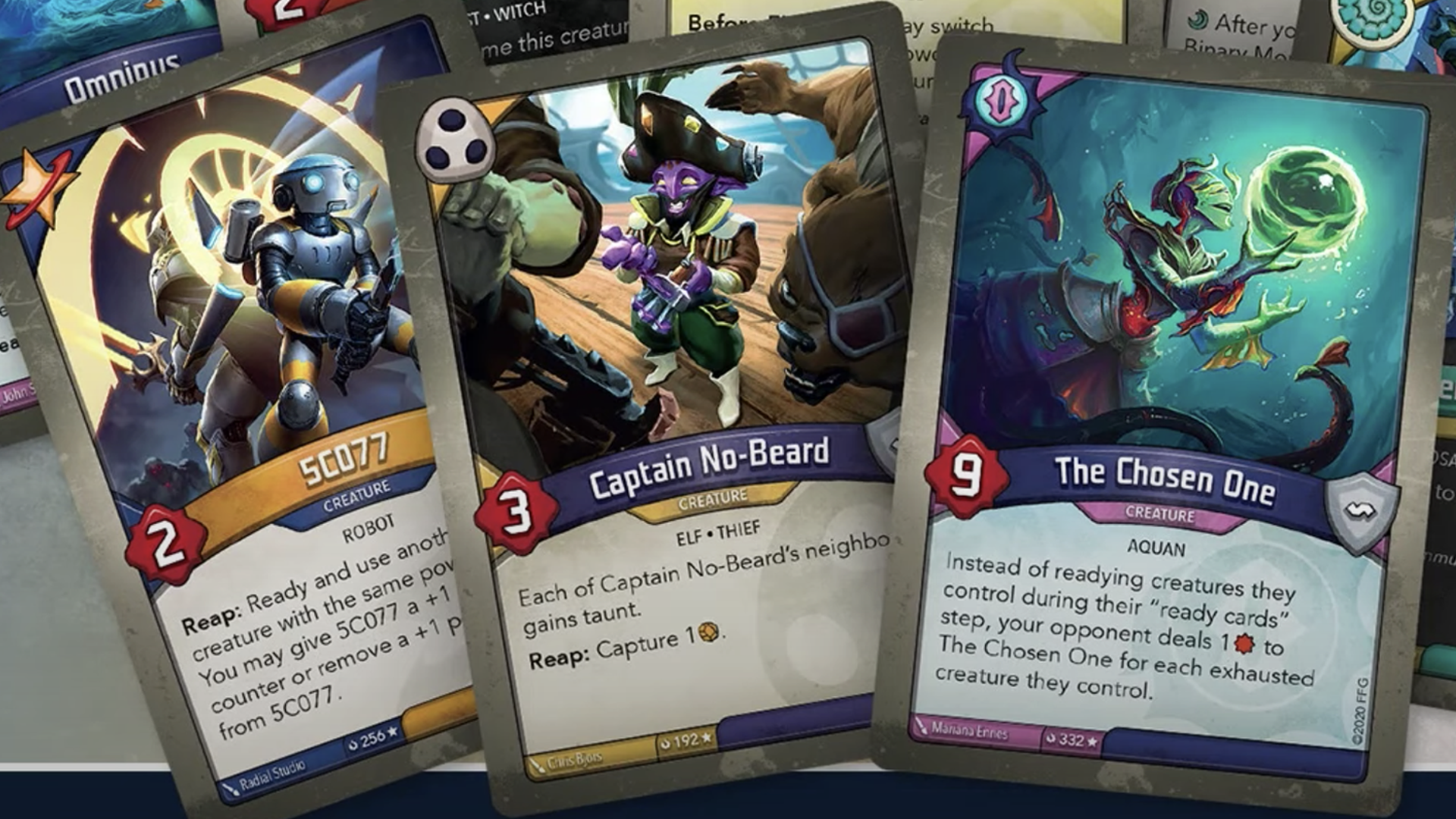 It's April and spring is in full swing, as is the release schedule for brand new board games. As the flowers blossom and the weather shifts between strangely warm and shockingly cold, we're seeing a fresh batch of tabletop titles make their way to shops this month. From board games, to roleplaying games to trading card titles and more, April promises to see the arrival of some exciting releases for new and existing franchises.
Avid tabletop gamers would do well to keep their eyes on this list throughout this month, as it will be updated every week to include freshly announced titles. Regardless of what you're after - a new entry to a beloved series, expansions, booster packs, RPG sourcebooks and more - this collection of upcoming releases will be sure to keep you in the loop in April.
An entirely new game to look out for this month is We Care, the spin-off title to The Grizzled co-op board game series. "Inspired by current events," We Care sees players becoming healthcare workers on the frontlines of a global emergency. Focusing on a hospital in the midst of the crisis, We Care challenges players to overcome the many obstacles thrown in their path to ensure that their patients are treated, whilst avoiding becoming too overworked in the process. For every copy of We Care sold, a donation will be made to Doctors Without Borders/Médecins Sans Frontières.
If you're a fan of the unique deck game Keyforge, then be prepared for the incoming arrival of the next expansion - Dark Tidings. Inspired by underwater creatures and chaos, Dark Tidings introduces a new house to the series, The Unfathomable, as well as 'evil twin' versions of existing Keyforge cards. The Unfathomable house contains all manner of deep-dwelling minions to summon, whilst the evil twin mechanic will feature more powerful abilities than those found on the original cards - but have the drawback of harming the player.
Other upcoming releases to look forward to include Kombo Klash - a tile-laying game about fighting animals - the newest edition of the classic Kramer and Kiesling title, Maharaja, an expansion for the video game tabletop title Bloodborne: The Board Game called Forbidden Woods and a whole load of models for the A Song of Ice and Fire miniatures game.
Be sure to check back here every week to stay up to date with the latest tabletop games arriving throughout April in both North America and in the UK.
Best new board games - April 2021
US release dates
April 2nd
Marvel Champions: The Card Game - The Galaxy's Most Wanted Expansion
Arkham Horror: The Card Game - Into the Maelstrom Mythos Pack
Maharaja
A Song of Ice and Fire: War Mammoths
A Song of Ice and Fire: Stormcrow Dervishes
A Song of Ice and Fire: Unsullied Pikemen
A Song of Ice and Fire: Mother of Dragons
A Song of Ice and Fire: Stag Knights

April 9th

The Initiative
Keyforge: Dark Tidings 2 Player Starter Set
Keyforge: Dark Tidings Archon Deck Display
Keyforge: Dark Tidings Deluxe Deck
Cryo
Legend of the Five Rings: The Card Game - Peace at Any Cost Dynasty Pack
Bloodborne: The Board Game - Forsaken Cainhurst Castle Expansion

April 16th

Zombicide: Second Edition
Zombicide: Second Edition - Washington ZC
Star Wars: Armada - Pelta-Class Frigate Expansion Pack
Star Wars: Armada - Separatist Destroyer Expansion Pack
Star Wars: Armada - Invisible Hand Expansion Pack
Star Wars: Armada - Venator-Class Star Destroyer Expansion Pack
Legend of the Five Rings RPG: Blood of the Lioness
Legend of the Five Rings RPG: Fields of Victory

April 23rd

We Care
A Song of Ice and Fire: Greyjoy Starter Set
A Song of Ice and Fire: Ironmakers
A Song of Ice and Fire: Ironborn Trappers
A Song of Ice and Fire: Greyjoy Heroes #1
Marvel Crisis Protocol : Mutant Masterworks Game Night Kit

April 30th

Bloodborne: The Board Game - Forbidden Woods Expansion
Heroes of Black Reach
Kombo Klash
UK release dates
April 7th
Island Siege: Second Edition
Werewolves of Miller's Hollow 2020 Edition
Cardfight Vanguard Special Series 8 Clan Selection Plus Vol.2
Weiss Schwarz Booster Pack: Date A Live
Weiss Schwarz Trial Deck Plus: Date A Live
Call of Cthulhu: Malleus Monstrorum: Cthulhu Mythos Bestiary
Call of Cthulhu: Malleus Monstrorum Keeper Deck
KeyForge: Dark Tidings Archon Deck Display
KeyForge: Dark Tidings Deluxe Deck
KeyForge: Dark Tidings 2 Player Starter
Legend of the Five Rings: Peace at Any Cost Dynasty Pack
Legend of the Five Rings RPG: Fields of Victory
Legend of the Five Rings RPG: Blood of the Lioness
Star Wars: Armada - Pelta-Class Frigate
Zombicide 2nd Edition: Washington Z.C. Expansion
Monopoly Mandalorian
Yu-Gi-Oh! TCG: Ghosts From the Past
Umbra Via
Zombicide 2nd Edition

April 14th

Timeline British History
A Song of Ice and Fire: Greyjoy Starter Set
Culinario Mortale: Shadow Over Westongrove Manor
Culinario Mortale: Deadly Fame
Culinario Mortale: Murder Overboard
Culinario Mortale: Expedition Of Death
Culinario Mortale: A Recipe For Death
Culinario Mortale: Murder At The Grand Hotel
Arkham Horror LCG: Lair of Dagon - Mythos Pack
Star Wars: Armada - Invisible Hand
Monopoly Lord Of The Rings
Catham City
Fiesta Mexicana
Funky Monkey
Oh My Goods! Easter Special Edition
Florenza X Anniversary
Alice is Missing
Here to Slay: Warriors & Druids Expansion
Magic: The Gathering - Strixhaven School of Mages Draft Booster Display
Magic: The Gathering - Strixhaven School of Mages Bundle
Magic: The Gathering - Strixhaven School of Mages Commander Deck Display
Magic: The Gathering - Strixhaven School of Mages Collector Booster Display
Magic: The Gathering - Strixhaven School of Mages Theme Booster Display
Magic: The Gathering - Strixhaven School of Mages Set Booster Display

April 21st

War Chest: Siege
Lex Arcana - Aegyptus - The Sands of Time of Gold
Dobble Minions
Botanik
Suburbia 2nd Edition
Suburbia Expansions
Overboss: A Boss Monster Adventure
Fiasco Expansion Pack: Teen Angst
Apollo
Shadowrun: Sixth World Tarot Arcanist Edition
Shadowrun: Street Wyrd
Bloodborne: The Board Game: Forbidden Woods
Fired Up
Fired Up - Agility Expansion
Fired Up - Monster Expansion
Conquest of Planet Earth: The Space Alien Game
Waste Knights: Second Edition
Tiny Epic Pirates
Tiny Epic Pirates: Curse of Amdiak Expansion
Dominant Species: Marine
Code 3: The Corrupt Mayor Expansion Pack
Cage Match!: The MMA Fight Game
Perdition's Mouth: Abyssal Rift (Revised Edition)
BESM (Big Eyes, Small Mouth) 4th Edition
BESM (Big Eyes, Small Mouth) 4th Edition: Extras
Martian Fluxx
Seven Dragons Demo Copy 2021
Oz Fluxx Demo Copy 2021
Gascony's Legacy
Gascony's Legacy: Count of Monte Cristo Expansion
Gascony's Legacy: Man In the Iron Mask Expansion
UNO Iconic Assortment
Seven Bridges
Steampunk Rally: Fusion
Umbrella Academy
Hack & Slash
Valor & Villainy Minions of Mordak
Legendary: Realm of Kings: A Marvel Deck Building Game Expansion
Cowboys II - Cowboys and Indians Edition
Arch Ravels

April 28th

Dobble Paw Patrol
Digimon Card Game: Tamer's Evolution Box PB-01
Weiss Schwarz Booster Pack: Magia Record- Puella Magi Madoka Magica Side Story
Weiss Schwarz Trial Deck Plus: Magia Record- Puella Magi Madoka Magica Side Story
Rogue Trooper
Mythological Figures & Maleficent Monsters
Flesh And Blood TCG: Monarch (First Edition) Booster Pack
Flesh And Blood TCG: Monarch Blitz Deck
Monopoly Jurassic Park
Yu-Gi-Oh! TCG: Ancient Guardians Booster
Pictionary Card Game
Pokémon TCG: Galarian Rapidash V Box
Pokémon TCG: Victini V / Gardevoir V Battle Deck DISPLAY (8ct)
Pokémon TCG: Victini V vs Gardevoir V Battle Deck Bundle CASE
Space Cats: Nemesis Expansion
Alien Kings: Nemesis Expansion
Voidseeders Expansion: Nemesis
Sleeping Gods
Sleeping Gods Tides Of Ruin
Dive
Magic: The Gathering - Strixhaven PRO 100+ Deck Box V1
Magic: The Gathering - Strixhaven PRO 100+ Deck Box V2
Magic: The Gathering - Strixhaven PRO 100+ Deck Box V3
Magic: The Gathering - Strixhaven PRO 100+ Deck Box V4
Magic: The Gathering - Strixhaven PRO 100+ Deck Box V5
Star Trek: Attack Wing - Vulcan Faction Pack: Live Long and Prosper
Star Trek: Attack Wing - Klingon Faction Pack- Blood Oath
Star Trek: Attack Wing - Federation Faction Pack- To Boldly Go...
Star Trek: Alliance - Dominion War Campaign
Redcap Ruckus
Fantasy Realms: The Cursed Hoard
Super-Skill Pinball: 4-Cade
Waddle
These release dates are sourced from distributors Asmodee North America and Asmodee UK. Spotted something we missed? Get in touch: contact@dicebreaker.com