Magic: The Gathering creator's new card game gets a UK and EU release date
SolForge Fusion announces a pre-release weekend ahead of a larger February retail opening.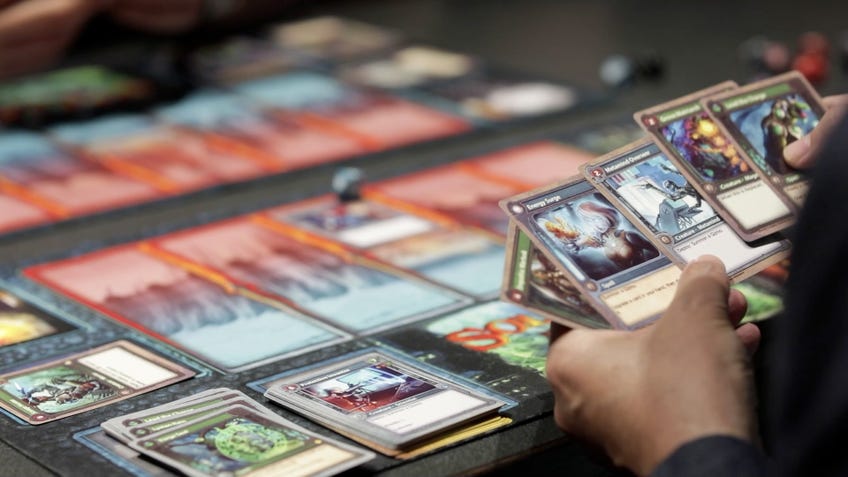 Hybrid physical and digital card game SolForge: Fusion will launch in the UK and Europe on February 23rd after a pre-release weekend event.
SolForge: Fusion is the newest title from Magic: The Gathering creator Richard Garfield who teamed with Justin Garey to bring the original SolForge to physical audiences with the help of Stone Blade Entertainment. It was released in the US, Asia and Australia last year, delivering another take on algorithmically created decks that are unique from any other inside the box. This same approach was used to power KeyForge for years until the algorithm apparently broke, and the title was recently sold to a former CEO of Fantasy Flight Games now in charge of Ghost Games.
"The response to the release of SolForge: Fusion in the US, Asia and Australia so far has been amazing," Justin Gary said in a press release. "Working on this game with Richard [Garfield] has been a dream come true, and I am elated to see all the years of passion and hard work we've poured into it coming to fruition."
The UK and Europe street date will be preceded by a pre-release weekend event on February 18th and 19th, where participating retailers will allow players an early chance to crack open unique decks for some one-on-one clashes. Matt Jarvis described the gameplay as "half Keyforge, half MTG", where combatants can unlock more powerful versions of cards that will show up on their next reshuffle. Positioning on the field's two positions is also an important facet of combat and determines how quickly a player's forces can wade into the active fray.
The press release said SolForge: Fusion will continue support for both physical and digital versions throughout 2023, and a dedicated digital app is planned for sometime this year - currently, players use Tabletop Simulator after the original SolForge servers were shut down in 2017.
Physical decks, which are split between two dominant Forged creature types - Zombies, Dragons, etc. - can be scanned via QR code on SolForge: Fusion's website and added to a player's collection. That deck will then remain available on whatever digital incarnation comes in the future. Importantly, organised play and official tournaments will also take advantage of the online database of decks.