Warhammer Fest's loving but lacklustre celebration revealed a miniatures game struggling to keep up with its massive popularity
The wargame's fun, welcoming community outshone long queues, limited tables and crowded talks.
Warhammer Fest was a weekend of firsts for me. It was my first time covering an event as a professional journalist. It was my first Warhammer event. It was my first time meeting a whole bunch of friends I've made online over the past couple of years. It was exciting, a little intimidating and absolutely exhausting. It was also a massive disappointment.
Don't get me wrong, I had a great time, but that was almost entirely down to the people there. Whether it was friends, the incredibly hardworking staff or the community at large, every interaction I had was positive, friendly and put a smile on my face. As a disabled trans woman, being able to say that is a huge deal. Not once was I made to feel uncomfortable or out of place.
I'm also really looking forward to a lot of what was announced over the weekend. As someone who hates ninth-edition Warhammer 40,000, I'm feeling really positive about the upcoming 10th edition. Kill Team and Horus Heresy, two of my favourite Games Workshop titles, got some great announcements. The minis revealed across all of the ranges look fantastic - there's a bunch that I want to get just for the fun of painting, and that's something I generally don't do. Both myself and my partner came away absolutely buzzing about Warhammer.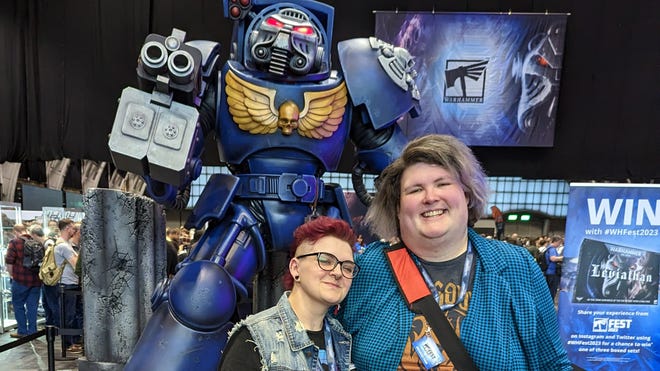 The disappointment came from the event itself, which offered very little to see or do for the average ticket holder. (Disclaimer: Games Workshop provided Dicebreaker with a press pass to the event.) The Golden Demon painting competition and the various tournaments are obviously a huge draw for some people, but in both cases required advanced booking at additional cost. The reveals and accompanying Q&A sessions are the other major attraction, but with the Manchester Central auditorium seating 800 and Warhammer Fest's daily attendance ranging from 3,000 to 13,000, depending on the day, only a fraction of attendees could get in.
Every interaction I had with people was positive, friendly and put a smile on my face. As a disabled trans woman, being able to say that is a huge deal.
My priority for the weekend was getting a demo game of 10th-edition Warhammer 40k. There were only five demo tables for up to 13,000 people. On Sunday, when attendance was around half that, there was still a three-hour queue for a half-hour demo. I'm disabled, folks. I couldn't stand in a queue for that long if I wanted to. 40k fared better than the entire rest of the GW range, which had a tiny demo area with, I believe, one table for Kill Team and one for Warhammer Underworlds. I did try and confirm the details with a friend who attended, but he didn't even notice it was there.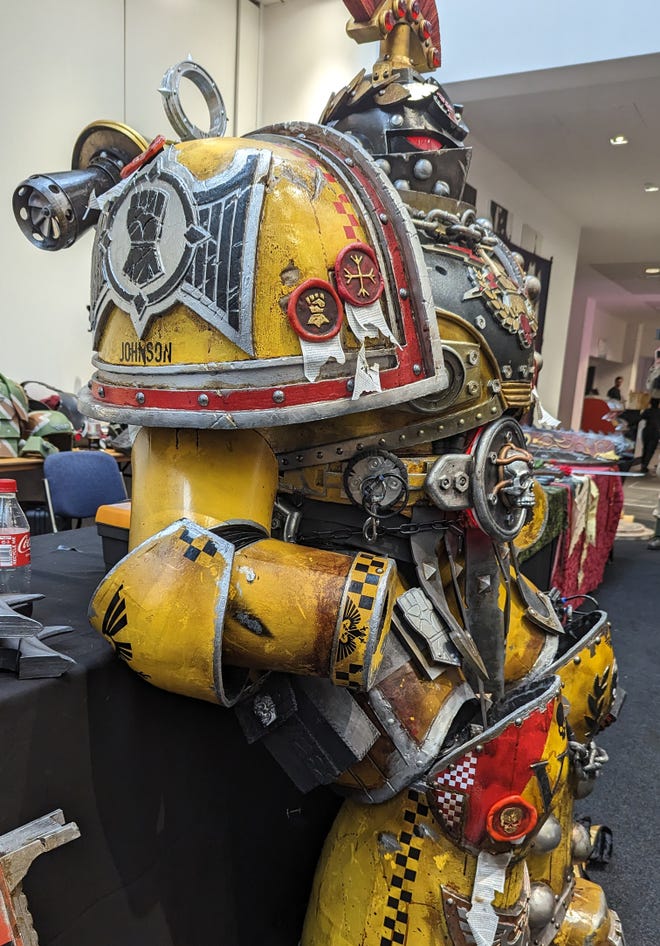 Other than that, GW's offerings consisted of four cabinets of minis, a 'hang out and paint' area, a "board game café" where you could sit and play a smaller game like Warhammer Underworlds, a life-sized space marine statue, and a shop. Oh, there was also a "squigapult", which was a vaguely Warhammer-themed fairground attraction where you could, if you were very lucky, win a pen.
There were some stands from various GW partners, which mostly consisted of assorted free-to-play mobile game developers. Warhammer RPG publisher Cubicle 7 was present, and chatting to them about their various titles was a highlight.
The best bits of the show floor were the community-driven parts. The Titan Owners Club had a massive display game going all weekend, with dozens of Forge World titans on show. It was quite the spectacle - especially considering that the smallest of them costs around £500, with the largest being over a grand. The cosplayers, both the folks walking around in costume and the tables showing off various bits of costume, were wonderful.
The best bits of the show floor were the community-driven parts.
None of what was on offer was bad. Even the squigapult was fun in a goofy way, especially for the kids in attendance. The issue was that there just wasn't enough of it, which meant that the main activity of Warhammer Fest was queuing. Queuing to get in, queuing to look at the Golden Demon entries, queuing to get into the auditorium... There was even a two-hour queue for the shop at one point.
It was, to be blunt, a shambles. But it was a shambles with potential.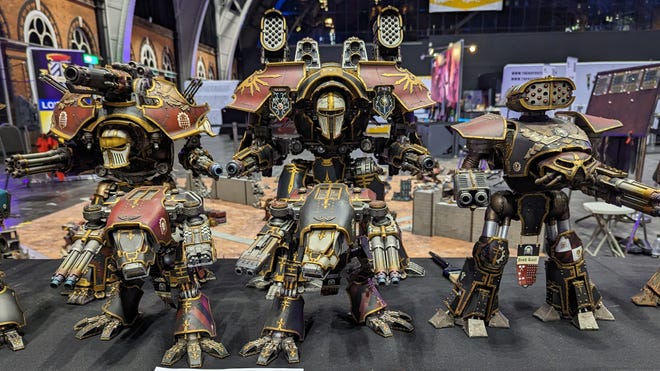 The main issue, as far as I can tell, was that Games Workshop was just not prepared to run an event of this size. It felt like it just decided to scale up the sort of event it would run at its Warhammer World HQ in Nottingham, which would not only have a much smaller turnout, but also have the advantage of the Warhammer World exhibits and an existing shop being in place. It's clear that the thousands of people who turned up because they love Warhammer vastly outnumbered the hundreds who were there for tournaments - and that's who GW needs to cater to next year.
GW needs to leverage that massive brand and huge community. There were a handful of partner companies present, but there are plenty more that could be tapped. In terms of video games, Space Marine 2, Total War: Warhammer and Darktide could all have had a presence. McFarlane and JoyToy, who make licensed Warhammer action figures, would have been great additions too.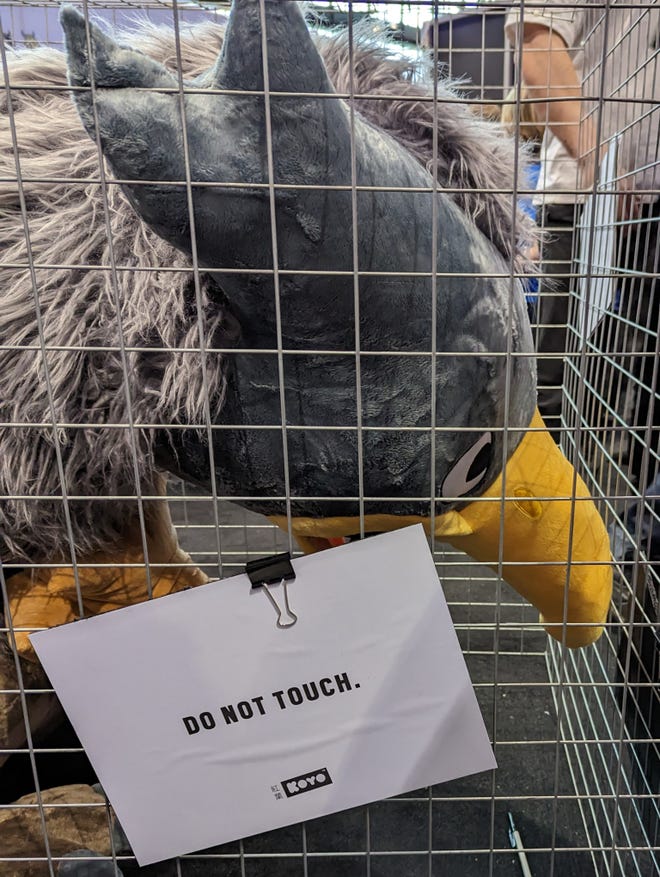 GW designers, artists and Warhammer TV presenters could all have been doing panels and Q&A sessions, rather than being tucked away where they could only interact with a relative handful of people, if at all. The reveals and other auditorium events needed to be on a big screen somewhere, instead of the vast majority of attendees having to watch them on their phones via Twitch, if they were broadcast at all. The dozens of popular community creators who were present could all have been invited to do panels, meet-and-greets and the like.
The thousands of people who turned up because they love Warhammer vastly outnumbered the hundreds who were there for tournaments.
Games Workshop is a huge company, not just in the miniatures market. (Bigger than Marks & Spencer is a little fact that stays lodged in my brain.) The strength of Warhammer's brand and history could sustain an event at this scale. GW needs to put on its big corporation pants and put some thought and effort into it.