4 D&D actual plays you should watch after Critical Role
Discover your next can't-miss campaign.
You've finished Critical Role - again! - and now you have to wait another week for another new episode. Why not fill those long seven days with another fantastic D&D actual play series?
There's no shortage of excellent D&D shows like Critical Role out there that offer everything from entertaining hijinks to moving emotional stakes - accompanied by the rolling of a d20.
Best D&D actual plays like Critical Role
While the best D&D actual play series for you will likely come down to your personal preference for genre, drama, comedy and sticking to the rules of the iconic RPG, there's a plethora of podcasts, livestreams and video series that will help tide you over before the next Critical Role episode lands.
Whether you're after sweeping fantasy, high school magic, gothic horror, lighthearted romps, gripping mystery, classic swords-and-sorcery or something else entirely, these top D&D series combine the familiar RPG with casts of brilliant dungeon masters, players and creators to craft characters, stories and worlds you'll want to spend hours with.
Of course, the actual play series we've named below are only some of the many outstanding D&D shows out there - be sure to share your favourite moments and add your own recommendations in the comments.
---
1. Dimension 20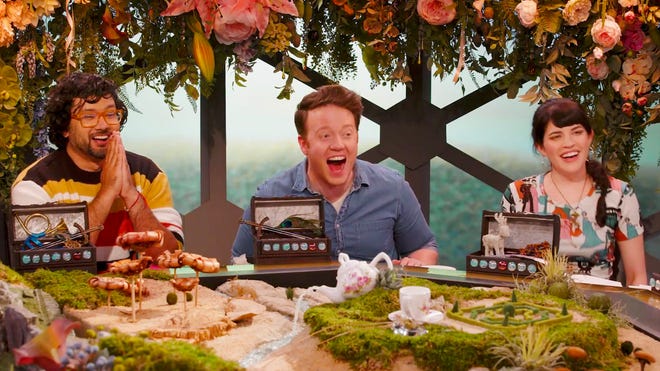 We're kicking off with one of the big hitters in the tabletop RPG space, Dimension 20 - once DM'd by the prolific Brennan Lee Mulligan and now home to a host of extremely talented game masters who bring their worlds to life with their players.
With a number of series under Dimension 20's belt, rather than one continuous campaign like Critical Role, you might be wondering where to start.
Highly recommended is Dimension 20's very first actual play, Fantasy High, which follows a group of burgeoning adventurers as they attend Aguefort Adventuring Academy where their class attendance is startlingly lacking. The players, with Mulligan as DM, not only manage to combine not only dramatic storytelling, creative combat and excellent comedic timing but also worlds that are unlike any other you've seen before in a D&D campaign.
And that's just the adventures with the main cast; Dimension 20 also acts as a conduit for other creators in the RPG actual play space. Critical Role DM Matthew Mercer took part in the Escape from the Bloodkeep campaign - which turns the players into villains trying to stop pesky halflings in a Lord of the Rings parody - The Adventure Zone's McElroy brothers were a part of the Tiny Heist campaign, in which they became toys, bugs and more to pull off the teeny tiniest heist you've ever seen, and LA by Night star Erika Ishii features in several campaigns, including Misfits and Magic.
As an example of how Dimension 20 isn't afraid to veer away from D&D and Mulligan as game master, former Critical Role player and now regular Dimension 20 GM Aabria Iyengar uses the Kids on Brooms system in Misfits and Magic, which sees the players become American exchange students heading to a magical British boarding school.
What Dimension 20 brings to the tabletop is a copious array of different worlds that are brought to life throughout its series by talented GMs and captivating characters played by very likeable players. It really has everything.
Watch select Dimension 20 episodes on YouTube, with College Humor offshoot Dropout home to the full campaigns in all their glory.
---
2. Not Another D&D Podcast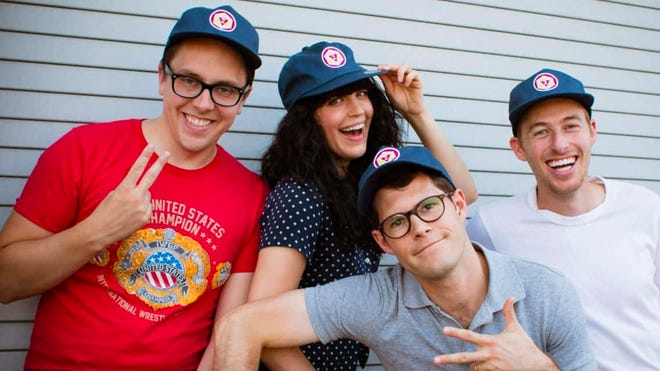 NADDPOD - aka the cleverly and aptly-named Not Another D&D Podcast - features a couple of members of the Dimension 20 cast, Brian 'Murph' Murphy and Emily Axford, who have joined forces with Drawfee alumni Caldwell Tanner and co-founder of the HeadGum podcast network, Jake Hurwitz.
With Murphy taking the role of dungeon master, the team begins their first campaign with Tanner as the sweet and virtuous halfling paladin Beverly Toegold the Fifth, Axford as the warm and courageous crick elf druid Moonshine Cybin, and Hurwitz as the strong and daring human fighter Hardwon Surefoot.
Something to expect from this podcast is the sheer hilarity that ensues right from the off. While it's worth mentioning that NADDPOD's kind of humour is a little explicit - the first episode opens with a discussion about the bodily autonomy of a dragon - it's not just made up of moments that will have you crying with laughter.
The series is chock-full of emotionally riveting storylines that involve gods, devils, assassins, betrayal, the Feywild, hidden identities and so much more. Don't go into this expecting nothing but goofs: this show has layers. The amount of times this show has you laughing at the start of an episode and then crying at the end is unreal. The cast are extremely talented actors and improvisers able to bring their characters to life.
NADDPODD is also one of the best D&D actual play shows in terms of combat, playing fast and loose with how much you can berate the Big Bad in a six-second timeframe for hilarious results, while keeping a firm hold on the core rules of D&D and allowing the players to show off their characters' abilities in jaw-dropping and exciting ways.
The campaign kicks off with the unique and attention-grabbing premise that the world has been saved once before by a group of legendary heroes of Bahumia: Thiala, the human cleric; Ulfgar, the dwarf fighter; and Alanis, the elf wizard. With the world falling into disarray once again, those legendary heroes are nowhere to be found. Will Moonshine, Hardwon and Beverly be able to step up to the plate in Bahumia's time of need?
Listen to Not Another D&D Podcast on the NADDPOD website.
---
3. High Rollers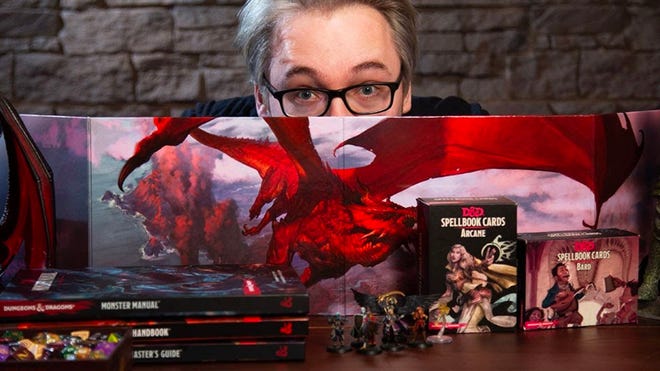 A part of the Yogscast entertainment network, High Rollers is one of the best British-based D&D shows around. Streaming on Twitch and uploading videos on YouTube regularly, High Rollers offers hours of tabletop entertainment. The team previously streamed their Lightfall campaign and are now in the middle of their second Aerois campaign.
Both of the worlds of Lightfall and Aerois were created by High Rollers DM Mark 'Sherlock' Hulmes, who has added in a few of his own homebrewed elements. The player characters we meet during the current campaign are Aila, the wild elf barbarian played by Katie Morrison; Lucius Virion-Elluin Elenasto, the high elf sorcerer played by Chris Trott; Nova V'Ger, the air genasi warlock played by Kim Richards; Qillek Ad Khollar, the aarakocra bard/cleric played by Tom Hazel; and the latest addition to the group, Rhiannon Gower, who plays the guardian paladin Sentry.
The main campaign isn't all there is to enjoy. The High Rollers team has taken part in various other spin-offs, including a Curse of Strahd campaign, Icewind Dale and other RPGs that aren't specifically D&D - so you can broaden your tabletop horizons while watching a group of entertaining folks have fun.
Watch High Rollers on Twitch and YouTube, with podcasts available on your platform of choice.
---
4. The Adventure Zone
You might recognise the McElroy brothers from their time as a part of video game website Polygon, podcast My Brother, My Brother and Me, and various other ventures - but did you know they have their own D&D actual play series? Probably.
While The Adventure Zone has now been running for almost a decade across a number of campaigns, its first arc Balance continues to hold a quality that not a lot of other D&D shows can replicate.
The McElroys are hilarious entertainers and brilliant creatives, but watching them go from taking the show and gameplay semi-seriously to falling in love with the characters and world that their brother and DM Griffin McElroy had created was something special indeed.
The Adventure Zone: Balance stars McElroy dad Clint as dwarven cleric Merle Highchurch, along with brothers Travis McElory as human fighter Magnus Burnsides and Justin McElroy as elven wizard Taako (just Taako).
In early episodes, our three heroes set out on their first adventure - which is actually the Lost Mines of Phandelver module released as a starter campaign for D&D 5E, meaning new players get to experience the team learning the game firsthand. Once they complete the main chunk of this story, Griffin takes the reins and creates his own story of suspicious red-robed figures, Mad Max-style races, time travel, murder mysteries and so much more. The stories are split out into sections and tied together with the Bureau of Balance setting, from which the arc takes its name.
Griffin even made his own music for the show - which genuinely slaps and shows the level of care taken to craft this world and the story. At first, The Adventure Zone may seem a little too lightweight and silly - but hold out if you find yourself feeling that way, because this story is not to be missed.
Listen to The Adventure Zone on Maximum Fun.