10 best D&D character creators for players, NPCs and more
Spark inspiration and get roleplaying quickly with these character creation tools.
Character creators are one of the most important tools for D&D 5E. After all, there's more to your character than the stats you pull and the builds you play. You need their looks, their personality, and their backstory to be fleshed out. You're not just there to hit monsters with a +3 magic sword. You're there to hit monsters with a +3 magic sword because you're on a quest to find your missing parents, and these monsters are getting in the way of that.
Best D&D character creators
Typically, the best tool for this is your imagination. That being said, your imagination sometimes needs a kick in the butt to get working, and that's where these tools come in. Whether it's NPC generators, visual character editors, backstory writers or anything else you think you'll need, these tools have you covered as far as the more "roleplay" aspect of D&D character creation goes. Some are also just handy for quick ideas!
The look of your characters matters almost as much as how high your saving throw DC is. At the end of the day, Dungeons & Dragons is a storytelling game, and good stories need memorable characters. One of the easiest ways to be a memorable character is with a unique look and an unforgettable backstory. These D&D character creators and tools help with all these things.
---
1. DMHeroes
The best fantasy 2D portrait character creator for D&D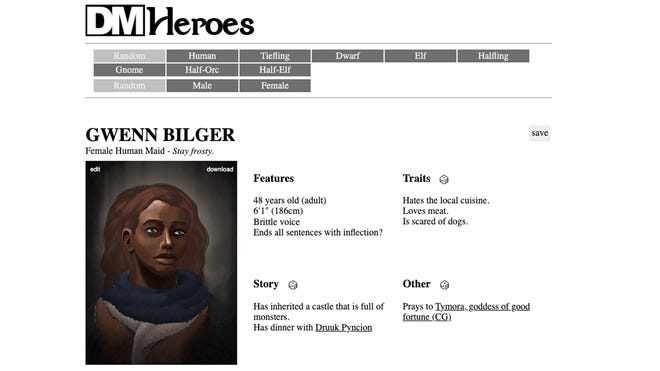 Although development has sadly been discontinued, the creator has graciously allowed this site to remain up and running. DMHeroes is a site that instantly generates interesting NPCs with a beautiful oil-painting portrait that you can edit to your liking. It doesn't even have to be an NPC, as you can use the ideas and portrait given as inspiration for your next D&D character.
For DMs that love to populate their towns and settings with fleshed-out characters, this is a fantastic tool. Features, traits, and even story elements are also provided in a concise and informative manner. Tools like DMHeroes make any game feel more lived-in and natural and make your campaign feel a lot more memorable.
Find DMHeroes' D&D character creator on its website.
---
2. HeroForge
The best 3D miniature character creator for D&D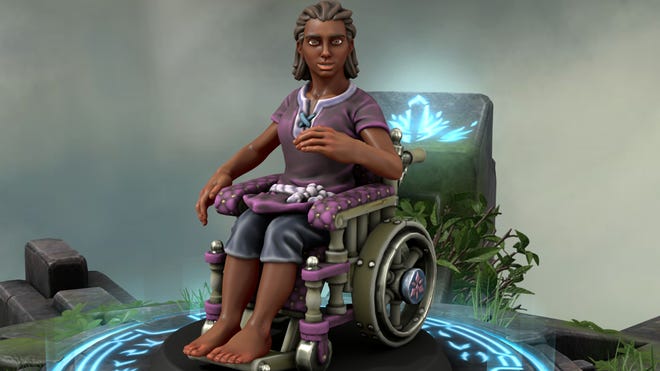 HeroForge is a robust and simple tool that allows you to create 3D models of your original characters in classic 3D miniature form. Unlike video games, which can only really be used for videos and portraits, HeroForge can easily be 3D-printed, as the files are immediately converted to finely-detailed STL files meant for advanced printers. There are also a wide variety of species to choose from.
Even if you don't have access to a 3D printer, having the STL file means you can print it with someone who does have one for $7.99. This digital file is yours to keep forever once downloaded. For a bit more money, you can also order a physical miniature directly off the HeroForge site. Not only do you have a digital representation of your character, but also a physical one that you can paint for yourself. It's a fantastic tool for spicing up face-to-face games.
Find HeroForge's character creator on its website.
---
3. Reroll
The best pixel art character creator for D&D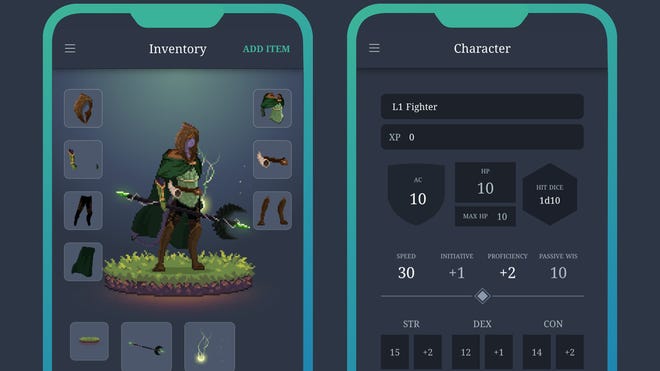 Reroll is a nifty software package that bundles gorgeous pixel art with a robust D&D character creator. The pixel art character creator is simple enough to follow and has tons of assets for customizability. Reroll has a free starter version and a one-time $7 purchase for the premium experience. For virtual tabletops like Roll20, Reroll is a fantastic option.
The standard edition grants unlimited character slots, full access to the 16 core species of D&D 5E, hundreds of new assets, and basic character sheets for new characters. You can even add your custom pixel art to add more features to your pixel OC. Reroll is a great example of what a successful Kickstarter looks like.
Download Reroll on iOS or Android, or use its D&D character creator on its website.
---
4. Skyrim (with mods)
The best video game character creator that also works for D&D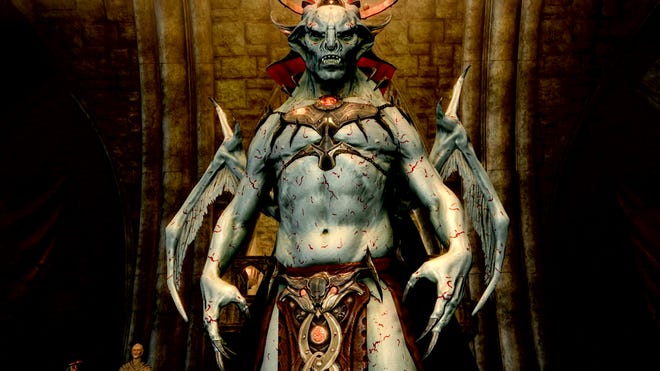 Skyrim is such an absurdly moddable video game that many veterans of the community joke that Mod Manager 2 is the "real" game. There just happens to be a funny little fantasy minigame at the end when you get the mods working. There are thousands of character creation mods for Bethesda's cash cow, and that's exactly why it's perfect as a visual character creator for D&D. While it's true that direct D&D video game Baldur's Gate 3 also has a solid and fitting character creator, it doesn't have the depth that a modded Skyrim game provides.
Skyrim is already a fantasy game with many passing similarities to D&D 5E, which means your Dunmer Assassin is easily transferable to the Forgotten Realms. The sky's the limit as far as customising your characters in Skyrim goes. Just be careful not to fall into the Nexus mods hole as so many have before, never to be seen again.
Buy Skrim for PC on Steam.
---
5. Commission an artist
The best premium D&D character creator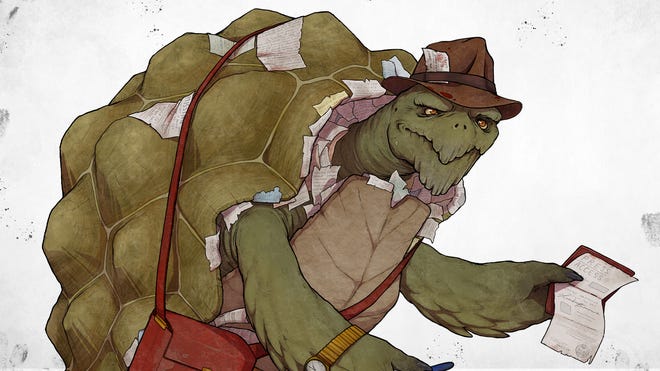 There truly is no replacement for an artist. No matter how good these template-based character creators are, they can't capture the minute details like an artist can. There are countless artists out there for you to hire and create your D&D character exactly as you imagine it. The barrier to entry here is paying the artist.
That price is well worth it for the right artist. Perhaps use the above D&D character creators to get an idea of what you want, then show it to the artist you want to commission. When commissioning, make sure to be as detailed as reasonably possible. Artists are creative, but it's ultimately your job to make sure the artist gets the vision you have for your character.
Find D&D character artists to commission directly via their websites or via marketplaces such as Etsy.
---
6. Who the Fuck is My D&D Character?
The best D&D character generator for hilarious creations
Who The Fuck Is My D&D Character?, despite its very vulgar name, is one of the most hilarious character personality generators ever. It perfectly captures the wild and untamed essence of creating a new character from scratch. There's no time for nuance here - it's all vividly-described character traits with a simple yet memorable backstory.
The formula is Adjective, Species, Class, Place of Origin, then Oddly Specific Backstory. Those are the essential traits you need for your character anyhow, and the rest falls into place. Plus, the aggressive language arguably gets the mind pumped up, leading you to think of even more creative ideas for your new character.
Find Who the Fuck is My D&D Character?'s character creator on its website.
---
7. RPG Tinker
The best NPC stat block generator for D&D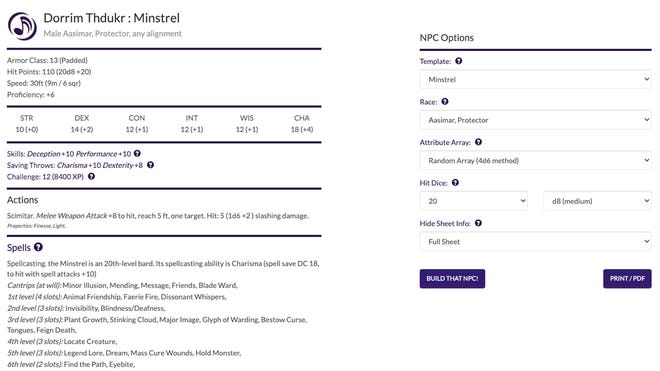 While DMHeroes provides a general overview of an NPC's backstory and features, it doesn't offer an in-depth stat block for the character to use. While RPG Tinker may not have the portrait, it more than makes up for it by creating fully-realised stat blocks and backstories for them in a matter of moments.
In addition, if you're looking to give a stat block to a specific type of enemy, you can probably find them in the bestiary. Everything from their alignment to what spells they can cast is covered in their stat blocks.
Find RPG Tinker's D&D 5E NPC generator on its website.
---
8. Fast Character
The best instant D&D character creator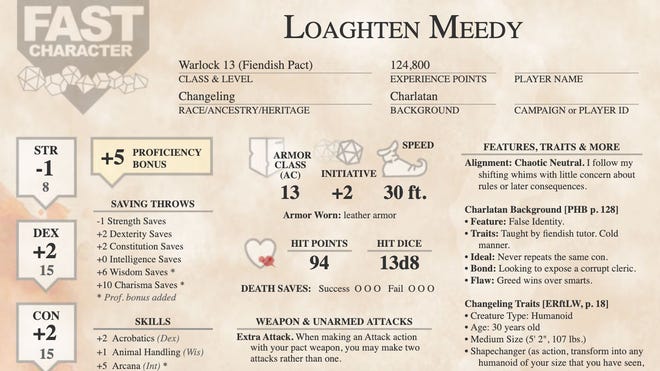 NPCs can't have all the fun, and that's where Fast Character excels. This takes the standard 5E character sheet and fills it with everything you need to play. The D&D character creator also handles all the "busywork" of character creation, such as physical features, traits, ideals, bonds, and flaws.
Everything is decided through the extremely in-depth character sheet. Of course, if you'd rather not bother with all that, the site is perfectly capable of generating decent random characters to play around with. If you find yourself needing a quick character to use in a pinch, then Fast Character is a great D&D character creator to consider, though do be reminded it's not suitable for multiclassing.
Find Fast Character's D&D character creator on its website.
---
9. Donjon
The best random NPC character creator for D&D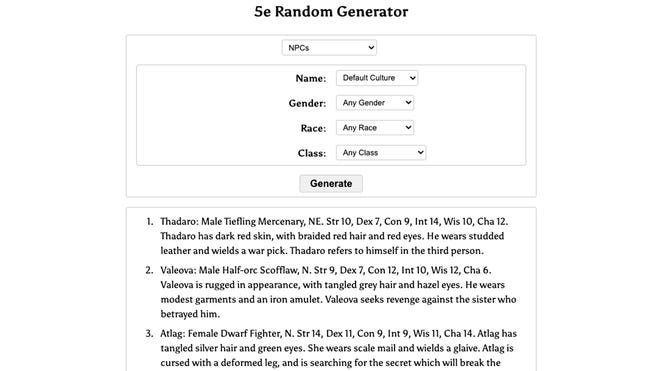 Donjon has quite several handy tools, but one of the most useful for quickly populating towns is its random NPC generator. Its NPC generator provides basic statistics, classes, features and backstories. While there are no portraits like in DMHeroes or full stat blocks like RPG Tinker, it doesn't need it. The main purpose of this tool is to add some much-needed "mundane life" to your campaign.
This tool injects some much-needed personality into the random NPCs you were likely going to ignore as background noise. On the off-chance that your players suddenly get attached to an anonymous NPC, Donjon's random NPC populator gives up to 10 different NPC names and personalities with a single click, so your village is bound to be a happy family very soon.
Find Donjon's NPC character creator as part of its Fantasy Random Generator on its website.
---
10. ChatGPT
The best AI character creator for D&D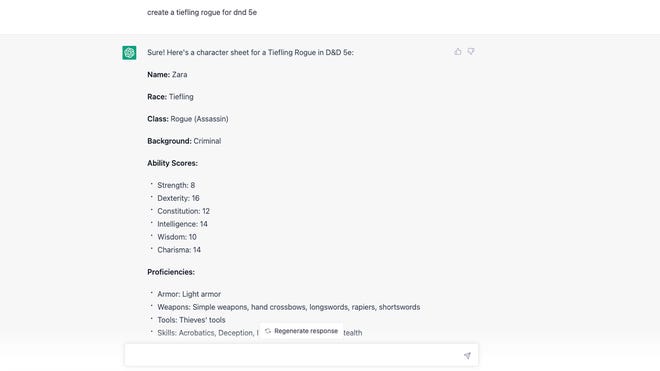 ChatGPT is making the rounds among fans of D&D 5E - and with good reason. The ability to ask for any kind of character from a chatbot and have it provide you with an expanded 5E-legal version of it is great. That said, in its current state, ChatGPT certainly needs a lot of checking to see if it's even accurate or coherent.
The misconception about GPT is that it's a "one-click" program, but it still takes a great writer to do wonders with ChatGPT's capabilities. For those that want a truly "NPC" experience, they can even ask GPT to provide some sample dialogue for the NPC. GPT can also provide stat blocks, but the other tools in this list are far better suited to that task. GPT is best used as a story enhancer for your campaign, expanding backstories and personalities.
Find ChatGPT on the OpenAI website.