10 best D&D map makers for dungeons, cities and worlds
Tabletop cartography from A to Z.
Dungeons & Dragons 5E is lucky to have such a huge community around it. That same community has created some of the best D&D map makers and tools in the tabletop scene.
A good map not only helps players visualise the world they are exploring, but also adds an extra layer of immersion to the game. It's certainly better than relying on the theatre of the mind when you're on a Discord call with your party.
Best D&D map makers
However, creating a detailed and accurate map by hand can be a daunting task. Luckily, there are many tools and resources available to help even the most inexperienced player.
From the simplest of grids to AI-generated 3D landscapes, here are some of the best D&D map makers and tools you should use in your next campaign.
---
1. Donjon
The best simple map maker for D&D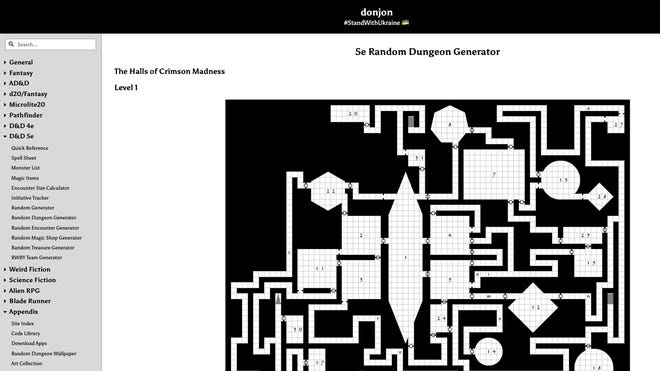 There are tons of map makers out there, but for people who want to just dabble and learn the craft, Donjon is the best tool to use. With its simple user interface and handy guides, anybody can create dungeons, named NPCs and even random encounters with a click of a button. Donjon has everything a newbie map maker needs to start their games quickly.
In addition to the map maker, Donjon also happens to host a whole suite of tools, including a spell book generator, a name generator and even a hilariously specific generator for teams inspired by animated series RWBY, if that's your thing.
Either way you slice it, Donjon is a simple and comprehensive platform with all the basics a dungeon master needs to make their world.
Find the suite of tools, including map makers, over on the Donjon website.
---
2. Medieval Fantasy City Generator
The best city map maker for D&D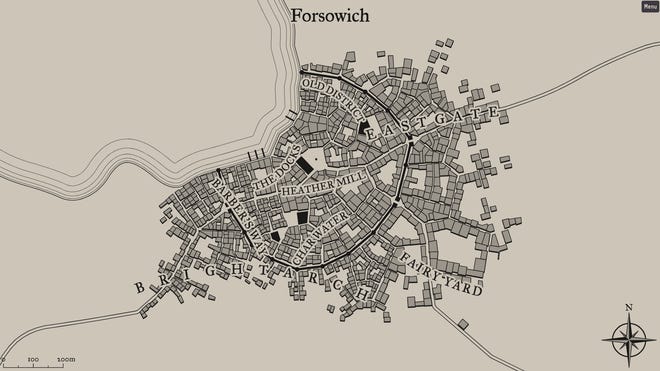 Of course, Donjon can only do so much with its simple tools. If you find yourself wanting an entire city for your party to play around in, then the Medieval Fantasy City Generator is the perfect tool. With a single click, the map-making tool generates entire towns or cities for your campaign to be set in. The generator even includes important landmarks with their own fantasy names.
These maps are also easily customisable. From the city's layout to its landmark names and even the map's colours, Medieval Fantasy City Generator is a complete package as far as making a map for a fantasy city goes. Pair it with Donjon's NPC generator to make fully-realised towns with both a town map and interior maps.
Find Medieval City Fantasy Generator over on developer Oleg Dolya's Itch.io page.
---
3. Wonderdraft
The best D&D map maker for creating continents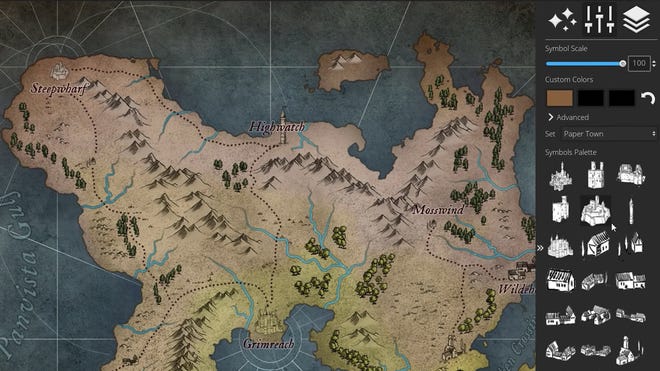 Why stop at cities? Why not create an entire continent? Wonderdraft is the first premium tool on this list, costing $30 as a one-time purchase. However, its subreddit would be the first to tell you that it's a purchase you won't regret, especially if you spend a lot of time as a dungeon master. Wonderdraft is a map-making tool that can be as simple or complex as you want it to be.
Continental Map Maker streamlines the process of making maps for D&D with its great user interface, handy tools and compatibility with a large library of third-party assets. It's heavily specialised in world/region maps, however, so make sure to use this tool in conjunction with the other tools previously discussed, such as Donjon and Medieval Fantasy City Generator. With all three, you'll be building fleshed-out worlds in no time.
Buy Wonderdraft from developer Megasploot's website.
---
4. Inkarnate
The best D&D map maker for generating whole worlds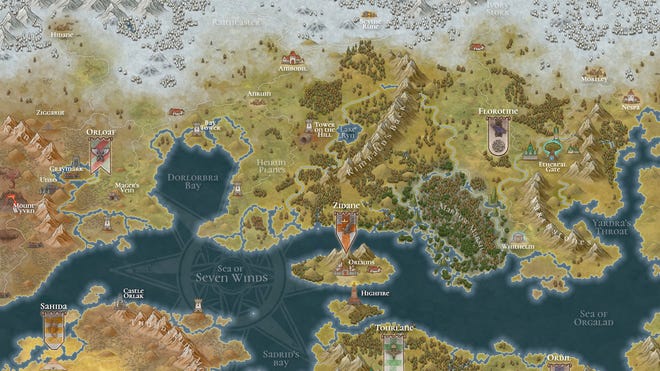 Continents? Why not entire worlds? Inkarnate is a fantastic and stylish map-making tool that covers almost all aspects of map-making, from battle maps to the world stage. With a huge pre-installed asset library, great support, a solid user interface and plenty of options for tweaking maps, Inkarnate does have quite a lot of advantages over Wonderdraft in some aspects.
However, it's important to note that Inkarnate also has a steeper learning curve than Wonderdraft's simple and intuitive process. Additionally, while Wonderdraft is a one-time purchase, Inkarnate is a subscription plan that charges $25 a year.
That said, there's a free version that offers up to 10 maps and a respectable amount of assets, so you're free to give Inkarnate a spin before committing to a subscription.
Try Inkarnate's free trial over on its official website.
---
5. Dungeondraft
The best battle map maker for D&D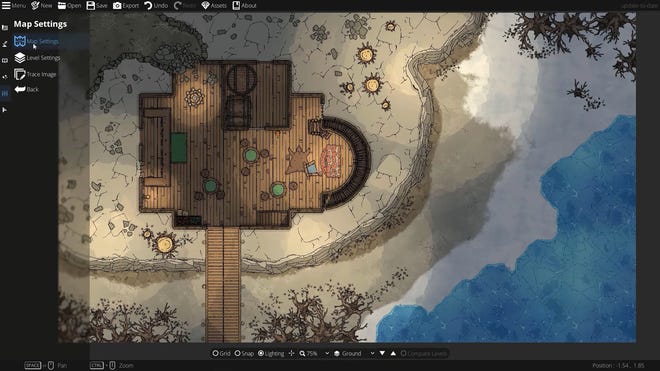 While Inkarnate and Donjon are great map generators in their own right, they aren't nearly as specialised in battle map creation as Dungeondraft. From the same team that brought you Wonderdraft comes a fully-realised map maker specifically aimed at creating battle maps. For a one-time purchase of $19.99, you gain lifetime access to one of the best battle map makers out there.
With its user-friendly interface, appealing art style, intuitive workflow, smart tools, built-in lighting and dungeon generators, Dungeondraft has everything you need to create beautiful battle maps for your D&D party to slay monsters in. Plus, these beautiful maps are compatible with all the major virtual tabletop platforms - such as Foundry VTT, MapTool, Arkenforge, Fantasy Ground Unity, D20Pro, Encounter+ and, of course, Roll20.
Buy Dungeondraft from developer Megasploot's website.
---
6. Dungeon Alchemist
The best 3D AI map maker for D&D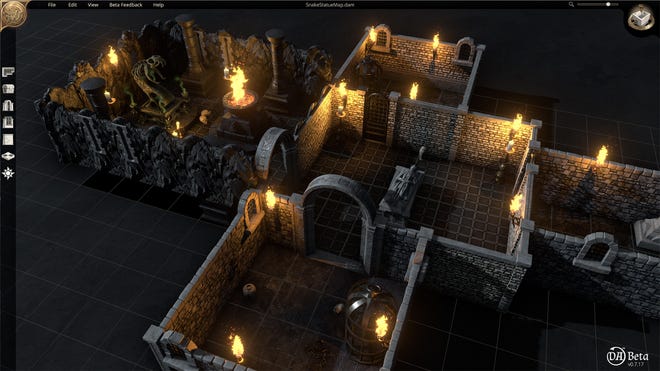 AI has been making the waves recently, with some entrepreneurial dungeon masters using ChatGPT to create quick campaign ideas. Many map makers, especially generators, have already used AI in some capacity, but Dungeon Alchemist is probably the most ambitious of the lot. Many of its users are already claiming it to be the best map maker on the market despite technically still being in early access.
Dungeon Alchemist can create highly-detailed, realistic maps for players' D&D campaigns using an intuitive and easy-to-use interface, all rendered in 3D. Custom 3D assets you create or buy online can also be imported into Dungeon Alchemist. With every update, it's gaining more unique tools, such as a first-person mode and animated assets, making it an exciting new tool for dungeon masters everywhere.
Buy Dungeon Alchemist from its official website or on Steam.
---
7. Dungeon Scrawl
The best old-school map maker for D&D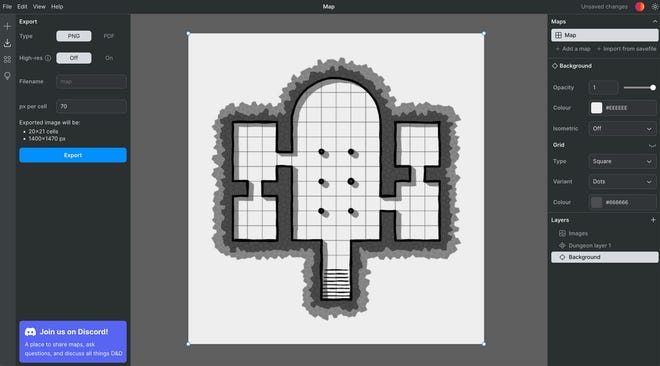 All these bells and whistles might not be your style. Maybe you like something simple and focused on the creation of classic-style D&D 5E maps. That's where Dungeon Scrawl comes in. It removes all the flashiness and complex tools in favour of a streamlined, consistent look that's best suited for the tabletop. Its maps are also very print-friendly, thanks to using monochromatic colour schemes.
It has just enough style that it can't be confused with Donjon's generators, while at the same time maintaining a neat and simple aesthetic. Though not browser-based, it's a free product with incredibly fast response times and an intuitive user interface. For those that want a D&D map maker with none of the fuss, Dungeon Scrawl might be worth taking a look at.
Find Dungeon Scrawl over on its official website.
---
8. Roll20
The best free virtual tabletop map maker for D&D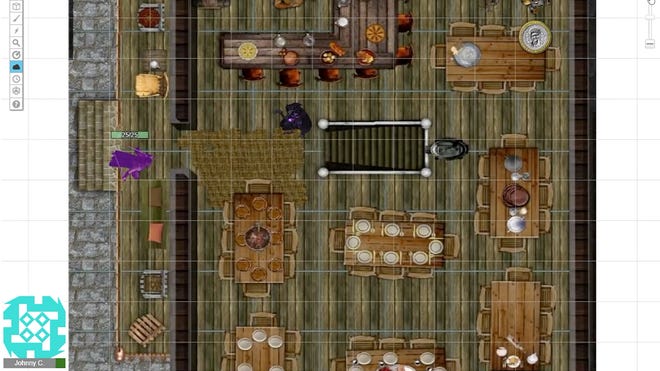 Roll20 is going to be the first virtual tabletop that most new players will be using and with good reason. Roll20 is a virtual tabletop platform with a suite of tools and features that facilitate online tabletop play. These include a customisable virtual tabletop, support for video and voice chat, built-in character sheets, dice rolling, and a library of custom assets, such as maps and tokens.
Roll20 is the easiest virtual tabletop to get into thanks to its popularity. It's very easy to find DMs and players who are inherently familiar with the platform, plus it's free. That said, Roll20 is also prone to issues of lag, non-responsive tabletop elements, and other bugs that make it mildly annoying to use. There's also the lack of customisability compared to other virtual tabletops. Overall though, Roll20 is one of the most convenient virtual tabletops to use, despite its flaws.
Try Roll20 for free over on its official website.
---
9. MapTool
The best customisable map maker for D&D (that's also open-source)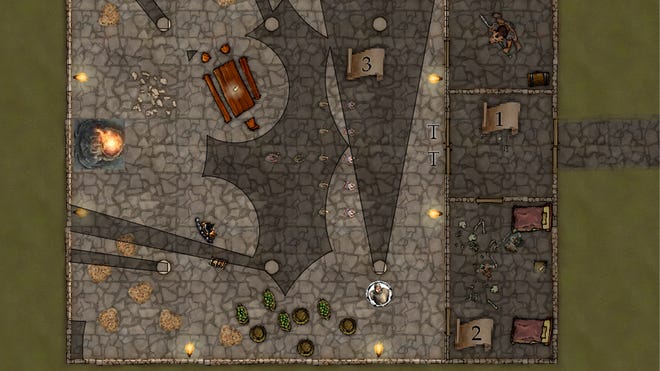 MapTool is a free and open-source virtual tabletop software that is designed to enhance the experience of playing tabletop roleplaying games, including D&D 5E. It also happens to be one of the most customisable virtual tabletops out there, and it's free. Being entirely open source means MapTool is deeply customisable if you happen to be a tech-oriented person.
That said, MapTool does require a bit of learning to get going. There's always the risk of bugs when playing around with an open-source tabletop too, especially if you leave things too cluttered. Still, the fact that it's free and offers more features than the free edition of Roll20 makes it a solid alternative.
Find MapTool over on the RPTools website.
---
10. Foundry Virtual Tabletop
The best premium virtual tabletop map maker for D&D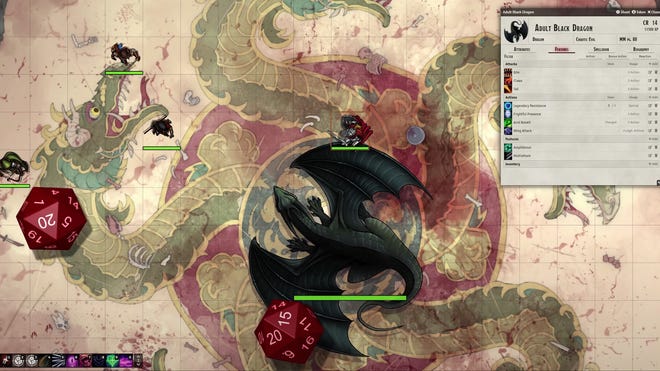 One of the quickest-rising virtual tabletops lately is Foundry Virtual Tabletop. For a one-time purchase of $50, Dungeon Masters gains access to one of the most complete, reliable and customisable virtual tabletops on the market. Lots of Dungeon Masters have been making the move to Foundry VTT since it was announced, and it's easy to see why. In the simplest of terms: it's Roll20, but better.
Users may struggle to relearn a new virtual tabletop at first, but learning is well worth it thanks to the lack of major bugs and paywalled features. The huge library of additional content also makes it more appealing for dungeon masters that think outside the box. You can even host your own Foundry VTT server directly on your machine - fantastic news for those with fast internet speeds who hated Roll20's slow servers.
The sheer amount of new features and expulsion of issues make Foundry VTT a wonderful choice for those willing to pay the moderate one-time entrance fee.
Find Foundry Virtual Tabletop on its official website.