10 best cards in Magic: The Gathering Commander
Taking charge.
As is the case with any Magic: The Gathering format, when it comes to Commander there are good cards and there are bad cards. Now, the bad cards can often become good in certain circumstances, but if you're looking for the best Commander cards, then you'll want the ones which are good nearly all of the time.
Commander, or EDH, is one of the most popular MTG formats of all time. There are a lot of reasons for this; you can play it at any level and build your deck to suit a casual or competitive playgroup, you can do absurd things that no other format can manage thanks to the card selection and the size of the decks, you only ever need one of any card - which can make it a lot cheaper than most formats - and you can play it with any number of people at a time.
Best MTG Commander cards
It's a versatile and entertaining format, and it's also an excellent way to learn MTG thanks to the plethora of interactions you'll come across in any given match. There are so many ways to build your deck, so many commanders to choose from and so many different things you can do that starting off can sometimes feel a bit daunting. Well, the basis of any good Commander deck should always come from the best Commander cards, so we've put a list together for you.
While each of these isn't necessarily a game-winner all on their own, they do all serve a purpose in nearly every situation. You can argue all you want about specific cards having a larger impact when they're played, but these are the ones that help you last long enough to play those cards. These can all serve as the spine of your deck - and you'll need a strong one if you want to win.
1. Sol Ring
"That doesn't seem fair"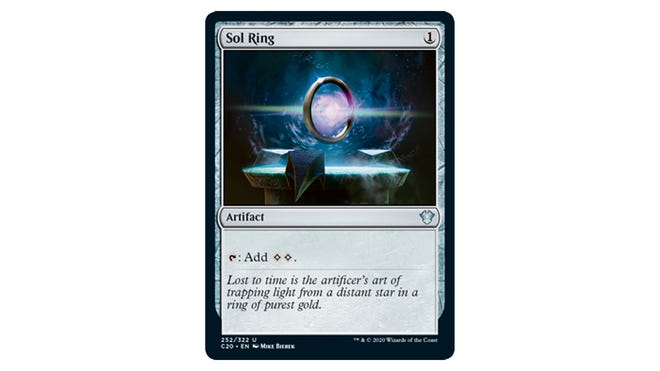 Turn one: play a land, tap the land, play Sol Ring. Those are the ideal first steps in any Commander game you'll ever play. It's the dream turn - or at least the beginnings of one. Sol Ring is a one-mana artifact that taps for two mana. That, as they say in finance, is pure profit. Sure, the mana is colourless, but do you know how many two-mana artifacts can follow-up a turn one Sol Ring? It's a lot, an absurd amount. Sol Ring has always been a staple in EDH, and unless they print a zero-mana variant, it always will be.
2. Cultivate
You reap what you sow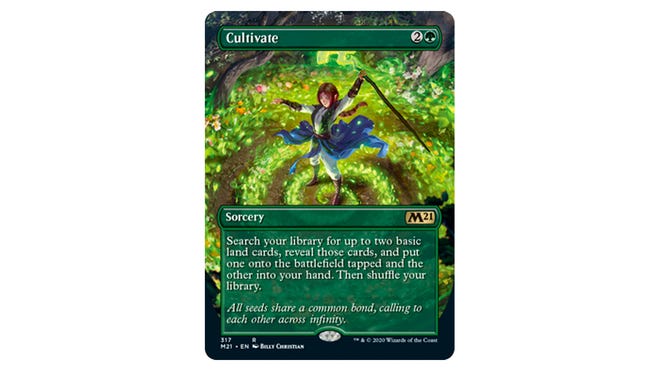 While we're talking about mana, how about we discuss one of the best ramp cards in MTG? Cultivate - or Kodama's Reach, as they're functionally the same card - is a three-mana spell that lets you put one basic land onto the battlefield tapped, and one other basic land into your hand. It's not the most powerful ramp spell of all time, but the versatility, low mana cost and low actual cost make it one of the most important.
3. Cyclonic Rift
What if none of you had a chance?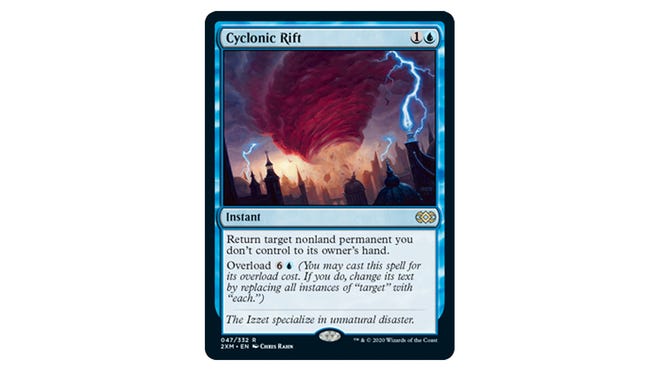 Removal spells come in all shapes and sizes. While you might prefer a spell that destroys everything on the field, Cyclonic Rift is nearly always better. Cyclonic Rift is a two-mana instant that lets you return one nonland permanent you don't control to its owner's hand. That's fine, but the real power comes in the form of its overload cost. If you pay seven mana instead, you can bounce every single nonland permanent you don't control to their owners' hands. Suddenly the only person with a board state is you, and that nearly always means you've won the game.
4. Smothering Tithe
Have you paid two mana?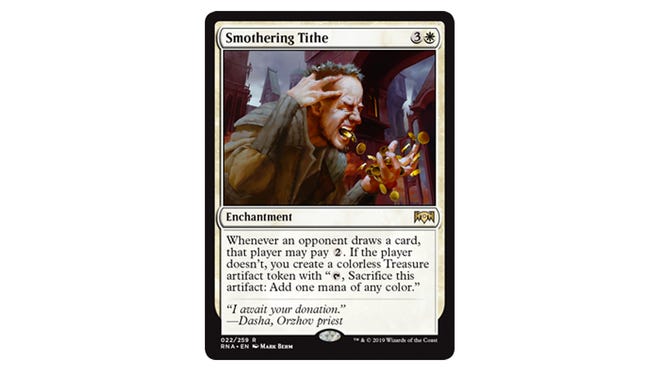 Smothering Tide is the most recent release on this list. It's hard for cards to break into the essential side of EDH, but Smothering Tithe isn't just any card. This is a four-mana enchantment that doesn't do anything when you play it. That can often lead to wasted turns, but not when the card is Smothering Tithe and the format is Commander.
Whenever an opponent draws a card - and yes, that includes their draw step - they can pay two mana. If they don't, you get a treasure token that you can tap and sacrifice for one mana whenever you want. That means in a four-player game, you'll likely have at least three extra mana to hand the turn after you play this. That's playing with power.
5. Rhystic Study
How about one mana?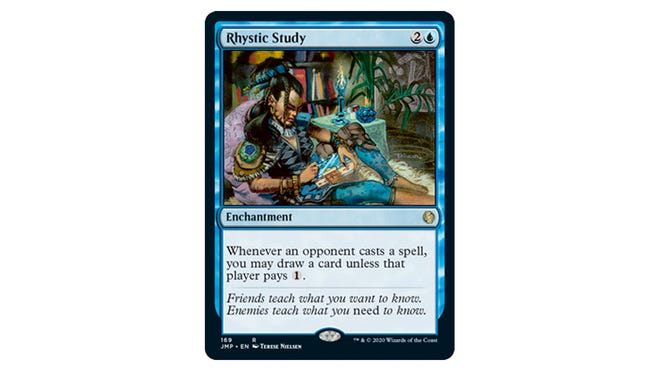 Rhystic Study is a bit like the original Smothering Tithe. It's a three-mana enchantment that reads: "Whenever an opponent casts a spell, you may draw a card unless that player pays one mana." The way this normally works is that for the first few turns, everyone will do their social duty of paying the one mana. Then one person will decide they'd rather use all of their mana to cast something, and then everyone does the same. All of a sudden you'll have 20 cards in your hand and a maniacal grin on your face.
6. Demonic Tutor
Just what you were looking for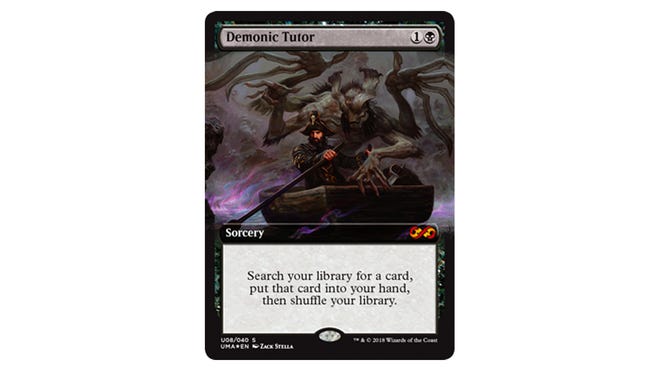 The chances of drawing the exact card you want in Commander are very low. You're playing with what is effectively a 100-card deck, and you can only have one of any card within it. Thankfully, Demonic Tutor basically doubles your chances because, for two mana, it allows you to grab any card you want out of your deck and put it into your hand. Card selection is excellent, let alone when you can choose anything you want.
7. Eternal Witness
You can have that back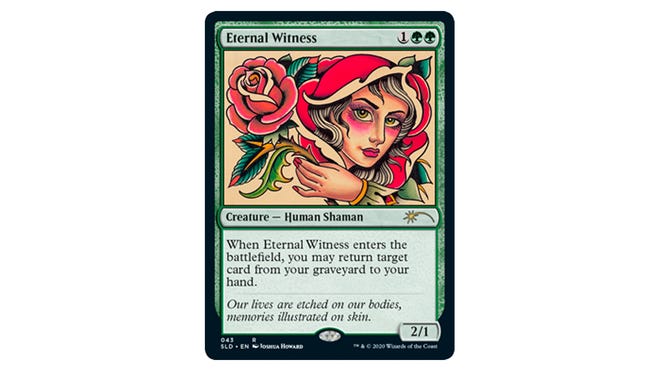 Eternal Witness - or E Wit, depending on how much time you spend trying to save time on saying syllables - is a very unassuming creature. For three mana, you get a 2/1 creature that has no combat abilities. Thankfully, whenever it enters the battlefield, you can pick a card from your graveyard and put it into your hand. It's a bit like Demonic Tutor, but for cards you've already played this game. It also happens to be a key component in a vast array of different combos - none of which are fair, all of which are fun.
8. Lightning Greaves
Nope, there's nothing you can do about this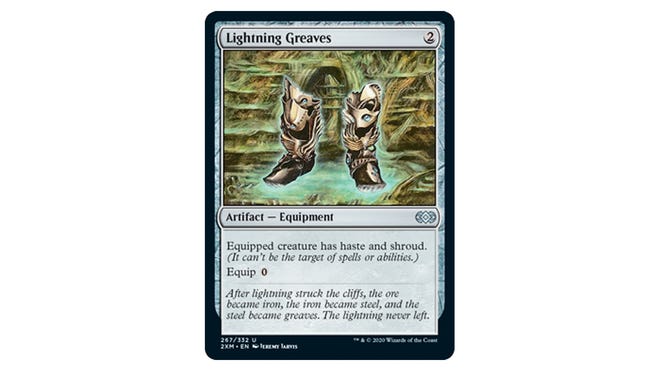 Not every Commander deck is actually built around the commander card. Some only have the commander there as a figurehead to give the player access to certain colours. Decks that rely on their commanders to win often find themselves struggling to keep those creatures alive. Well, Lightning Greaves is a two-mana artifact that costs zero mana to equip. It then gives the equipped creature Haste, which means it can attack or tap immediately, and Shroud, which means nothing can target it. This, our distinguished guests, is how you protect your commander.
9. Swords to Plowshares
I think you'll find your creature is gone now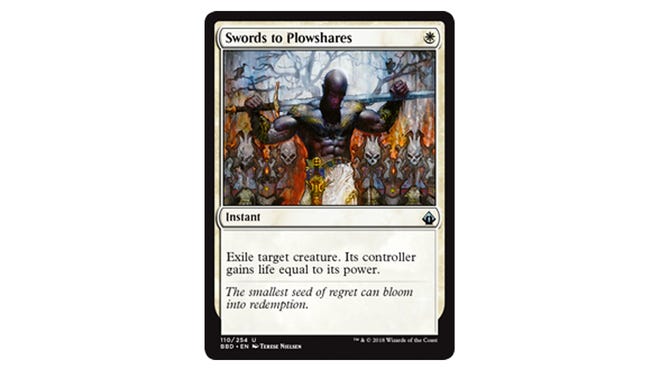 Removing troublesome creatures is a huge part of MTG, but especially so in Commander, when those creatures are often the harbingers of our own demise. There are lots of removal spells in Magic: The Gathering, but Swords to Plowshares might be the best one out there. For a single White mana, you can exile one creature. The downside here is that the controller of that creature gains life equal to its power but, honestly, that's so rarely relevant when you're removing a game-ending threat that has its eyes on you.
10. Arcane Signet
Even more mana!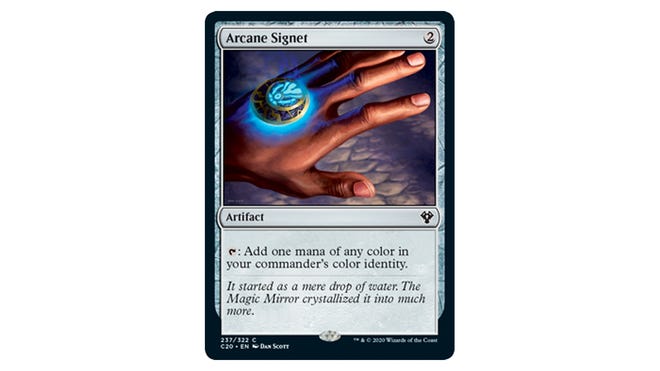 We started this list of the best Commander cards with Sol Ring. Remember how we talked about it being used to power out a two-mana artifact on turn one? Good times, right? Well, of all the choices out there, Arcane Signet might just be the best of the bunch. For two mana, you get an artifact that taps for one mana of any colour in your commander's colour identity. Allow us to upgrade the perfect turn one play for you: play a land, tap the land, play Sol Ring, tap Sol Ring, play Arcane Signet, play a one-mana spell of your choosing. This is EDH, and that is the dream.