Critical Role is getting its first official Dungeons & Dragons 5E book, Explorer's Guide to Wildemount
Vox popular.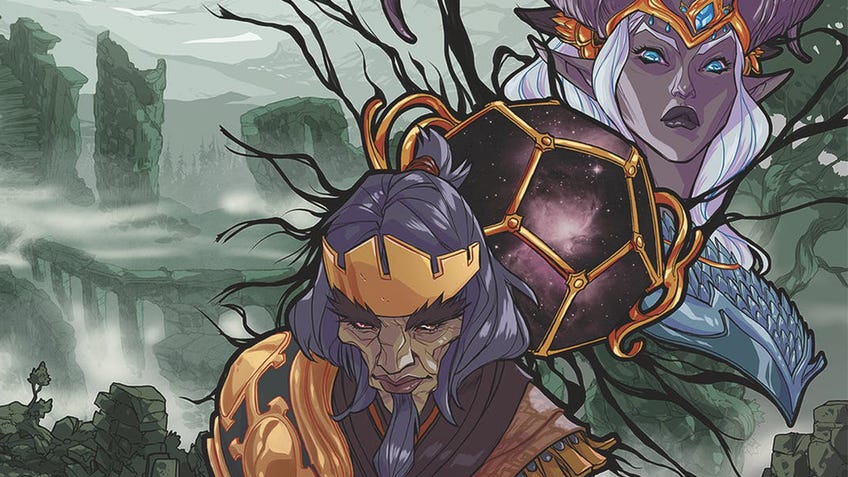 Update: We've updated this article to the include Wizards of the Coast's annoucement, following the early Amazon leak.
Wizards of the Coast has unveiled the latest Dungeons & Dragons 5E campaign book, Explorer's Guide to Wildemount, which takes players to the world of Critical Role.
Matthew Mercer, dungeon master for the Critical Role group, is credited as a contributor to the book, along with the Wizards RPG team.
EPIC HYPE: Explorer's Guide to Wildemount, our new campaign guide from Dungeons & Dragons (@Wizards_DnD), is available for pre-order RIGHT NOW!https://t.co/WY3Bo1jH2U

?? https://t.co/GuVhuVBNab
?? https://t.co/s3KZfnVraW
?? https://t.co/UxTmVcFtIz pic.twitter.com/LOxOT0ID2E

— Critical Role (@CriticalRole) January 13, 2020
This makes the Explorer's Guide to Wildemount the first official Critical Role Dungeons & Dragons 5E book, although Mercer previously wrote the unofficial (not published via Wizards) Tal'Dorei Campaign - which lets you play in the same setting as Critical Role's very first campaign setting that followed the adventures of group Vox Machina - with Green Ronin Publishing.
Furthermore, last year's official D&D setting Baldur's Gate: Descent into Avernus - an excellent Dungeon & Dragons 5E campaign comprising many demons and soul-snatching - features the Critical Role canon. Namely, the show's actor Joe Manganiello's character Arkhan the Cruel, who turns up as a non-player-character in the campaign.
According to Wizards, the Explorer's Guide to Wildemount promises a "land of war, betrayal, and swashbuckling adventure" and takes place during a huge conflict between the Dwendalian Empire and the Kryn Dynasty. The book will include character options, four different starting adventures and a "heroic chronicle" to help with crafting a character backstory.
In addition, there will be plentiful resources to help dungeon masters create a Wildemount-based campaign, plus a range of spells, subclasses, magic items and monsters unique to the world of Exandria - where the Wildemount continent is based.
The Vestiges of Divergence, a series of powerful artefacts, and the "possibility" of using the Dunamancy magic school - a homebrew creation of Mercer's - will also be included within the upcoming book.
The title and details of the official sourcebook were leaked one day ahead of its planned official announcement via a listing on Amazon. According to a tweet from Dungeons & Dragons publisher Wizards of the Coast, the announcement for the upcoming book was planned for January 13th.
However, on January 12th, Amazon unveiled a detailed listing for the Explorer's Guide to Wildemount, a continent well-known for being the setting behind the second campaign of popular Dungeons & Dragons actual play series Critical Role - a show often credited with bringing the fantasy RPG to a vast new audience. That particular campaign featured adventuring party The Mighty Nein.
Get the quasits out of our office! Our plan to make a #DnD book announcement on Thursday has been changed. Adventurers, mark your calendars for Monday, January 13.

— Dungeons & Dragons (@Wizards_DnD) January 7, 2020
The pre-release leak is not an unusual occurrence for Wizards. Previous sourcebooks Eberron: Rising from the Last War, Ghosts of the Saltmarsh and Guildmaster's Guide to Ravnica - one of the best sourcebooks for Dungeons & Dragons 5E - were all discovered via Amazon listing prior to official release.
The publisher attempted to avoid this with the Explorer's Guide to Wildemount, initially posting it on Amazon under the title 'Dungeons & Dragons March Release Book'.
At the time, the Amazon listing displayed a "Coming Soon" logo instead of the book cover.
Released every Thursday, Critical Role draws upwards of 60,000 viewers per stream. Originally launched on culture channel Geek & Sundry - also home to Wil Wheaton's board game show TableTop - Critical Role branched out by itself last February and started out its own channel and brand.
Not long after, it Kickstarted an animated series to the tune of $11.4 million (£8.9 million) - making it one of the most funded Kickstarter campaigns of all time. Afterwards, Amazon picked it up for additional episodes and a second season.
Mercer has also created a multitude of supplements for with Wizards of the Coast over the years, including his own class, the Blood Hunter, among other things. Furthermore, Wizards affiliated tool D&D Beyond has been a prominent sponsor of Critical Role.
The Explorer's Guide to Wildemount is available on Amazon US for $35 (£38.74 on the UK site) and has been given a release date of March 17th 2020 - the same date the Silverhand's Explorer's Kit, a Forgotten Realms themed set of dice - is touted to come out.
If you're still new to the RPG, be sure to take a gander at how to get started with Dungeons & Dragons as a player and what to buy if you want to play Dungeons & Dragons 5E.