Here are the best new board games to play at PAX Unplugged 2019
The 10 games we're most excited to check out this weekend in Philly.
PAX Unplugged 2019 is almost upon us, bringing the year's biggest and best board games, RPGs and tabletop games of all sorts to the Philadelphia Convention Center for folks to play throughout December 6th to 8th.
We here on the Dicebreaker team will be heading along to the show to check out the latest hotness and dig out some of the hidden gaming gems 2019 has to offer. From dexterity games about building skyscrapers able to withstand the mighty shakes of the table to the long-awaited returns of legendary board gaming classics, there's plenty of interesting games we're looking forward to taking a look at. Keep your eyes locked on the Dicebreaker YouTube channel and this very website to find out what we played very soon - and what we thought of them.
If you're at the show and want to check the games out for yourself, we're not keeping all the fun to ourselves. We've rounded up 10 of the board games we're most excited to play at PAX Unplugged 2019 below to help you seek out the treasures of the show floor. If you play any over the weekend, let us know what you thought in the comments section!
While we're on the subject of PAX Unplugged, Dicebreaker has three days full of exciting plans - and you can be a part of the fun!
We'll be appearing on a couple of panels during over the weekend, interviewing acclaimed Pax Pamir: Second Edition designers Cole and Drew Wehrle on Friday at 10am in the Crab God Theatre about their new venture Wehrlegig Games before facing off against Quinns and Matt from Shut Up & Sit Down in an epic crossover game on Sunday at 10am in the Mothman Theatre - you can also catch the live stream on Twitch if you're not at the show.
Come tell us what your highlights of the show so far are at the Dicebreaker community mixer at 6pm on Saturday in the nearby McGillen's Olde Ale House, and play the team yourself in some of their favourite games on Sunday from 2pm to 4pm.
Alright, on with the games.
(Full disclosure: PAX Unplugged is an event run by ReedPOP, which owns Dicebreaker parent Gamer Network.)
Extraordinary Adventures: Pirates!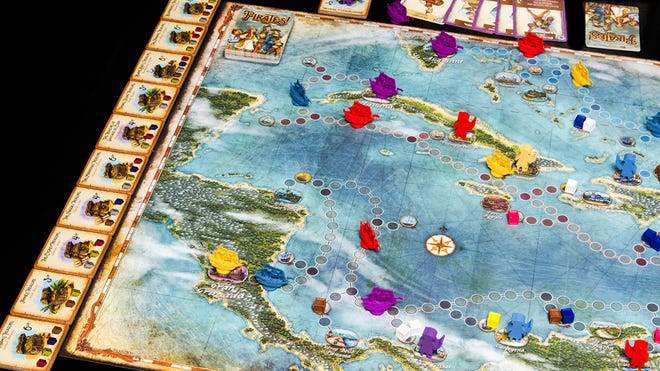 It's no secret we're big fans of Raccoon Tycoon here at Dicebreaker, and everyone knows that our own Johnny Chiodini has quite the soft spot for scurvy seadogs. Imagine our pleasant surprise, then, when we saw that the publisher behind Raccoon Tycoon, Forbidden Games, was putting out a game about pirates - called, handily, Pirates! Extraordinary Adventures: Pirates! throws players into the Caribbean Sea in search of treasure; the only problem is they're not alone in their pursuit of all that glitters. Cards power your three ships across the waves, with the option to take detours in search of extra booty or stop off to trade your cargo for even more gold, as well as picking up extra crew cards for your deck. Getting to the treasure first will net you a whole load of gold - but it might be that collecting booty along the way is just as prosperous...
Flotilla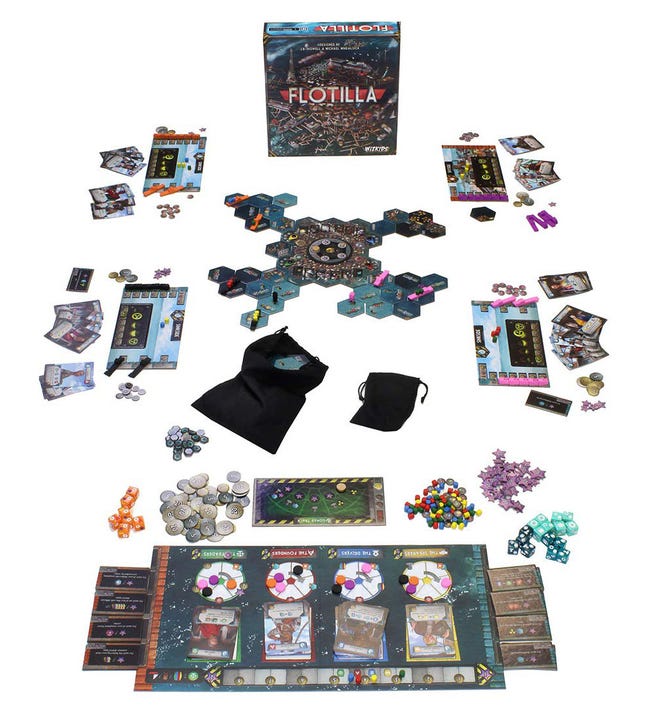 A bit like Waterworld: The Board Game - except if Waterworld had been good - Flotilla takes place in a post-apocalyptic flooded Earth. Humanity's last refuge is a floating city that the players must venture from in search of scrap and salvage to sell, exploring the endless seas as Sinksiders. Except there's a twist: at any point, players can flip over their board to settle down and become a Skysider, no longer sailing the waves but working to build up the flotilla with the material gathered. Each role has its benefits, and choosing when to switch becomes crucial in pulling ahead of your opponents as the most influential member of the floating commiunity by the end of the game. Add in a market that's impacted by the players' decisions, and you can see why the ever-eloquent Charlie Theel called Flotilla one of 2019's most unique board games.
Catacombs Cubes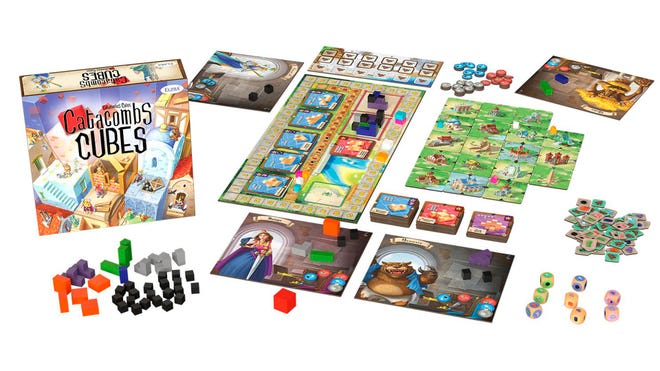 We love Catacombs here at Dicebreaker - in fact, in our opinion, it's one of the best board games you can buy in 2019 - so a new game set in the world of the fantasy flicking adventure is always a reason to be excited. Unlike past games in the series, Catacombs Cubes is less about flicking and more about building, with players arranging Tetris-like blocks as quick as they can to match the shapes on different cards. Completing the shapes means constructing different buildings, which get added to the growing village and net their builder points and other rewards. Funded on Kickstarter earlier this year, Catacombs Cubes looks to be an interesting and different direction for the series - as fans, we're keen to get our hands on it and start building for ourselves.
Cities: Skylines - The Board Game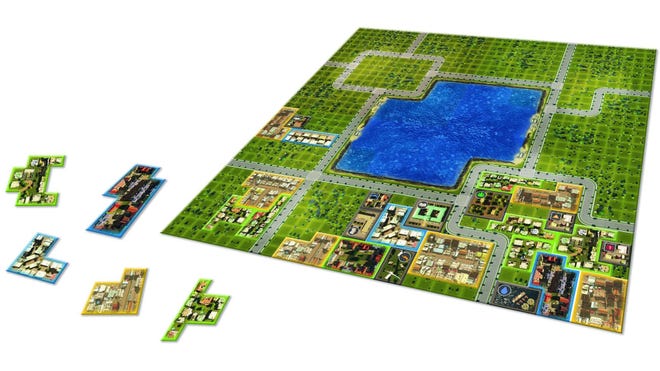 Based on the computer game that's inherited SimCity's crown as the city-building game to beat, Cities: Skylines - The Board Game brings an interesting co-op twist to the challenge of managing your growing metropolis on the tabletop. The players are working together to create the most efficient layout of residential, commercial and industrial aras to keep their city thriving and fulfil various objectives without going bankrupt, hoping to have the highest possible happiness among their inhabitants by the end of the game. Different buildings and land boards each playthrough mean that every game is a fresh challenge, with the pleasure of growing your shared city into a bustling hub. There's also a tutorial mode for newcomers, and you can play by yourself in single-player if you're after a cardboard replacement for the PC game.
MegaCity: Oceania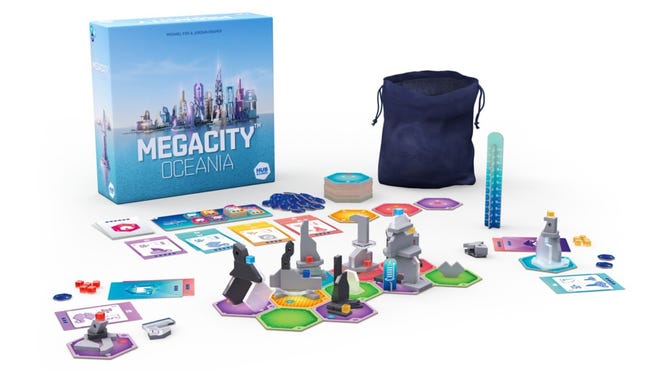 Here's another game about building a floating city in a flooded Earth, but MegaCity: Oceania couldn't be more different to the number-crunching, deeply strategic Flotilla. Sometimes when it comes to building a city, you just want to build it yourself, you know? MegaCity lets you do exactly that, challenging players to stack and balance blocks of various shapes and sizes to create structures and complete contracts. What makes this especially tricky is you have to build your architectural masterpiece on a small hex tile and slide it to connect with the shared city in the middle of the table, without it toppling over or otherwise collapsing into a sad pile of bricks. Although you're all adding to a single spread of buildings, MegaCity is a competitive game, with the best architect taking the win at the end. The mix of dexterity and strategy is probably unlike any game you've played before, so definitely give MegaCity a go - just make sure you're not playing on a wobbly table.
Copenhagen: Roll & Write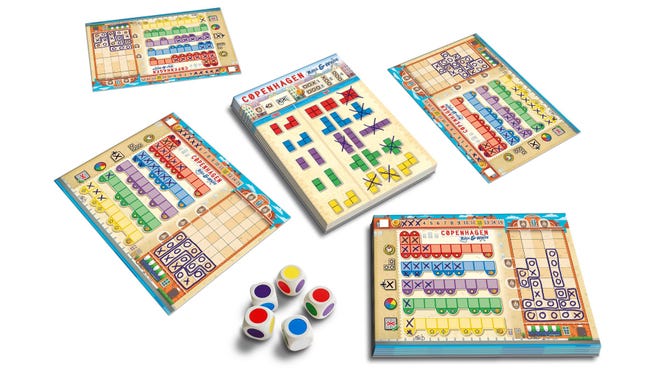 The latest hit board game to get a roll-and-write spin-off is this year's Copenhagen, a charming game about making the Danish city look as colourful as possible by decorating the houses along its waterfront. Whereas the original game involved picking cards and spending sets of them to add windows and floors to the buildings, Copenhagen: Roll & Write swaps the cards for dice. Players roll the dice and use the results to draw a certain tile shape on their sheet, filling in the houses and making use of special powers to push their score as high as possible. Copenhagen has been a 2019 highlight for many, while roll-and-write games such as Ganz Schon Clever have made the genre the hottest trend on the tabletop - could this be the best of both worlds?
Gloom of Thrones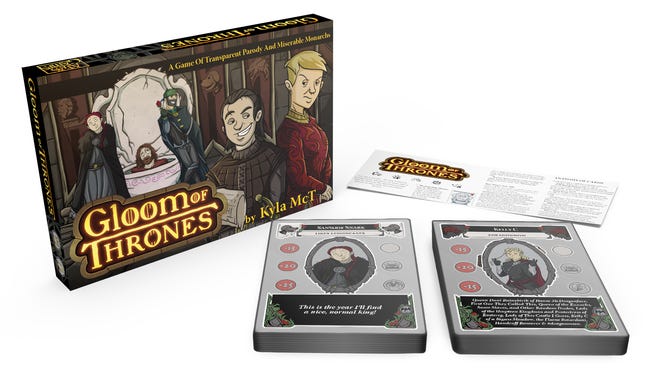 A bunch of miserable people suffering through a bunch of bad times before getting offed in various gruesome ways. Is it Gloom, or Game of Thrones? There's no need to decide between the two anymore, as Keith Baker's macabre card game finds its perfect morbid setting in a parody of George RR Martin's fantasy world of Westeros. Like the original card game, players are trying to inflict as much sadness and suffering on their family of unfortunates - avoiding any moments of happiness (well, as happy as things get when even weddings are something to dread) offered by their opponents - before they finally kick the bucket. Gloom of Thrones brings across Gloom's clever transparent cards that let misery after misery stack up on top of each character as they're shoved from towers, engage in *those* family relations and generally have a crap time. Sounds like fun, right?
Bus: 20th Anniversary Edition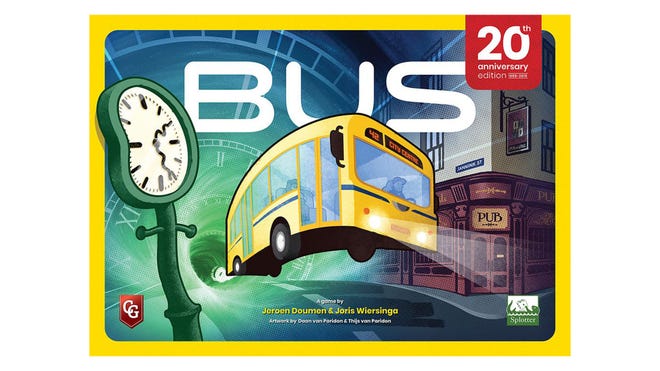 Bus was one of the first games released by Jeroen Doumen and Joris Wiersinga, the talented pair of designers who would go on to create one of the most highly-rated cult board games of all time, Food Chain Magnate. At the time, Bus was also lauded as one of the first games to feature gameplay based on worker-placement - the now-ubiquitous mechanic found in hit games such as Carassonne. That was way back in 1999; to celebrate Bus' 20th anniversary, it's back in a spuced-up new edition with new artwork. The game itself sees players creating routes throughout a city to transport people around in the most efficient way possible, taking them from home to work - as well as other vital locations like hospitals and the local pub. Think of it sort of like a Ticket to Ride, except with the need to ensure your bus service runs faster than your rivals'. Like many of the games from Doumen and Wiersinga's beloved indie studio Splotter, Bus has become increasingly hard to find in the years following its release. This re-release should hopefully solve that problem, giving new players a fresh chance to discover a cult classic.
Dune (2019)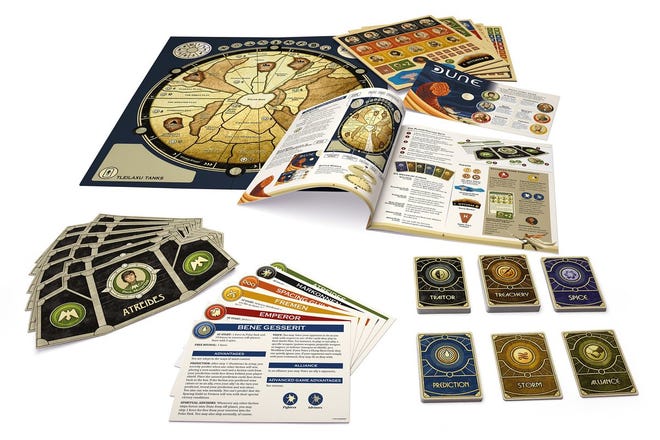 A lost legend among board gamers, Dune was first released more than 30 years ago before vanishing into a mess of licensing issues and the furor surrounding David Lynch's movie of Frank Herbert's sci-fi doorstop novel. After almost four decades out of print and only available in rare, expensive copies on eBay or as unofficial print-and-play remakes, it's finally back in 2019. Created by the designers of Cosmic Encounter - one of the greatest and most influential games ever made - Dune is an epic sandstorm of strategy, alliance, betrayal and sandworms. Each player controls a different faction fighting over the planet and its valuable spice, trying to use their unique abilities and uneasy alliances with other players to take control of strongholds. Meanwhile, a sandstorm whips around, sandworms burst up through the floor and leaders are using every weapon in their arsenal to take out their rivals. Brilliant, brutal and beautiful thanks to a complete overhaul of the original game, Dune is a classic it's well worth rediscovering.
Sabotage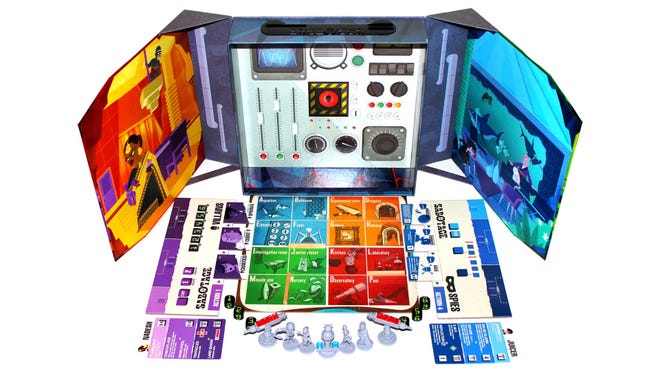 Two teams get super sneaky in this showdown between spies and supervillains. The spy players must creep around the game's grid map, trying to hack the villains' computers and foil their evil plans. But they have to tease their opponents with information about where they are, leading the villain team to chase them and confront them to get away with their plot and achieve world domination. Dice rolls determine the actions that everyone can perform each round, with the teams spending the rolls to move around and either evade or corner their enemies. Apparently inspired by the Spies vs Mercs multiplayer mode in the Splinter Cell video games, Sabotage is the latest game from Tim Fowers, the creator of excellent co-op heist Burgle Bros. and word-spelling deckbuilder Paperback - so we have very high hopes indeed for this one.