8 best Dungeons & Dragons gifts for Christmas
Pick out the perfect tabletop present with our essential D&D gift guide.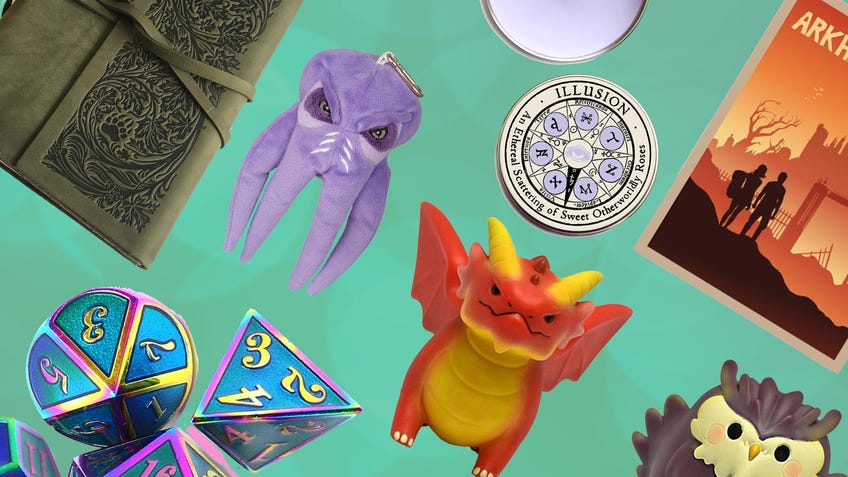 Christmas is on the horizon, and our crippled wallets prepare themselves for another spirited festive bashing. To help you out, we've put together an essential Christmas gift guide to help you pick out the perfect presents for Dungeons & Dragons fans - without just adding more boxes to their mounting collection.
Roleplaying-related accessories can be pretty expensive. For our Christmas gift recommendations, we've kept a budget in mind: nearly everything on this list costs below £50, most presents come in at under £20 and a few are even around £10 - making them a good shout for Secret Santa.
If you're looking for the best tabletop RPGs to buy as gifts, this isn't the place to find them - this is solely a list of other trinkets, merchandise and other related bits and bobs. Folks seeking other tabletop titles to play together during the festive season, be sure to take a gander at our selection of the best party board games, or the top board games to play at Christmas. However, if you're after gaming accessories: this is definitely the list for you.
Among the best Christmas gifts for D&D and tabletop RPG fans are dice trays that are both travel-friendly and pleasing to gaze upon; colourful metal dice that won't break the bank (but might break your table), and a range of figurines and books to help you ponder upon all your madcap tabletop adventures.
We also have stylish, soft and occasionally cursed means of storing your dice, a few things that'll really amp your RPG atmosphere - like candles and gorgeous journals - plus board game art prints to adorn your walls.
Best Dungeons & Dragons gifts
Feel free to use these as Christmas gift inspiration, there are some general gaming accessories featured here which can - at risk of sounding corny - really enhance your overall gaming experience. Every dedicated RPG fan - even if they're just getting started with Dungeons & Dragons 5E - deserves a tray and lovely dice (whether it'll improve your rolls is up for debate), and we're yet to meet a game master who doesn't appreciate having a fine, weighty tome to write in - it helps them plot out all the ways they want to kill you, but in style.
Even if you have everything you need to buy if you want to play Dungeons & Dragons 5E, there are plenty of ways to bring an extra sense of atmosphere and entertainment to your group with the correct accessories.
So treat your friends and family - or yourself - with some of these delightful Christmas gifts for board gamers. Without further adieu, let's unwrap the perfect tabletop trinkets and accessories.
1. Folding dice tray
Whether you like laying down dice for Dungeons & Dragons, Warhammer 40,000 or board games, a lovely dice tray is truly the gift that never stops giving to a tabletop gamer. That's because one of these beautiful beasts ensures that you'll never be without an utterly curse-free dice-rolling surface. A dashing hexagon shape and available in eight bright colours, these PU leather trays also fold flat for easy transportation.
Buy colourful folding dice tray on Amazon UK / Amazon US.
2. Metal dice set
Perfect for Dungeons & Dragons, you've not rolled dice until you've tried out some big metal chonks. These are available in a huge range of colours, from metallic purple-blues to bright pink to a copper-edged black. Some glisten, others glitter, and a few even glow in the dark.
They include seven dice, which are all the dice you'll ever need for Dungeons & Dragons. These comprise the iconic d20, a d12, two d10s - including the infamous spinning percentile die - one d8, a d6 (that's your usual six-sided dice) and a deadly d4. Selected sets even come with a little leather pouch for storage.
Buy metal dice set at Amazon UK / Amazon US
3. Pet Owlbear and Red Dragon - Figurines of Adorable Power
These lovely figurines are based on Dungeons & Dragons 5E's Figurines of Wondrous Power: small statuettes that turn into giant living creatures when thrown, such as a telepathic owl and a ginormous fly.
Unfortunately, these two D&D figurines won't turn into monstrous beasts with magical powers (probably a good thing considering Owlbears are especially hostile), but they will lovingly adorn any surface. Soft, beautifully made and oh-so-cute, you can get a slightly smirking red dragon and an unreasonably cute and not-fearsome-at-all Owlbear.
Buy Figurine of Adorable Power in Owlbear or Red Dragon at Zatu UK / Amazon US
4. Warhammer 40,000 Funko Pop Vinyl figures
Blood for the Blood God! Get some Warhammer 40,000 Funko Pops for the Funko Pop Throne with these adorable figures available in a range of units. Enjoy an adorable Blood Angel assault Marine - revered across the galaxy for their bloodthirsty nature. Or a Space Wolf: Nordic-inspired Space Marines who can take literal wolves into battle.
There's also the mighty Intercessor, a transhuman warrior created over 10,000 years ago. Or there's a Dark Angels veteran - a Space Marine chapter still atoning for an ancient crime of betrayal from millenia past. These Funko Pop figurines are perfect for a Warhammer 40,000 fan seeking a little companion for desk, shelf or war.
Buy Warhammer 40,000 Funko Pops at Amazon UK / Amazon US
5. Dungeons & Dragons Art & Arcana: A Visual History
An officially licensed history of Dungeons & Dragons that features over 700 pieces of artwork drawn from every edition of the game, including sketches, supplement art, magazines, rare photographs andsecret drafts. It's not only comprehensive, it's absolutely beautiful: a real visual feast.
You can enjoy the old monochromatic, cursed etch-style pictures of Dungeons & Dragons 1E, psychedelic European D&D adverts and full-page spreads of the intricately-painted monsters that embody Dungeons & Dragons 5E. You can also track the evolution of a Mind Flayer, or read up on the Satanic Panic. Art & Arcana is a cultural treat that makes a fine addition to any coffee table (or given how chunky the art book is, serve as a table in its own right).
If you really want to treat yourself, take a gander at the bulky special edition: which is sleek and dark like the night, but packs the beefiness of an orc.
Buy Art & Arcana: A Visual History at Amazon UK / Amazon US
Buy Art & Arcana: A Visual History Special Edition at Amazon UK / Amazon US
6. Mind Flayer dice pouch
Store your dice in appropriately cursed style with this plushie Mind Flayer-shaped dice pouch. Also known as illithids, you may have come across one of these tentacled monsters from Dungeons & Dragons in Netflix series Stranger Things. Although they're sadistic and evil abominations who literally devour brains for sustenance, it turns out their soft, lovely heads make fabulous storage solutions.
This dice pouch holds about three full sets of dice, and can also rest upon your hands in a pleasing, tentacled formation. This dice cozy is a fun gift for fans of unknowable horrors who require multiple dice sets.
Buy Ultra Pro Dungeons & Dragons Mind Flayer dice pouch at Amazon UK / Amazon US
7. Adventure candles
Make your RPG campaign extra special by using the appropriate scents. With flavours like Wizard's Tower, the unknowable Eldritch Shrine and Dragon Fire, you're guaranteed unique smells to immerse your party even further into your roleplaying setting of choice. Candle maker Game Tee also includes larger candles based on spells, like Illusion, "an ethereal scattering of sweet otherworldly roses", and Destruction, which allegedly explores the language a flame speaks.
Predominantly made of clean burning soy wax, vegan and encased in beautiful tins, these really are among the most luxurious of gaming gifts. Most burn for up to 20 hours - plentiful time for multiple sessions - and the bigger candles can go for well over 25.
Buy adventure candles at Gametee
8. Critical Hit journal
RPG players and dungeon masters alike will enjoy one of these gorgeous journals. For players they're perfect for storing character sheets, making adventure notes and keeping any item or secret slips.
DMs can enjoy them for writing and secret doodles, or go full pelt and get one of the special dungeon master journals - which includes four internal notebooks for organisation, including one comprised of grid paper (I cannot even begin to express how useful this is), pen straps, pockets and a bonus brass d20 actually attached to the book itself.
They come in a range of unique styles, so whether you're playing an earthly druid or grimdark warlock, one of these journals is sure to appeal to your character's - or your game master's - sense of style.
Buy a game master's journal or a leather gaming notebook at Gametee