Best Dungeons & Dragons gift ideas for Christmas
Behold(er)! We've listed the best birthday, Christmas and holiday gifts for any D&D fan.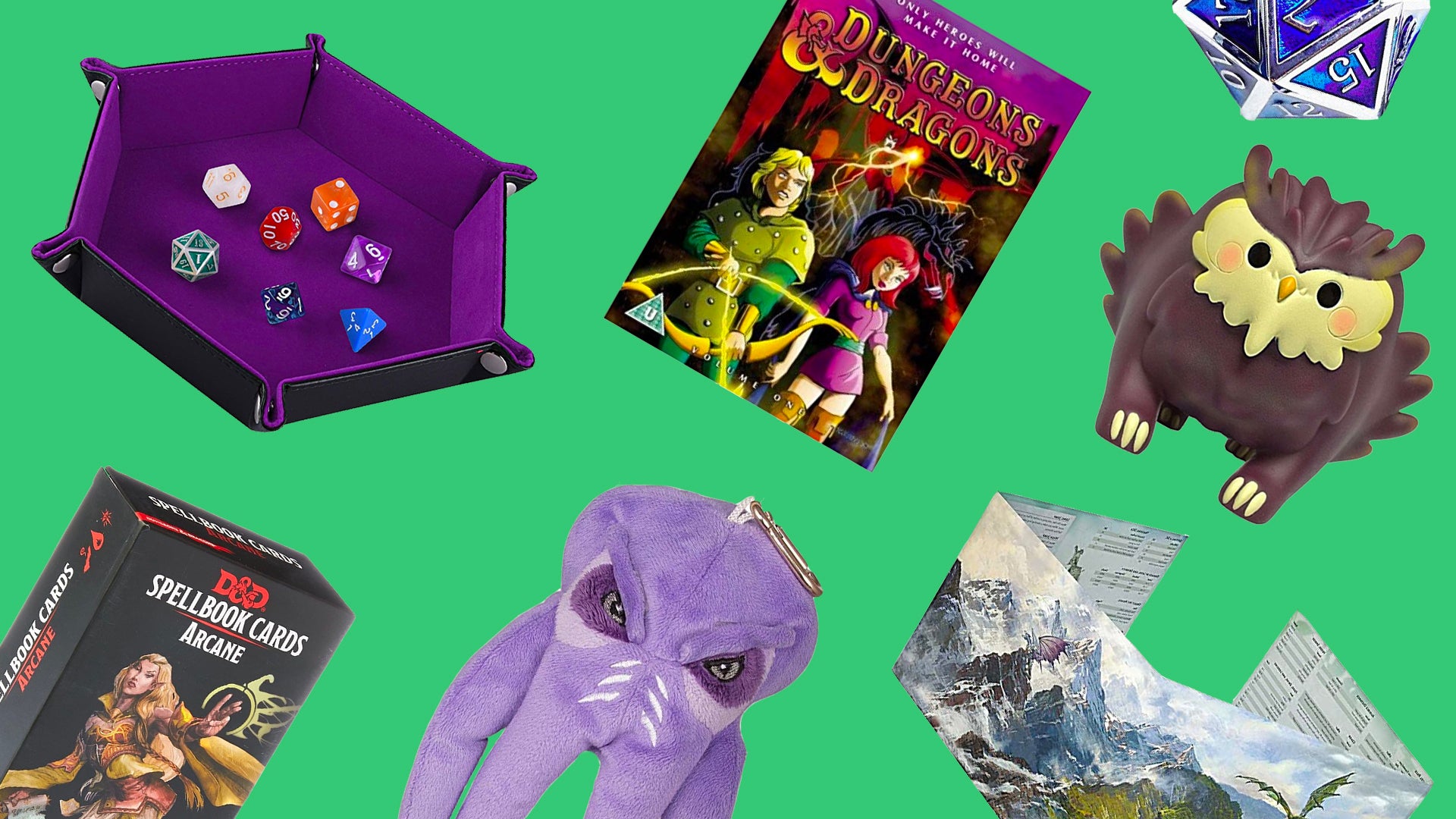 When it comes to buying the best D&D gifts for any die-hard fan, it isn't always easy. A lot of things might seem much too expensive or far too cheap, with no middle ground in-between. Not to worry: we here at Dicebreaker have put our heads together and made some not-so-random tables outlining all the best Dungeons & Dragons gifts and merchandise.
Whether it's somebody's birthday, the holiday season, just to show them you love them or to treat yourself between campaigns, the following treasures are sure to provide. We've even made sure to stay within a healthy budget - nothing here costs more than £50, and most of it is under half that. Better to hold onto your gold pieces, right?
Best Dungeons & Dragons gifts
Feel free to use these as Christmas gift inspiration, there are some general gaming accessories featured here which can - at risk of sounding corny - really enhance your overall gaming experience. Whether it's adding to the way you play, building atmosphere around the gaming table, or just spicing up your life with all manner of Faerunian funnies, there's no limit to how you can make D&D a part of your life.
1. Folding Dice Tray
A great centrepiece for any gaming table.
Whether you like laying down dice for Dungeons & Dragons 5E, Warhammer 40,000 or board games, a lovely dice tray is truly the gift that never stops giving to a tabletop gamer. That's because one of these beautiful beasts ensures that you'll never be without an utterly curse-free dice-rolling surface. A dashing hexagon shape and available in eight bright colours, these PU leather trays also fold flat for easy transportation.
Buy colourful folding dice tray on Amazon UK and Amazon US..
2. Metal Dice Set
Add some weight to your dice rolls.
Perfect for Dungeons & Dragons, you've not rolled dice until you've tried out some big metal chonks. These are available in a huge range of colours, from metallic purple-blues to bright pink to a copper-edged black. Some glisten, others glitter, and a few even glow in the dark.
They include seven dice, which are all the dice you'll ever need for Dungeons & Dragons. These comprise the iconic d20, a d12, two d10s - including the infamous spinning percentile die - one d8, a d6 (that's your usual six-sided die) and a deadly d4. Selected sets even come with a little leather pouch for storage.
Buy metal dice set on Amazon UK and Amazon US.
3. Pet Owlbear and Red Dragon - Figurines of Adorable Power
Some very familiar familiars indeed.
These lovely figurines are based on Dungeons & Dragons 5E's Figurines of Wondrous Power: small statuettes that turn into giant living creatures when thrown, such as a telepathic owl and a ginormous fly.
Unfortunately, these two D&D figurines won't turn into monstrous beasts with magical powers (probably a good thing considering Owlbears are especially hostile), but they will lovingly adorn any surface. Soft, beautifully made and oh-so-cute, you can get a slightly smirking red dragon and an unreasonably cute and not-fearsome-at-all Owlbear.
Buy Figurine of Adorable Power in Owlbear or Red Dragon on Zatu UK and Amazon US.
4. Dungeons & Dragons Art & Arcana: A Visual History
An illustrated history of D&D through every edition and more.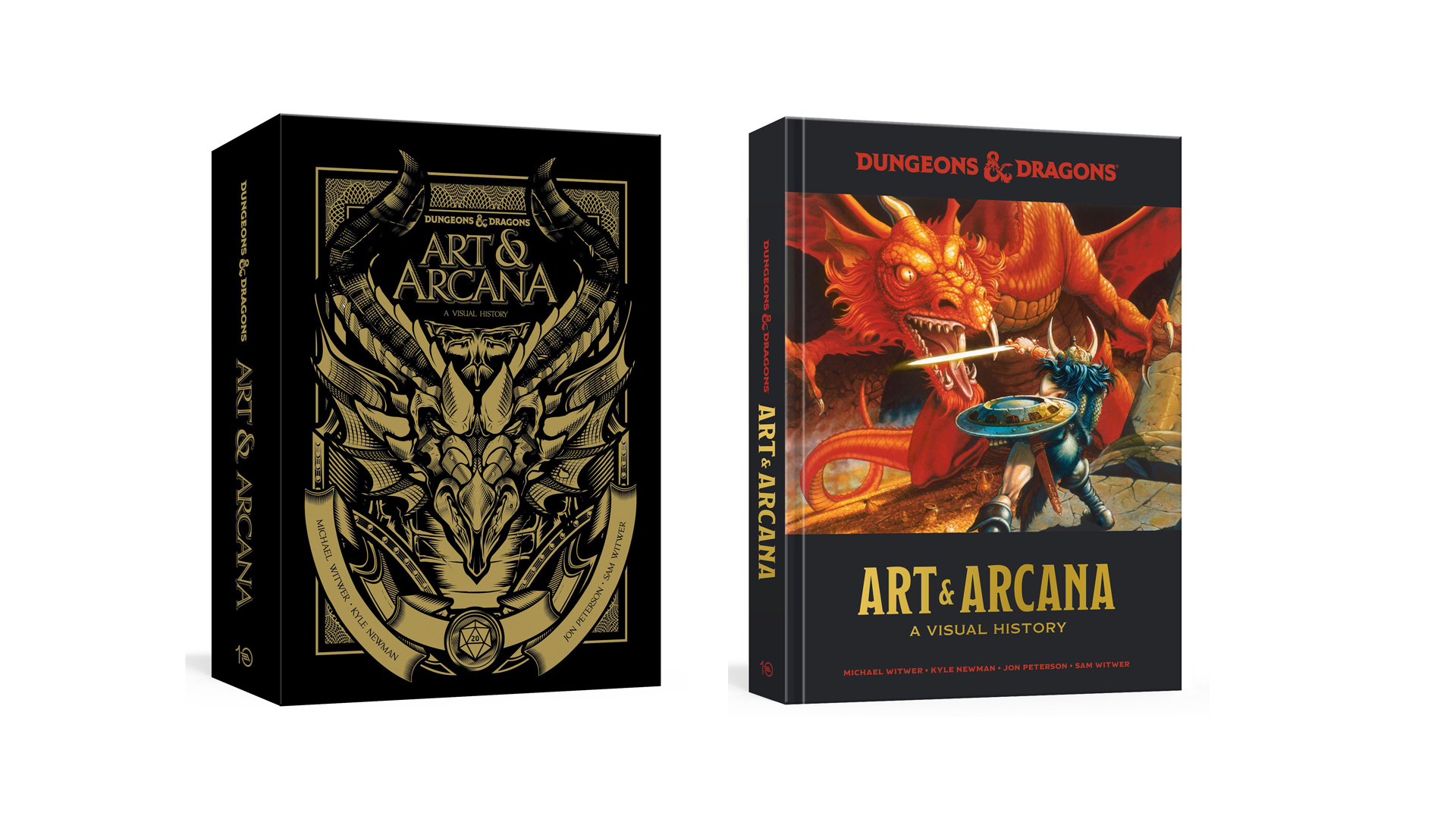 An officially licensed history of Dungeons & Dragons that features over 700 pieces of artwork drawn from every edition of the game, including sketches, supplement art, magazines, rare photographs and secret drafts. It's not only comprehensive, it's absolutely beautiful: a real visual feast.
You can enjoy the old monochromatic, cursed etch-style pictures of Dungeons & Dragons 1E, psychedelic European D&D adverts and full-page spreads of the intricately-painted monsters that embody Dungeons & Dragons 5E. You can also track the evolution of a Mind Flayer, or read up on the Satanic Panic. Art & Arcana is a cultural treat that makes a fine addition to any coffee table (or given how chunky the art book is, serve as a table in its own right).
If you really want to treat yourself, take a gander at the bulky special edition: which is sleek and dark like the night, but packs the beefiness of an orc.
Buy Art & Arcana: A Visual History on Amazon UK and Amazon US.
5. Mind Flayer dice pouch
Ironically, the dice go in the empty space where the Mind Flayer's brain would be.
Store your dice in appropriately cursed style with this plushie Mind Flayer-shaped dice pouch. Also known as illithids, you may have come across one of these tentacled monsters from Dungeons & Dragons in Netflix series Stranger Things. Although they're sadistic and evil abominations who literally devour brains for sustenance, it turns out their soft, lovely heads make fabulous storage solutions.
This dice pouch holds about three full sets of dice, and can also rest upon your hands in a pleasing, tentacled formation. This dice cozy is a fun gift for fans of unknowable horrors who require multiple dice sets.
Buy Ultra Pro Dungeons & Dragons Mind Flayer dice pouch on Amazon UK and Amazon US.
5. Dungeons & Dragons Wilderness Kit
Go exploring through the wild with this comprehensive DM's kit.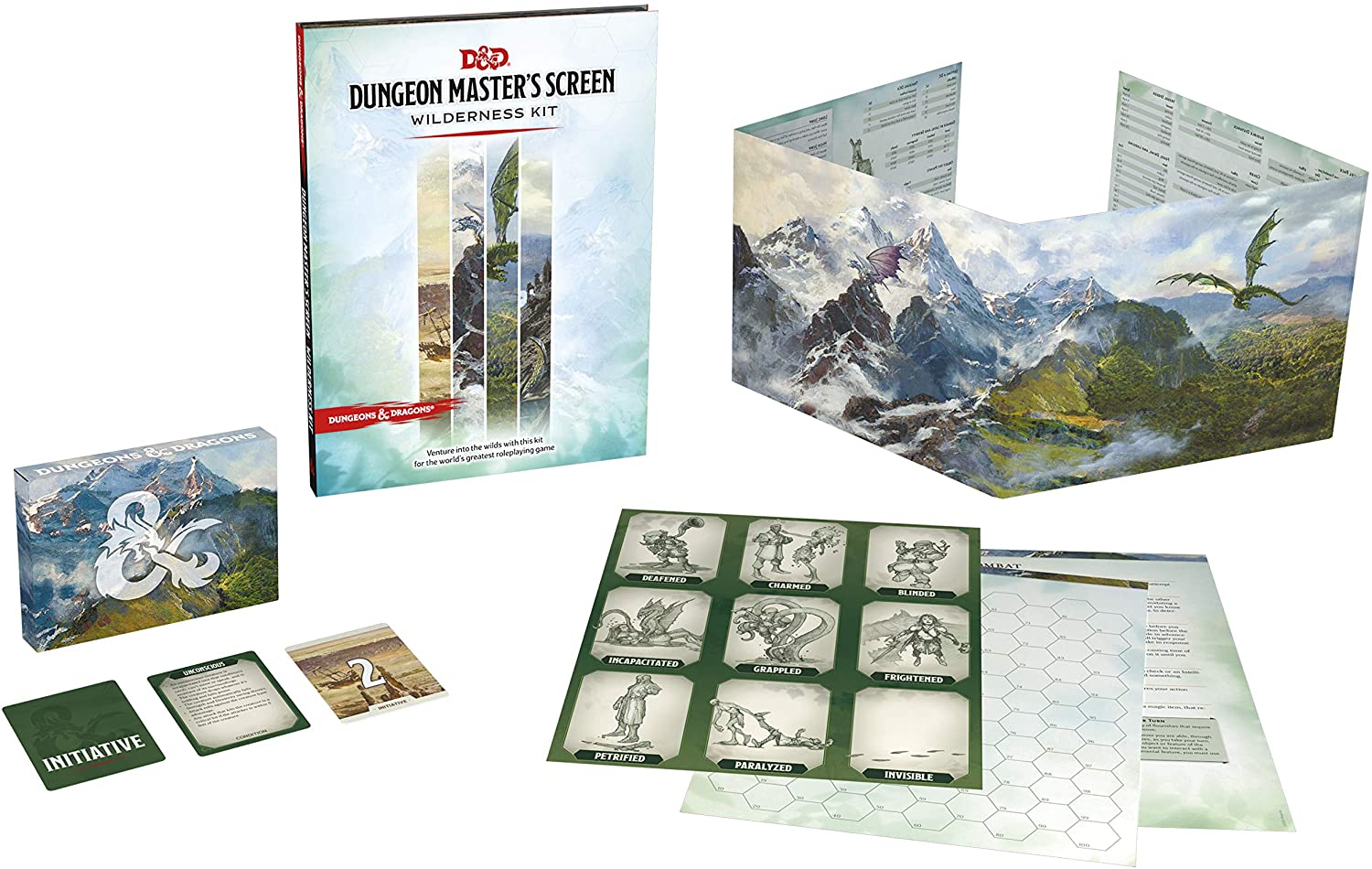 Nurture your nature with the Wilderness Kit, a set of rules, equipment and accessories to help you lead your players through forests, jungles, mountains and more. Built for Dungeon Masters planning on running adventures outside of civilisation, the Wilderness Kit includes a dry erase map, a journey tracker and various random tables to help you form on-the-fly fights and friendships alike.
There's no shortage of official adventures to pair this with - Tomb of Annihilation, Icewind Dale, Ghosts of Saltmarsh, to name a few - but it also works well if you're running your own campaign with a lot of travel. It makes the journeys between locations more than just generic travel, and crafts them into a fun adventure in their own right.
Buy Dungeons & Dragons Wilderness Kit on Amazon UK and Amazon US.
6. Spellbook Cards
Turn your spellbook into a spelldeck, and never lose track of your magic abilities again.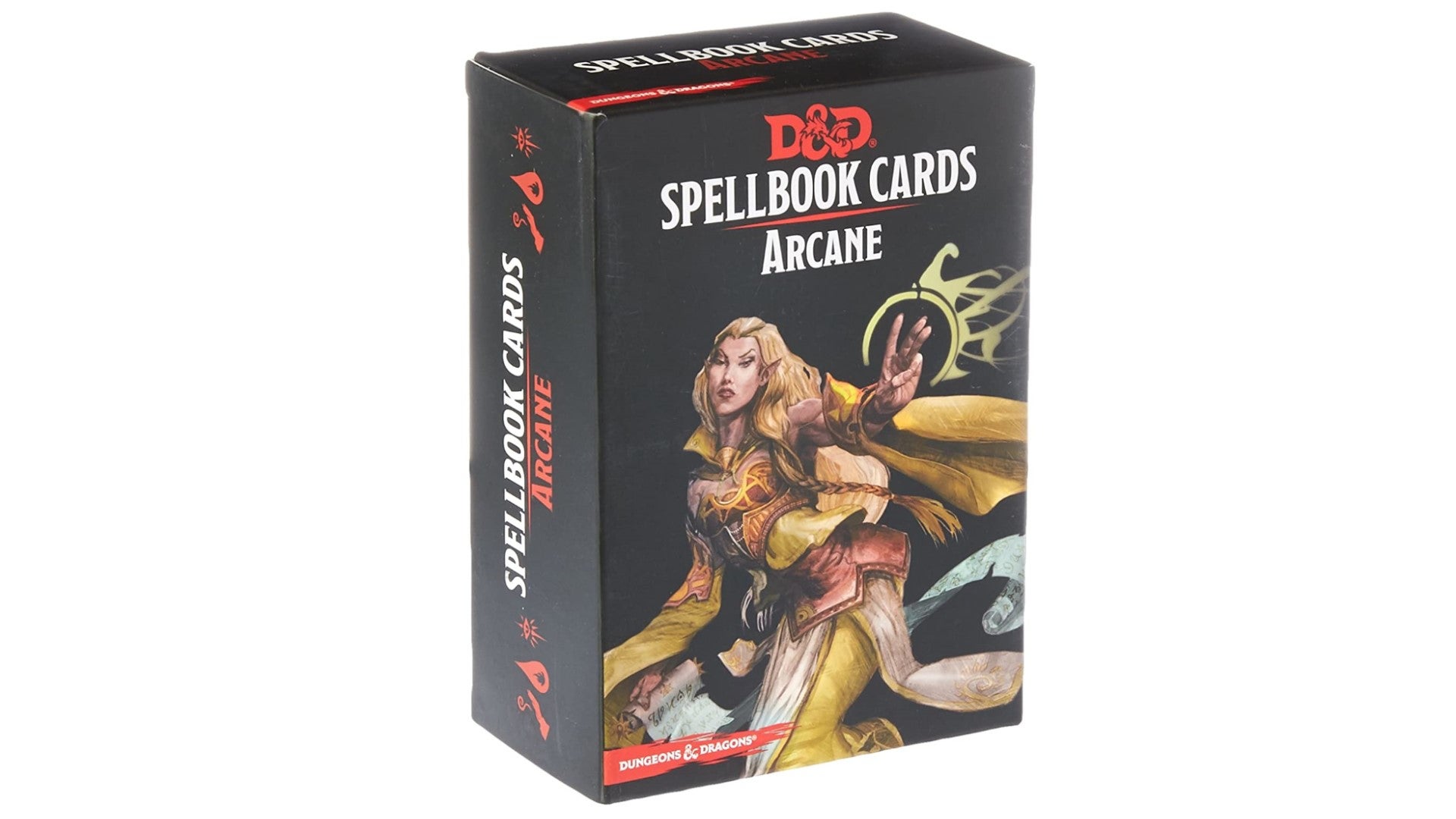 It's not easy for wizards, sorcerers or any other magic user in Dungeons & Dragons. Not only do you have to harness the raw, untapped power of the Weave, battle your way through countless foes, but remembering all the little nuances of your spells is really hard. Was it a thirty-foot or sixty-foot range on this one? Can I cast this spell as a ritual? How many eagle beaks do I need to keep in my components pouch? And if you're all sharing a Player's Handbook, checking up on this stuff can really slow a fight down.
That's where the Spellbook Cards come in. An easily-handled deck of cards, each one has a spell and all details listed clearly and concisely on it, meaning that when you prepare your class spells, you just take whatever cards and lay them out next to your character sheet. Swap them around as you learn more spells, show them to other people to give them all the details, and turn one of D&D's most complicated rule systems into a breeze. The cards we've listed here are for wizards and sorcerers, but there's a set for every spellcasting class and more!
Buy Dungeons & Dragons Arcane Spellbook Cards on Amazon UK and Amazon US.
7. Dungeons & Dragons: The TV Show DVD
Friday night gaming as a Saturday morning TV show.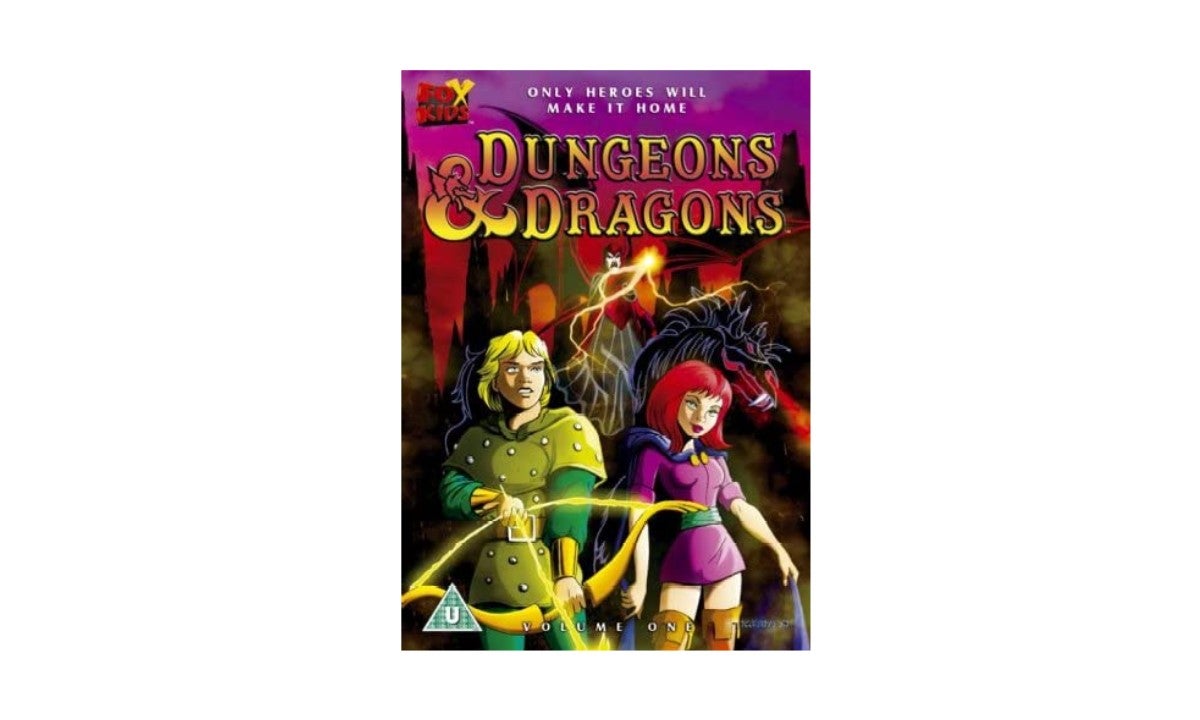 No, we're being serious. Well, semi-serious, at least. The Dungeons & Dragons saturday morning TV show from the '80s is a dated absurdity, but it's the good kind; the kind that kids will love and adults will love to laugh at.
There's no Drizzt Do'Urden or cutthroat Waterdeep politics here: no, just six kids who are "transported to the realm of Dungeons & Dragons" by use of an enchanted roller coaster. Why, how do you do it? Well, whatever your age, it's a cult classic of television that everybody will enjoy… one way or another.
Buy Dungeons & Dragons: The TV Show DVD on Amazon UK and Amazon US.
8. The Legend of Drizzt 25th Anniversary Edition Vol.1
A legend that's echoed on through D&D history.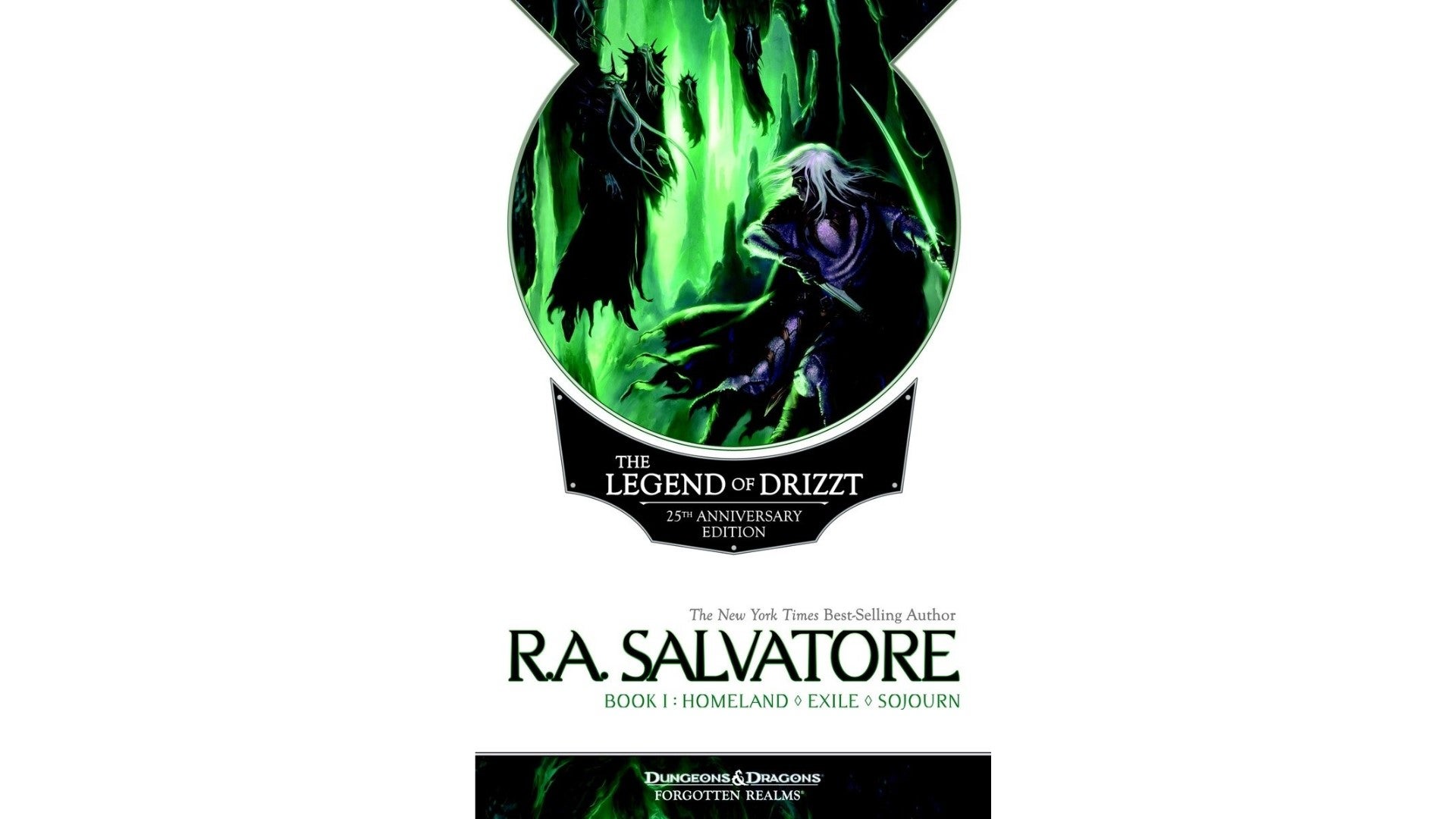 We mentioned Drizzt Do'Urden, and this is why: the character is one of the most iconic elements of Dungeons & Dragons lore, the drow ranger who rebelled against his society to become a hero across the Forgotten Realms.
R.A. Salvatore's series of books is considered the best-ever presentation of the character, detailing his origins and rise to legendary status over years. D&D has never been short for iconic characters, but there's a reason that Drizzt is considered the apex hero: and this lovely collection of stories will show you why.
Buy The Legend of Drizzt 25th Anniversary Edition Vol.1 on Amazon UK and Amazon US.
If none of those spoke Dungeons & Dragons gifts to you, don't worry! There's plenty more to pick from here at Dicebreaker. If you're looking for the best family-friendly board games to enjoy, we've got you covered. Or check out all the best Christmas games to slay hearts with sleigh bells!