Best Christmas gifts for Dungeons & Dragons lovers 2022
Presents under the Treant.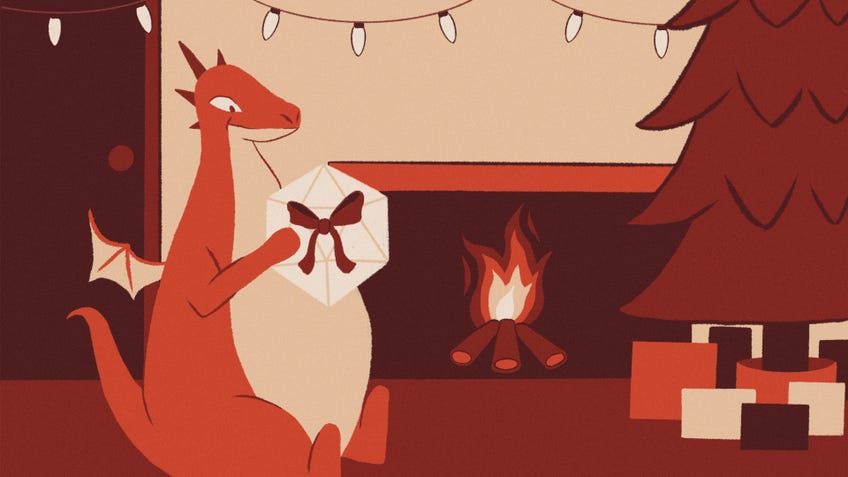 Dungeons & Dragons is seemingly everywhere at the moment, from our television screens with the latest season of Stranger Things to the cinema – thanks to the upcoming Dungeons & Dragons: Honor Among Thieves movie. There's never been a better time for players and dungeon masters to celebrate their love of the tabletop roleplaying game. If you have friends and/or family who play the RPG, then why not help with their celebrations by giving them some D&D gifts this Christmas?
The most obvious option would be the latest sourcebook for D&D 5E, however, if they're big D&D fans then they're likely to have already gotten a copy or are at least planning to. Also, with the rate at which sourcebooks and adventure books can come out, it can be hard to keep up with things if you're not seriously into Dungeons & Dragons.
Best Dungeons & Dragons gifts
Which is why we've curated a collection of great gift ideas for fans of D&D that aren't just a summary of the available sourcebooks and adventure books. From wearable items to super-useful gifts that will actively make your roleplaying friends and family's lives better, these Christmas gifts for D&D lovers are sure to please any player or DM.
The very first episode of Dicebreaker's own D&D actual play series, Storybreakers.
---
Duckie dice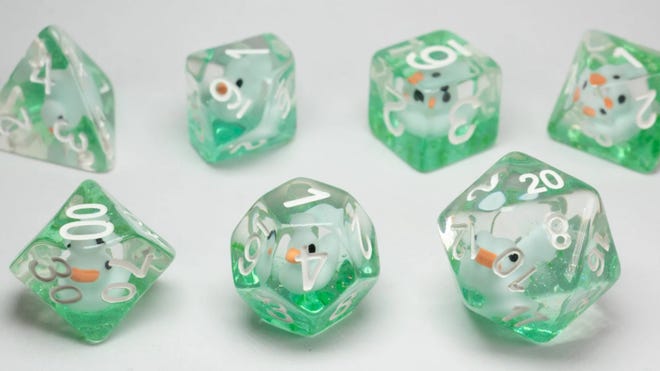 A set of polyhedral dice is an essential for any D&D player, you can't really play the RPG without them - unless you use a digital dice roller, but that's no fun at all. Whether the person receiving your gift is currently a Dungeons & Dragons lover or if they're on their way to being one, giving them a new set of polyhedral dice is a no-brainer.
This particular set of dice is positively adorable, made with clear plastic and each containing a tiny little rubber duck inside. Not only is this marvelously a practical gift, it's also a good looking one and is sure to charm anyone sitting at the table. Another plus to these cute little dice is you can use them to play in the bath, if you so choose, you also get a free dice bag!
Buy the duckie dice at Etsy.
---
D&D socks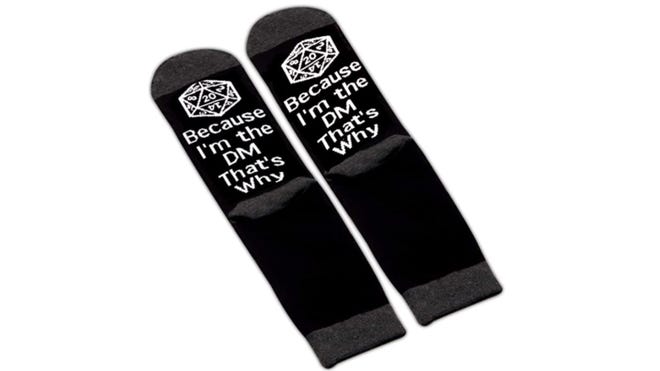 Socks are the quintessential Christmas gift and while they are practical, they aren't necessarily very fun. Say no to boring tootsie-warmers and yes to socks that will warm your DM's feet while also helping them pacify rowdy players. All they have to do is lean back in their chair, put their feet up and refer argumentative types to their socks.
Buy the D&D socks at Amazon US
---
D&D glasses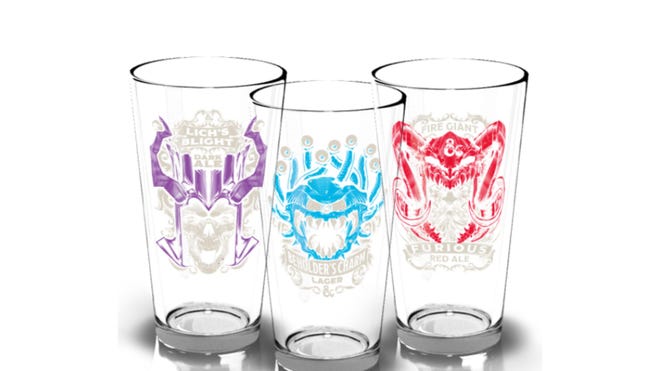 Delving into dungeons and/or dragons is thirsty work, and whichever side of the screen you sit, it's important to stay hydrated. It's also good to have a drink on hand to toast your successes, or, if necessary, aid in drowning your sorrows. Whatever their beverage preferences and requirements, help the D&D player in your life remain refreshed and on brand with this selection of pint glasses featuring familiar faces from the fifth edition core rulebook covers. Available as singles or a money-saving bundle of all three, they're sure to go down well.
Buy the D&D glasses from Good Smileus
---
D&D 5E Character journal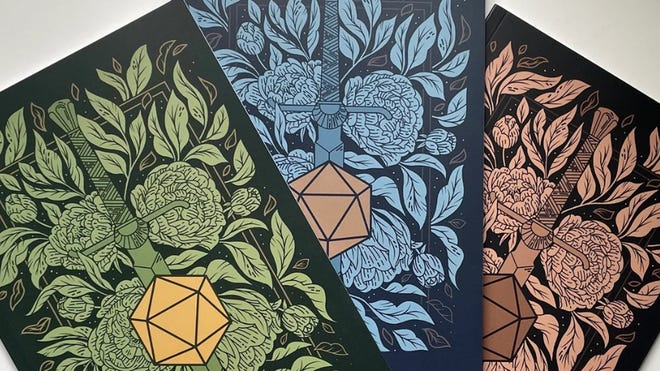 Any Dungeons & Dragons player worth their salt should have their own D&D journal. Having a journal for your games of the tabletop RPG enables players somewhere to note down important information about the various quests their characters embark upon, helping them to keep track of everything and do the best roleplaying possible. Journals can also be used to write or draw helpful notes about potential puzzles that players might encounter in their journeys, providing an essential reference for solving any brainteasers blocking their way.
This particular D&D 5E Character Journal features pages that are perfect for making important notes, as well as noting down aspects about a player's character – such as their stats, spells and current status – providing a great way for players to alter their character without touching their character sheet. The front cover also features a beautiful and very Dungeons & Dragons-appropriate illustration, with a range of colours available to choose from. Help make your D&D friends and family's lives easier with this snazzy D&D 5E Character Journal.
Buy the D&D 5E Character journal from Etsy.
---
D&D character sheets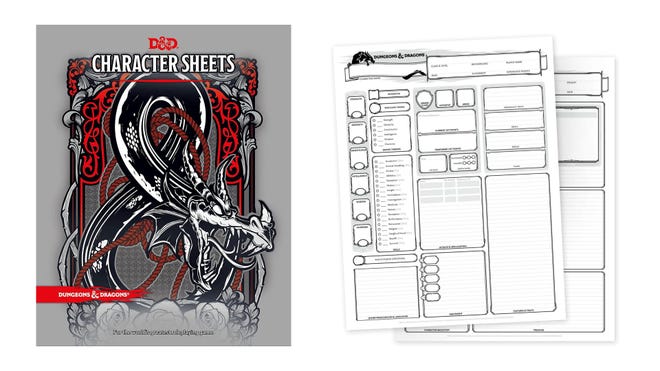 While there is a staggering array of digital tools to keep track of characters these days, there's a lot to be said for the humble paper character sheet. Going low tech is always a valid option and there's something very pleasant about having a physical record of your progress. They're called pen 'n' paper games for a reason! Having a stack of character sheets ready to go is really handy, especially if you don't have access to cheap photocopying or printing through school or work. At the same time, buying character sheets can seem like a bit of an extravagance, which is why they make a perfect stocking stuffer, especially for someone who can't stop making new characters.
Buy Dungeons and Dragons character sheets from Amazon UKK
---
D&D blanket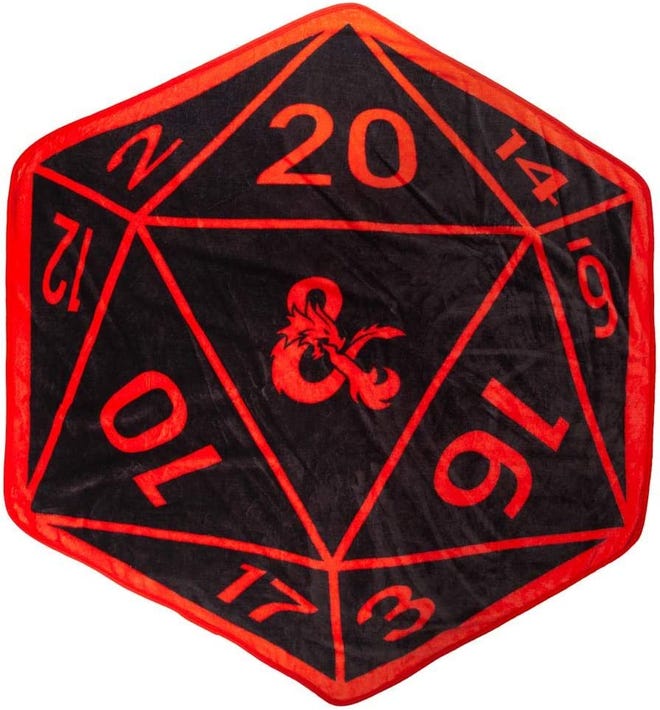 Comfort your fellow players or warm your DM's cold, cruel heart with this cosy blanket. Big enough to get wrapped and snuggly in, small enough to cart to a session without any fuss, the polyhedral dice design is stylish enough to roll in anywhere. Made of anti-pilling flannel and machine washable, it's sure to last and easy to clean. Be warned though, this blanket may give cold resistance and +1 AC, but it also gives disadvantage on saves versus naps.
Buy the D&D blankie from Amazon US
---
Beware of the Smiling Dungeon Master Classic T-Shirt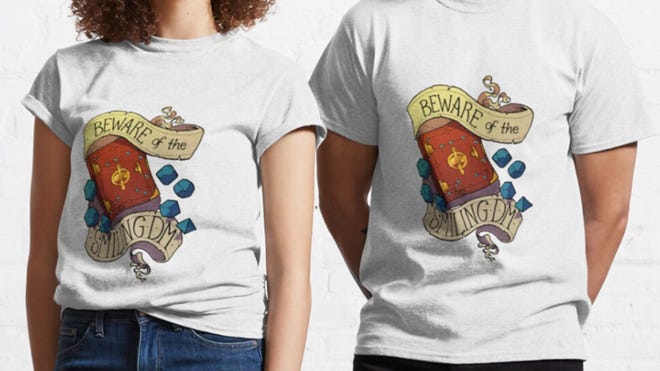 Whilst the world of Dungeons & Dragons has its fair share of terrifying monsters – from the intelligent Beholder to the brain-sucking Mind Flayers – ask any D&D players what the scariest sight in the game is and they'll likely reply with: their dungeon master's smile. It is a known fact that a smiling DM usually means that they have some kind of devious trap up their sleeve that they're just dying to spring onto their unwitting players.
This stylish T-Shirt is a perfect reminder for your D&D-playing loved ones of that frightful sight and an indicator to their fellow players that they share their pain. The design itself is simple but gorgeous, featuring an ancient-looking tome, a collection of dice and the scroll depicting the words "Beware of the Smiling DM." Amuse and slightly unnerve your gift recipients with this neat-looking T-shirt, which comes in multiple different colour options.
Buy the Beware of the Smiling Dungeon Master Classic T-Shirt from Red Bubble.
---
D&D art print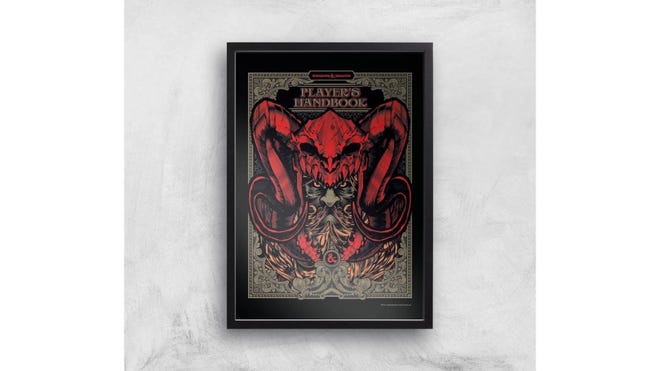 The collector's edition D&D core rulebook covers are gorgeous, but pricey and pretty hard to get hold of. These high quality prints make a great gift for anyone you know who covets those particular designs. Or has the books and just wants to flex even more! Available from A4 up to A2, framed or unframed, there's a variety of options to suit every budget (and the recipient's available wall space!).
Buy D&D art prints at Zavvi
---
D&D mug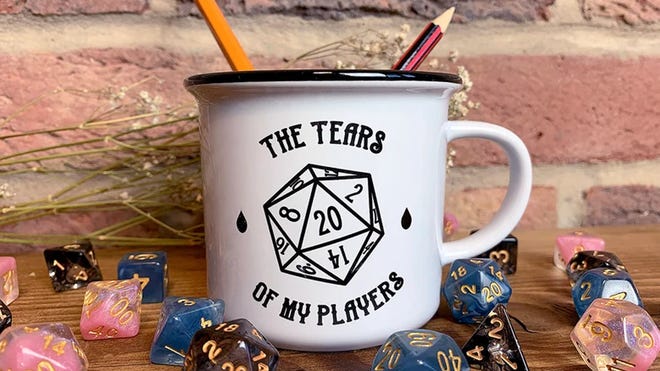 This one is specifically for the dungeon masters in your life. Having a regular DM is a wonderful thing in that you have someone whose Dungeon Mastering style you're familiar with, as well as undoubtedly being a person you enjoy seeing and spending time with. However, as much as the DM can be a fantastic storyteller and individual to hang out with, there's always something sinister about putting the lives of your characters in the hands of someone else.
This mug represents that dark side of your DM or of a DM that you know. Sporting the phrase "The Tears of my Players", the mug depicts a D20 with a thick tear either side, serving as a reminder to the players that their very DM is as much of a threat to them as the various monsters they may face. Simple but stylish, this mug can provide the perfect receptacle for holding a hot drink of the DM's choice or even whatever dice they might need to keep to hand during their games. Indulge in your DM's darker side with this morbid mug.
You can buy the D&D mug from Etsy.