Celebrate 45 years of Dungeons & Dragons with these $299 sapphire dice
A set to die for.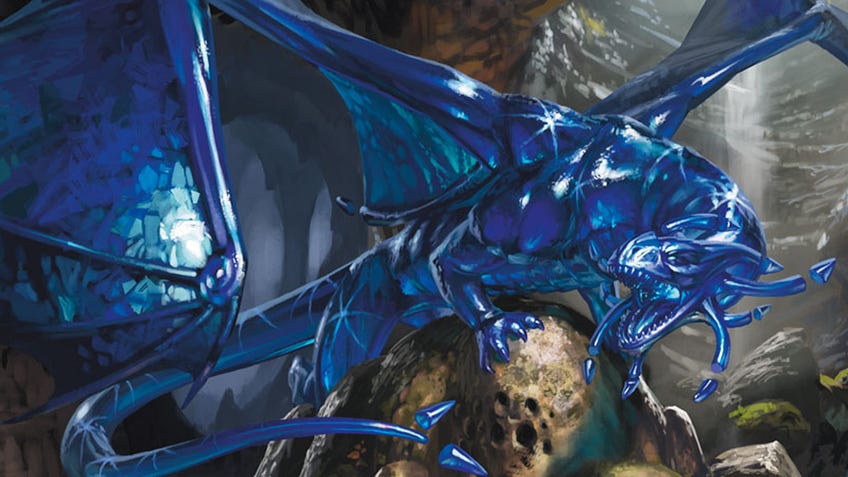 Wizards of the Coast has released a limited edition set of D&D Sapphire Anniversary Dice Set to celebrate both 45 years of Dungeons & Dragons overall, plus five years of D&D 5E.
A limited run of dice has been commissioned, with only 1,974 sets available for purchase - which is a reference to Dungeons & Dragons inception in 1974. Since then, Dungeons & Dragons has run through a vast range of campaigns.
The set comprises eleven custom-designed anodized aluminum dice from Level Up Dice - a manufacturer that specialises in making dice from "luxury" materials.
Each individual die includes an engraved D&D ampersand on its highest value.
Meanwhile, the d20 contains an inlaid lab-grown sapphire in place of the twenty number. Despite having a jewel in it, this die allegedly still maintains rolling balance - following extensive testing.
The set also includes a matching dice tray and dice box, plus 5E D&D stats, art and details for the sapphire dragon monster, commemorative stickers and a sequentially numbered collector's card confirming the set's authenticity.
The whole dice set can be purchased now at the official D&D store for a mere $299.99 (£224).
If you fancy a significantly cheaper start to D&D, be sure to check out our Dungeons & Dragons buyers guide.
In addition, if the sapphire dragon monster appeals, take a gander at our best sourcebooks for D&D - where plentiful beasties abound.