The Dragon Prince continues its tabletop takeover by announcing new miniatures board game Battlecharged
Royal rumble.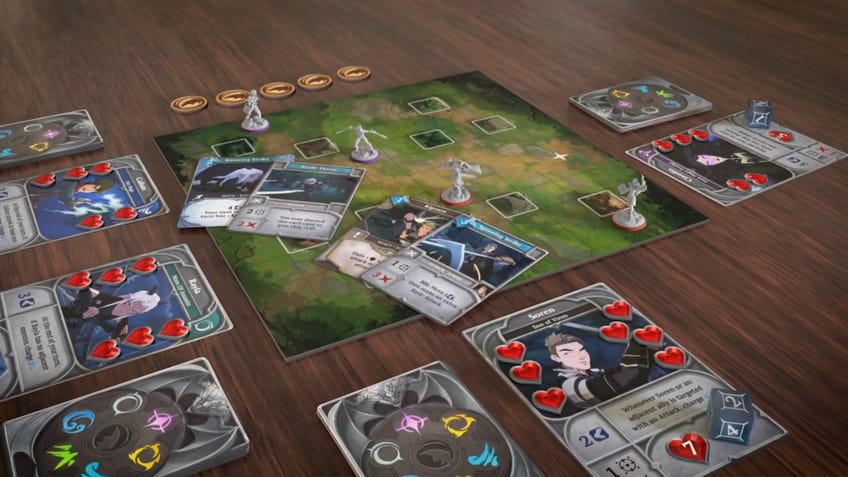 The Dragon Prince, Battlecharged, based on the popular animated show of the same name will be coming to shelves and tables by way of publisher Brotherwise Games, with preorders opening in June of this year.
BoardGameGeek announced the first details for Battlecharged via Twitter on March 16th, calling the upcoming board game a "team-based duel game" featuring characters and locations from the three-season fantasy show from creators Aaron Ehasz and Justin Richmond of Wonderstorm Entertainment.
Teams consisting of two or three heroes - will pit their wits and strategy against one another in card-based skirmish combat represented by a host of miniatures and six different battlemaps. Each hero's skills and abilities work a little differently and deplete once used - players can recharge them in similarly unique ways.
For example, the elven former-assassin Rayla is a melee skirmisher and can recharge her kit of moves by ducking out of combat for a short time. Soren, on the other hand, recharges when an opponent rushes either him or an ally, reflecting his heavy armour and military training.
According to BoardGameGeek, the base box will include eight playable heroes - Rayla, Soren, Ezran, Callum, Amaya, Janai, Viren and Claudia - and will come with a miniature and 16-card deck of abilities to use in combat, plus a Hero card. The rules will allow for two-team duels or tense brawls between six separate teams.
Brotherwise Games states on its official site that Battlecharged is slated for a retail release in the fall, but it will open preorders in June to provide fans the opportunity to snag some special add-on content. The details on what such an offer might contain hasn't yet been publicly announced.
The studio has a history successfully developing fantasy board games. Its 2019 release Call to Adventure tasked players to create the hero with the greatest destiny among them by rolling runes and building out a backstory, while the luck-based dice placement title Unearth dealt with a buried past and the people hoping to find answers in the dirt-filled ruins.
Fans of the Dragon Prince can also look forward to the upcoming tabletop RPG set in the series' fantasy universe. In development through Fandom Tabletop, Tales of Xadia is positioning itself as a vast but beginner-friendly system rich in lore and emphasising an adventure narrative that will hit all the same thematic notes as the show. Pre-orders for the sourcebook, which currently comes as free playtest rules - are open now, but an official release date has not yet been announced.