Subbuteo plays on: How the iconic tabletop football game inspired a generation of players and artists - and avoided relegation
What do birds, streakers and The Beatles have to do with the flick-and-kick classic?
The white ball crosses the green cotton and nylon pitch towards the defensive line. The oversized ball is as high as the miniature footballer's waistline. The kicker stands over a semispheric base, with 10 teammates and 11 of their rivals surrounding the miniature human. The ball hurtles toward the goal like a rocket until stopped by the keeper, mounted on a rod that slips under the net into human hands. The successful defence is followed by sighs of relief from the defending player - with audible frustration from their opponent, who utters "No!"
This and similar scenes have been staples of English households for generations. Brits have enjoyed the tabletop football of Subbuteo for years, the flick-and-kick game a mainstay of entertainment culture and football history.
"Football has been an intrinsic element of British culture since the 1870s," Professor Matt Taylor, author of The Association Game: A History of British Football, explains to Dicebreaker. "It emerged as one of several codified sports during the so-called 'sporting revolution' of the Victorian period. It soon became the most popular of the team sports of this period and certainly by the early 20th century could be seen as the game of the masses in Britain."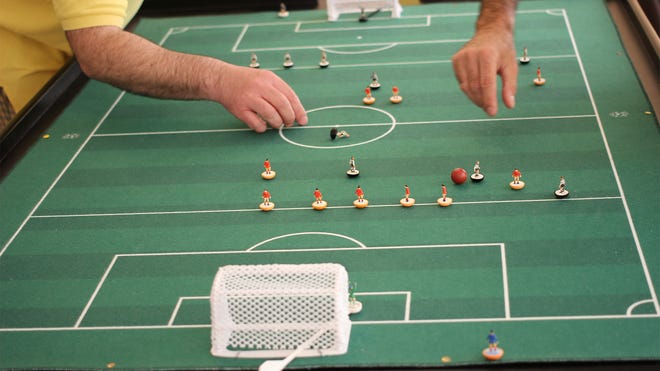 The place football has in the hearts of the British helps make sense of Subbuteo's appeal. However, the version of the tabletop game seen today is far removed from what it looked like at its inception.
After World War II, former Royal Air Force member, civil servant and ornithologist Peter Adolph created Subbuteo in 1946. The first set had flat cardboard figures on bases made from buttons, weighed down with lead washers that doubled as players. The goals were constructed with both wire and paper nets. Team colours were either red or white, while the set came with instructions and chalk to draw the pitch on a cloth.
As an ornithologist, Adolph took his creative inspiration from birds. His game's name was derived from Falco Subbuteo, a neo-Latin term for a bird of prey known as the Eurasian Hobby. Adolph initially wanted to call the game "Hobby Hawk", but he was denied a trademark for "Hobby". Consequently, it became known as Subbuteo.
By 1961, Adolph had introduced a three-dimensional, hand-painted plastic figure to the set. After considerable design modifications, it became what is now considered the classic "heavyweight" player, joined by a "lightweight" counterpart in 1980.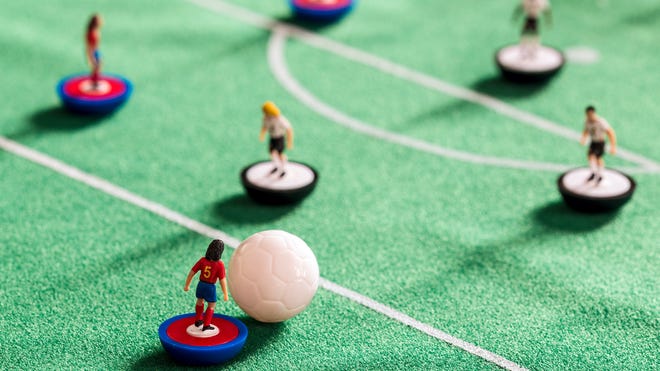 The growth of Subbuteo was sparked by the English 1966 World Cup victory. This resulted in Subbuteo sales in over 55 countries. In the following decade it introduced Black players, parallel to the sensational fame of Brazilian football superstar Pelé. Besides the multi-ethnic cast, the game saw the addition of Subbuteo Cricket (in 1949) and Subbuteo Rugby (during the mid-1950s) for the similarly very British sports. (In a curious note, the series also saw the release of less popular kits for hockey, snooker, angling and racing sports like bicycles, dirt bikes, race cars and horse racing, as well as the exquisite sci-fi game Journey Into Space.)
For Taylor, cricket was the king of sports in Britain before the exponential growth of football. "Cricket had tended to hold on to that 'crown' for some decades mainly due to its association with ideas of Englishness, not Britishness, and its links to a more traditional, pre-industrial, pastoral picture of English life," Taylor explains.
The relative simplicity of the game of football makes it reasonably ideal for a tabletop game.
But Taylor believes Subbuteo in its football version has always been more appealing to fans and players, to the point it has surpassed other team sports sets popular at the time. "Perhaps the relative simplicity of the game of football makes it reasonably ideal for a tabletop game," Taylor suggests. "I remember playing versions of cricket and rugby that Subbuteo and other companies made, and they were nowhere near as effective because the sports themselves were more complex and difficult to reduce to a straightforward game."
Subbuteo sold 300,000 teams per year during its heyday, according to the BBC, and it is quite popular in France, Portugal, Spain, Greece, Italy, Russia, South Korea, Australia and South Africa.
Despite this, it didn't reach similar heights of popularity in football-loving countries such as Brazil, arriving here in the late 1970s as Pelébol - based on the superstar athlete - before falling into obscurity for decades until its re-emergence as Subbuteo in 2012. The tabletop king of Brazil has long been button football, but Subbuteo allows for greater customisation with an artistic flair, appealing to the fans who can devote their time beyond simply playing the game.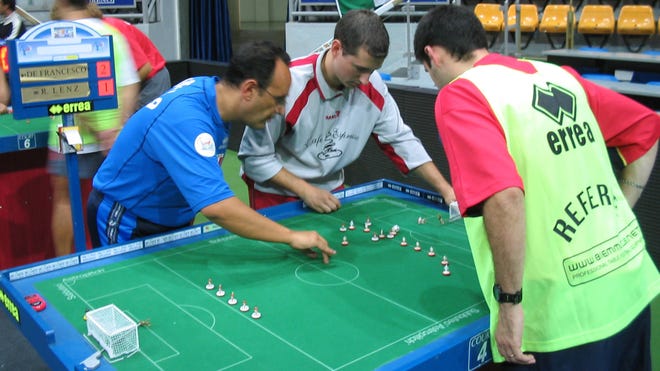 In its figures, Subbuteo had an artistic edge that fostered customization. Players could craft full stadiums with referees, staff, crowds, mascots, ball boys, medical staff, police officers and even streakers. The goal was to emulate the real-life experience of a football match. Yet, despite the emphasis on sport, a set of non-player Beatles figurines became one of the game's most creative and rarest releases.
One of Subbuteo's most well-known artists was the late Charles Stadden, a legend of miniature sculpting and painting well revered in military and Subbuteo circles. Stadden, much like Adolph, fought for England during World War II, as a Royal Army Service Corps Sergeant. From a young age he was interested in military history and uniforms, with a prodigious collection of model soldiers. The sense of discipline instilled from service helped him achieve career success as he worked from his home studio.
Charles Stadden sculpted directly into metal like a jeweller, he didn't use plasticine or any of the other modelling compounds. This meant arms and legs on small figures could be made exactly to scale, and his figures were always anatomically correct. They always looked 'right'.
"By the early 1960s Dad had been sculpting figures in different scales for over 12 years," Stadden's son Andrew reminisces. "These were mainly military subjects, but also many other civilian figures for various toy manufacturers. So he was very experienced in his field of work. He also sculpted directly into metal like a jeweller, he didn't use plasticine or any of the other modelling compounds. This meant arms and legs on small figures could be made exactly to scale, and his figures were always anatomically correct. They always looked 'right'."
On his father's legacy to Subbuteo, Andrew is succinct: "After all these years, Dad's classic sculpt seems to be the most loved of all the Subbuteo figure designs. I never liked the 'heavyweight' name given to it, as the figure is perfectly in proportion."
Collectors of Stadden's work exist worldwide. To this day, Andrew Stadden still gets many requests for "old figures back for repair and repainting; collectors still love them, and I am very proud of my father's work". Andrew still applies many of his dad's traditional techniques, but has incorporated modern 3D printing into his own work. He points out that his own son designs video games, meaning his family tree has produced three generations of "figure artists".
The art of Stadden was a key part of Subbuteo's growth as the game reached its peak of popularity in the early 1980s. This was known as the "lightweight era", during which it was estimated there were almost seven million players of the game worldwide, according to The Independent.
Fast-forward two decades to 2003, when the game's production was stopped in Britain. Monopoly, Dungeons & Dragons and Magic: The Gathering maker Hasbro bought the company from defunct British publisher Waddingtons in the mid-1990s. Sales subsequently dropped to approximately 150,000 a year. By 2000, Subbuteo had almost been relegated from mainstream awareness.
Despite its drastic decrease in popularity, avid fans struggled to keep the game alive; only 3,000 kits were sold in 2002 before it plunged into obscurity with just 500 bought in the following year.
"I was aware a few years ago when there was talk of Subbuteo no longer being produced and available to buy in shops, it was on the national news in the UK," Taylor says, recalling how fans scrambled to get a hold of a Subbuteo set before it was discontinued. "I remember planning to rush out and buy a set as all my old Subbuteo had been thrown out by my parents, although I didn't in the end as the decision was reversed, as I remember."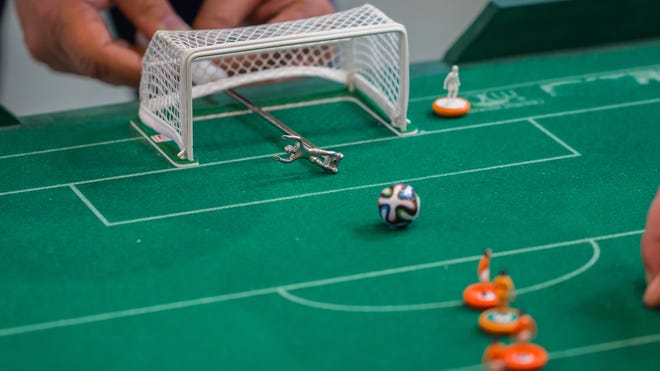 After a failed attempt at a reboot in 2005, the game would experience a rebirth in 2012. UK distributor University Games revived production of the game after a considerable time off the shelves.
"New Subbuteo products had not been available to the consumer mass market for about a decade before University Games launched the current Subbuteo Main Game," the publisher's sales director Gemma Lewington says.
"Subbuteo has a large following, predominantly driven by those fans and collectors who played Subbuteo as a child. We are now encouraging those parents and grandparents to enjoy family time, playing Subbuteo with their children and grandchildren."
One of Subbuteo's recent TV adverts depicts these scenes with a voiceover delivered by the late, great football pundit John Motson. The commercial was intentionally aimed to entice all generations and depicted the game as both family-friendly entertainment and a crucial part of football culture. Subbuteo has a retro classic appeal that has been used across its advertising to football fans, including turning players into the iconic figures, showing the game's efforts to maintain a place in the hearts of Brits.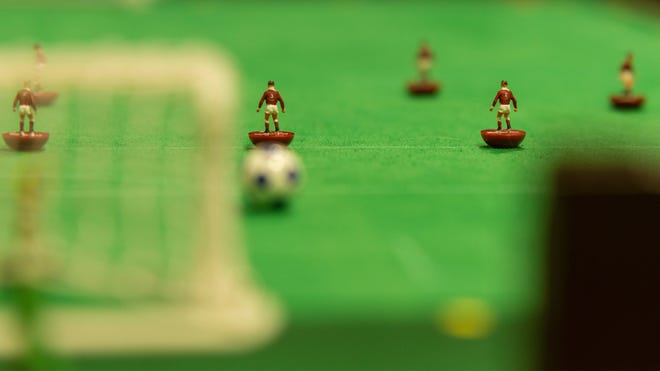 Football video games, such as the FIFA series, have been one threat to the modern-day popularity of Subbuteo. Stadden points out that his own seven-year-old grandson is hooked on FIFA: "He's really good, too. It will be a challenge to convince him and his friends of the joys of 'Flick to Kick!'"
"Subbuteo has been completely overtaken by console games and so on, such as FIFA," Taylor agrees.
Subbuteo has been completely overtaken by console games and so on, such as FIFA.
Nevertheless, with great persistence, the game has continued to thrive with the creation of online versions and the advent of websites targeted at players and collectors. Subbuteo grew to the point of inspiring an annual World Cup in 1987, where players from different countries gathered to face off in 30-minute matches, divided into two halves of 15 minutes that could go into extra time and penalty shoot-outs.
The internet has changed the gaming world in the decades since Subbuteo emerged, but there has been one event in recent years that changed the wider world to an even greater degree. The COVID-19 pandemic had a significant effect on the tabletop game industry, including Subbuteo.
"With people having to stay at home and looking for ways to entertain themselves in small family groups or by themselves, we saw a significant uplift in the sales of board games and puzzles across the board during the COVID-19 pandemic including increased sales of our core Subbuteo lines," Lewington says.
The official Subbuteo line currently has playsets aimed at fans in England, France, Portugal and Greece, including the British, French and Belgian male teams. There are sets based on the Spaniard clubs Atletico Madrid, FC Barcelona and Real Madrid, France's Olympique de Marseille and Britain's Liverpool.
"It isn't always possible to deliver every colour and club variation, so we understand and admire the creative talent that customise their own players," says Lewington.
A major milestone in Subbuteo history took place in 2021 with the launch of the official Subbuteo England Lioness set. According to Lewington, this demonstrated the increasing appeal of women's football and has worked to attract more female players to the game: "It is extremely popular with new generations of Subbuteo players and sells very well."
Outside of its official releases, there are other brands and creators producing content for Subbuteo. In August, premium tabletop football maker Extreme Works revealed its high-end FISTF Subbuteo World Cup pitch for 2024. Other stores, such as Subbuteo World and Wobbly Hobby, sell a vast array of products aimed at old-school Subbuteo players.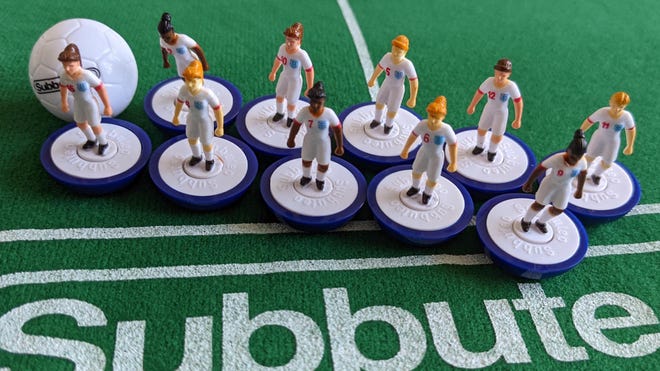 Subbuteo might not be as popular as it was when Duran Duran and George Michael dominated the pop charts, but there are endearing memories for those who played it in their youth.
"I used to get prototype figures to try out," Andrew Stadden remembers fondly. "I remember the rugby kicker and the cricket figures. I also had a set of the five-a-side Subbuteo game Targetman. As I recall, the prototype Targetman player kicked the ball much harder than those that appeared in the production game."
Lewington was the youngest child below three older brothers in a home of ardent football fans. "One of my earliest memories was being the Supporter of the Year at my brothers' village football club. I believe I was around three years old at the time," she recalls. "Subbuteo was a core game in our household, and I have very fond early memories of many rainy days playing Subbuteo with my brothers and dad."
It isn't always possible to deliver every colour and club variation, so we understand and admire the creative talent that customise their own players.
Taylor played the game from age six to 12 in the 1980s, when football video games were more primitive and "not as satisfying as Subbuteo". Days were filled with home and away matches in his own local league. Taylor recounts a 24-hour sports event at school where he and his friends, then teenagers, "asked teachers if we could set up a Subbuteo pitch in the sports centre and arrange a tournament. It was so nostalgic for those of us who had played five to six years earlier to remind us of our younger selves. And it was great fun!"
After its demise at the turn of the century and the advent of video gaming, Subbuteo seemed to be a relic of the past. Yet seeing how collectors and its return have helped it thrive and provide an escape for people during the pandemic, Subbuteo might make its way back to the major leagues once more.