Harvest cute vegetables in fast-paced portable card game Abandon all Artichokes
Utterly heartless.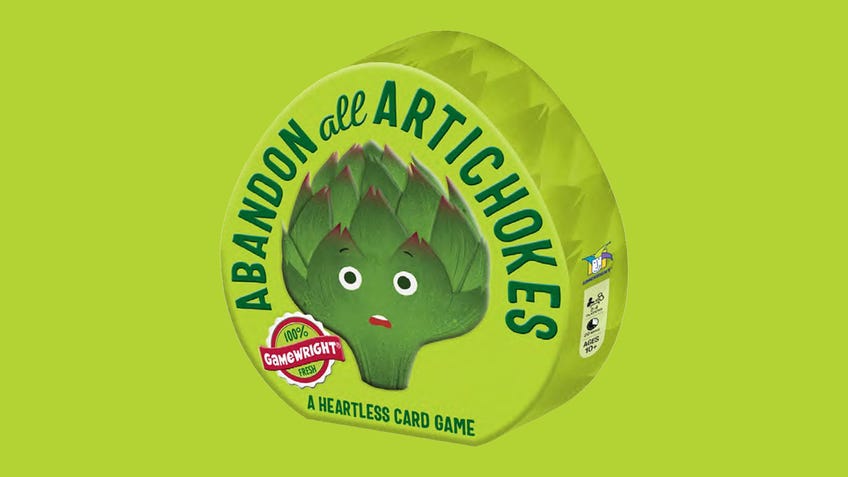 Updated: Article has been amended to update a rule-change, players only need to draw one hand free from artichokes (instead of two) to win.
New fast-paced card game Abandon all Artichokes, which comes in its own little artichoke shaped tin, is landing very soon.
A card game for two to four players aged eight or above, you each build a hand of fresh vegetables while trying to keep the prickly artichokes out.
Each vegetable - ranging from a sunglass wearing broccoli to the humble beet - has a special power that lets you discard, compost or swap. Both luck and strategy are required to grow a winning hand.
Whoever draws one hand free from Artichokes first wins.
Thanks @inquiry_meeple for spotting this in the wild!

I don't have any more details at the moment (release date, price, etc.), but I'm honored and excited to share the first official pictures of Abandon All Artichokes!https://t.co/76C9j1YKON pic.twitter.com/WUURHtwor4

— Emma Larkins (@emmalarkins) February 5, 2020
An ideal beginner board game, a round of Abandon all Artichokes takes around 20 minutes and is highly portable.
The vegatable-based card game comes as part of a raft of 10 upcoming board games announced from Forbidden Sky and Cube Quest publisher Gamewright.
Its imminent titles for 2020 include Dungeon Drop, which generates a dungeon each game, fantasy Dragon Realm and transit themed flip-and-write board game Metro X - among others.
Abandon all Artichokes was designed by Emma Larkins, whose previous titles include '...and then we died', which sees you working together to unravel out how your collective demise happened, plus two-player card game Heartcatchers.
Abandon all Artichokes is landing in March/April this year and will retail for $13 (£10).