Build the most horrible theme park ever with board game Danger Park
"Welcome to the unhappiest place on earth".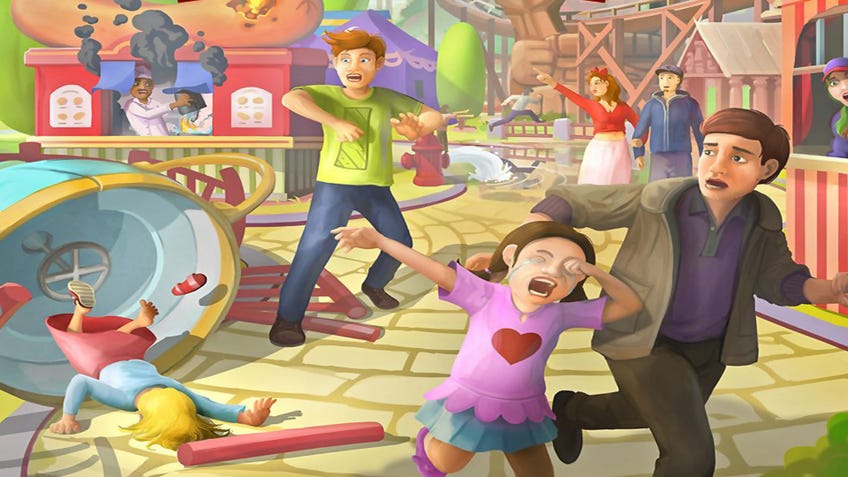 A new board game in which you create a theme park while also looking to cash in on lucrative insurance policies has landed on Kickstarter.
In Danger Park, you'll all be sabotaging the theme park for your own gain - creating a mayhem-filled death trap in the process. When the park inevitably closes, whoever has the most money at the end wins.
A board game for two to four players, you collectively construct the doomed theme park via a modular board, placing rides down as it expands.
On your first turn, you can pick a ride to build, including the 'oily teacups', the 'termite-infested rollercoaster' and the 'too-tall tower'.
You can then use an 'improvement' card on the attraction to enhance the newly constructed attraction. Examples include 'wasp-filled golf carts' and 'hobbyist fire jugglers'.
Meanwhile, money-generating patrons - represented by meeples - move through the park. You'll roll eight-sided dice to determine how they interact with your park.
Players can also add hazards like pests and flooding to keep the unfortunate customers locked in.
By New York-based publisher Story Machine Games, Danger Park is the third of its games, its previous titles include card game Quota and upcoming board game Rosetta: The Lost Language.
Danger Park has raised most of its £14,620 Kickstarter campaign goal thus far. The campaign will end February 29th.