Arkham Horror, X-Wing and Keyforge publisher Fantasy Flight Games has laid off multiple staff - report
RPG division alleged to have seen significant layoffs.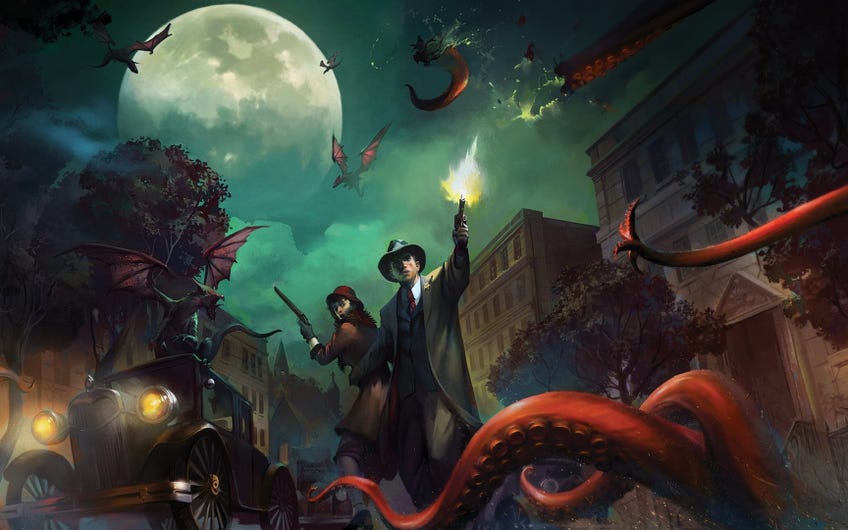 Several staff have allegedly been let go from board game publisher Fantasy Flight Games, while its video game studio Fantasy Flight Interactive is being shut down in February - fewer than three years after it was opened.
Studio head Tim Gerritsen confirmed the layoffs and closure of the Fantasy Flight Interactive Wisconsin studio in a LinkedIn post.
"It's with great sadness that I have to report that the decision has been made to close Fantasy Flight Interactive next month. I'm proud of the team and the game we've dedicated ourselves to for the past few years. It's been an amazing journey with even more amazing people," he stated.
"I'm going to do my best to get my team placed in new positions. I have programmers, designers, artists, QA staff and a producer to get placed in new roles and will do my best to do so quickly. Additionally, I'm now open to new opportunities myself since I will also be out of a job."
Fantasy Flight Interactive opened in 2017 and aimed to adapt Fantasy Flight board games into video games, as well as developing new games from existing licenses owned by the company.
The studio has released one title for PC and console since its inception - the digital adaptation of the Lord of the Rings living card game, The Lord of the Rings: Adventure Card Game.
The PC game doesn't appear to have attracted a substantial audience, peaking at 417 concurrent players according to Steam Charts, which tracks player data on PC platform Steam.
In addition, there are reports that Fantasy Flight Games' RPG division has also been hit with significant layoffs. According to Gamasutra, a source "close to the situation" estimated that more than 10 people have been let go thus far - with more to come among the customer service and tabletop RPG departments.
Designer Sam Bailey, who was previously employed by Fantasy Flight Games for three years, took to Reddit to announce the layoffs. Citing contacts at the company, he alleged that "most, if not all, the RPG department has been laid off" and claimed that he had "verified 14 people and counting" have been let go, with "cuts across the board in many other departments".
It is uncertain what will happen to the upcoming unreleased Fantasy Flight Games' RPG books in its Legend of the Five Rings and the Star Wars series.
The publisher predominantly uses the setting-agnostic Genesys RPG system, which it recently rolled out for the upcoming RPG adaptation of 'unique deck game' Keyforge.
Fantasy Flight Games has an extensive array of living card games and board games, such as Twilight Imperium, horror board game series Arkham Horror Files - which includes Mansions of Madness, Eldritch Horror and the Arkham Horror LCG - plus LCG and RPG Legend of the Five Rings. It also owns licenses for Marvel, Game of Thrones, Star Wars, Doom and Fallout.
Fantasy Flight Games' parent owner Asmodee was purchased by private equity group PAI Partners in 2018 for over a billion dollars - which made Asmodee the first billion-dollar board game firm. A major restructuring of Asmodee North America began shortly after the acquisition.
Dicebreaker has reached out to Fantasy Flight Games for comment but received no comment by the time of publication. We will update this story with further information as necessary.