Curate art wonders in Museum: Pictura, the first spin-off from the set-collecting board game
Conte get enough.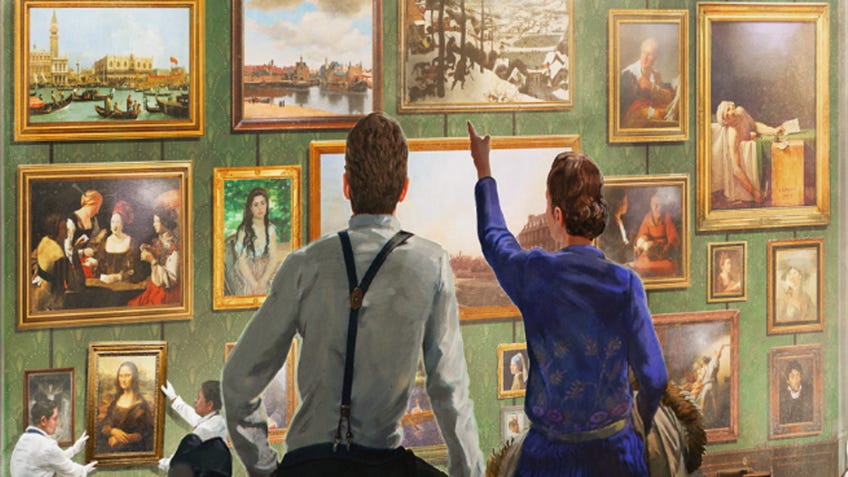 Curious set-collection board game Museum is getting its first standalone spin-off, Museum: Pictura, in which you take on the role of a curator of an art museum.
For two to four players, your goal is to create magnificent collections of iconic works spanning from the Renaissance period to Impressionism.
As well as collecting notable artworks, you'll also have to deal with the fast-moving trends of the art world by ensuring that your exhibitions reflect what's in high demand.
You'll also be able to open your art collections briefly to the public, which lets you score that collection's value and rack up special bonuses over the course of the game.
Be wary, however, because visitors will quickly tire of the same old collection.
Set in the roaring '20s, Museum: Pictura features art deco-style illustrations from Loïc Muzy, as well as 180 paintings rendered by Ekaterina Varlamov. Both artists worked on the original game.
Released last year, the original Museum board game is set during the turn of the 20th century. In it, you play a curator seeking to expand your collection. Instead of amassing art like in Pictura, you collect rare historic relics like ancient sculptures and clothing.
In Museum, each player starts with a small collection of artefacts. To amass more, you'll have to send explorers across the globe to find others. During the game, you'll each have to get together different collections. These can stem from different categories, such as war or architecture, plus periods traversing four continents, including the likes of Ancient Egypt and Rome. These cards are furnished with actual historical information.
At the end of the game, whoever has the most game points - which are drawn from the value of your collections - wins.
Museum has since received a number of add-on expansions, including The Archaeologists, The People's Choice, The World's Fair, The Black Market and The Cthulhu Relics. Its Kickstarter exclusive edition also features a solo board game mode.
Museum designers Eric Dubus and Oliver Melison have also worked together on domino-based civilisation-building board game Dominations: Road to Civilization.
Meanwhile, publisher Holy Grail Games has released the social deduction board game Outlaws: Last Man Standing and all instalments of the Museum series.
Museum: Pictura is coming to Kickstarter on March 3rd this year.