Jaws and Villainous creators making The Shining into a board game
No play makes Jack a dull boy.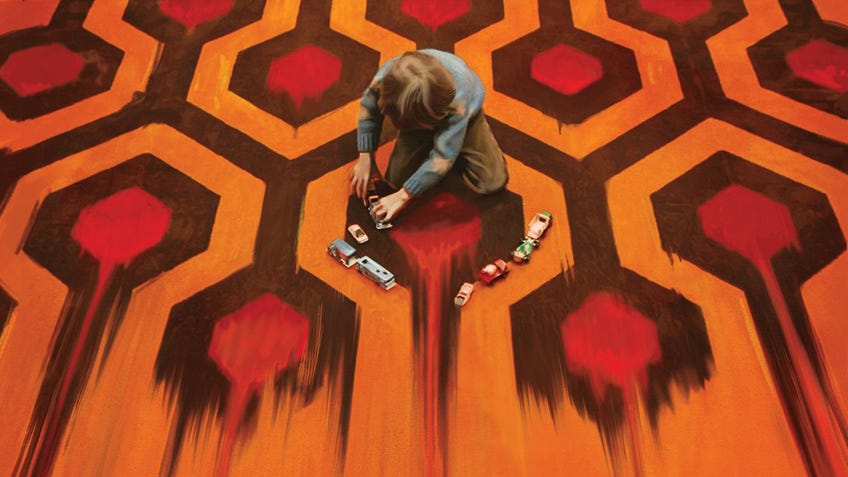 Prospero Hall - the design collective behind a slew of recent licensed movie board game tie-ins - including Jaws, Villainous and Harry Potter: Hogwarts Battle - is working on a board game adaptation of legendary '80s book and horror film The Shining.
A co-op board game of "deception and terror" for three to five players, The Shining sees you exploring the infamous Overlook Hotel - the fictional and oh-so-haunted residence that features in the original film and novel.
One of you will play the traitor, who has already been taken hostage by the terrible forces that emanate throughout the hotel. You'll work to keep the others imprisoned inside forever and forever.
Meanwhile, the rest of you will traverse the rooms in a desperate bid to escape, while also attempting to fend off the horrors that swarm around the area.
This traitor mechanic is reminiscent of popular horror board game Betrayal at House on the Hill - in which one of you turns to the dark side during play and sets about unleashing an evil plan randomly generated by the game.
Originally published as a book by horror writer Stephen King in 1977, auteur Stanley Kubrick adapted The Shining novel into a film with Jack Nicholson in 1980. The book got its first sequel, Doctor Sleep, in 2013, which was followed by a film adaptation in 2019.
Story-wise, all iterations follow Jack Torrance - a recovering alcoholic with dreams of becoming a writer - who takes a seemingly innocuous position as an off-season caretaker in the remote Overlook Hotel. With his family in tow, Jack's sanity rapidly deteriorates as the hotel's phantom inhabitants - and the isolation bought on by a brutal winter storm - take hold. Particularly iconic scenes involve a frenzied race through a hedge maze and an elevator that spews out literal waves of blood.
The Shining board game will be published by Mixlore, whose previous titles include Black Mirror: Nosedive - based on the Netflix show - and the more recent Top Gun Strategy Game, on which the publisher also worked with the Prospero Hall team.
This actually isn't the first The Shining board game, although it's the first official one. Back in 1998, a two-player board game was made with the assistance of The Shining author Stephen King. He was its very first playtester.
In that version, one player took charge of the Torrance family, while the other controlled the malevolent Overlook Hotel. As in the original, the winter storm approaches and all goes to hell. You can play the print-and-play game for free, although you'll have to put it together yourself.
No release date has been confirmed as of yet for the upcoming The Shining board game.