31 indie RPGs to check out during Zine Month 2023
Our comprehensive list of unmissable games, supplements and more crowdfunding throughout February.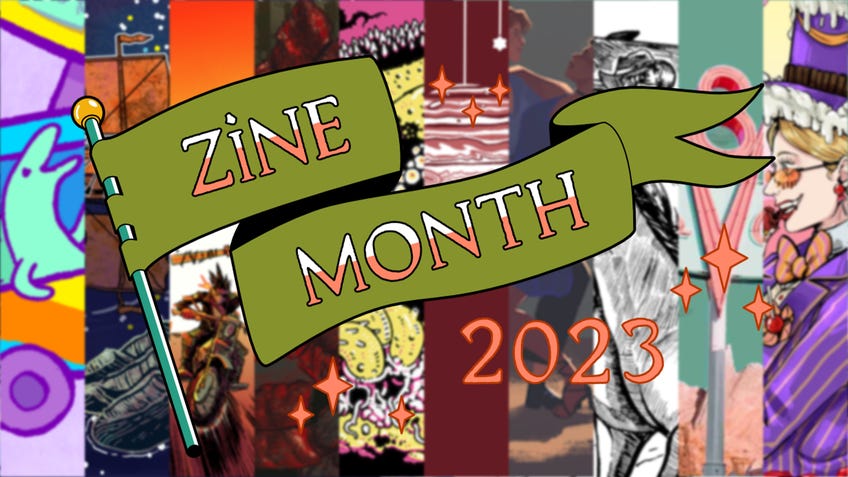 Zine Month is back! The month-long celebration of indie RPGs and their creators has returned, combining with Zine Quest for a February full of weird, wild and wonderful roleplaying games.
If you're new to ZiMo, here's a quick rundown: Zine Month is a movement that emerged out of the annual Zine Quest initiative on crowdfunding website Kickstarter. In short, it sees hundreds of RPG creators look to crowdfund zines throughout February. Zines are smaller books of typically shorter page counts and with a roughly A5 paper format, more similar in size to a magazine than a hefty D&D tome.
While Zine Quest grew into a popular event on Kickstarter for a number of years, its sudden move from February to August last year led a number of indie creators to band together and create their own alternative to fill the gap at the start of the year. Zine Month was born, dropping the official Kickstarter branding in favour of allowing creators to host their projects through whatever platform they liked.
With Kickstarter returning Zine Quest to its February slot in 2023, it means that Zine Month and Zine Quest now overlap, with zine projects launching on Kickstarter, as well as alternatives such as Itch.io, Crowdfundr, Gamefound and more. Happily, this just means that it's easier than ever to seek out unmissable zines throughout the month.
The compact size means zines often showcase designers' most inventive and out-there ideas, serving as fascinating one-shot adventures, rules-light games or experimental art projects. While some zines can be played for hundreds of hours, others are deliberately designed for just one or two sessions - often with a lower price tag to match.
To help you get started, we've rounded up dozens of Zine Month and Zine Quest projects from across Kickstarter and beyond. We've divided our list of ZiMo RPGs into standalone games and supplements - such as adventures, rules modules and expansions for existing RPGs - to help you sort through and find exactly what you're looking for, as well as discovering something you didn't know you needed to play until now.
We'll be updating this list throughout February, but we can't possibly cover everything, so be sure to add your own recommendations in the comments - and check out the #ZiMo hashtag and this Twitter thread from Wheels for more!
Hello! Are you making a cool tabletop project for #Zimo23 or #zinequest? Please reply with details as I'm thinking of doing another Zine month highlights stream tomorrow for @joindicebreaker!

Doesn't have to be Kickstarter, show me what you've got pic.twitter.com/Wcqx4PFtFj

— Wheels (@KubeWhelan) February 8, 2023
---
Zine Month 2023 Games
Terminus
Expanding on designer Jon Boyle's one-page RPG, Terminus puts the player in the spectral shoes of a ghost as they encounter their last visitor before moving on to whatever comes next. The one or two-player RPG uses a deck of tarot cards for narrative prompts, in combination with the environment around the player(s), inviting players to carry the zine with them and see what new surroundings may inspire. Melancholy and reflective, Terminus is a game that encourages us to recognise and observe what's around us - before it might be too late.
Back Terminus on Kickstarter.
Sanctuary & Sentinel
A common strength of GM-less RPGs is their focus on storytelling, giving each player the space to fill a role and work towards a shared narrative destination. Sanctuary and Sentinel, a pair of collaborative or solo titles from streamer and designer Meghan Cross, fit this mould. In Sanctuary, the group creates a place of power - temple, grove, coven, etc. - and then pools their effort to protect it against a Threat that will overwhelm all but a solitary defender. This figure can become the protagonist of Sentinel, a journaling game describing the lonely stretch of time defending the sanctuary without companionship or their previous fraternity.
Back Sanctuary & Sentinel on Kickstarter.
the_bookmarked
Finally, a way to justify that pile of unread books on your shelf! the_bookmarked brings a particular inventive magic system to its sci-fi world, with a book from the player's collection acting as a combination of hacking tool and spellbook. Words from the book can be used to take control of the world's futuristic tech, as well as serving as a character's skills and spells. As characters progress, they'll unlock new bookmarks that enable access to more words, expanding their vocabulary alongside their abilities. This ties into a fun set of character classes, each centred around different types of words - from the noun-loving Divinour to the verb-summoning Deponancer.
Back the_bookmarked on Kickstarter.
The Connection Machine
Confronting trauma takes on a very literal form in this GM-less RPG zine by Tanya Floaker, as players explore the dreamy world of the fourth dimension - and their own minds. As they delve into the time-bending realm given physical form by a quantum computer, their consciousnesses will be pushed to their extremes and spawn the embodiment of trauma - PTSDemons - from past memories. With influences from surreal sci-fi movies such as Quantum Leap and Stalker, The Connection Machine looks to blend its trippy setting with powerful emotion and narrative depth.
Back The Connection Machine on Kickstarter.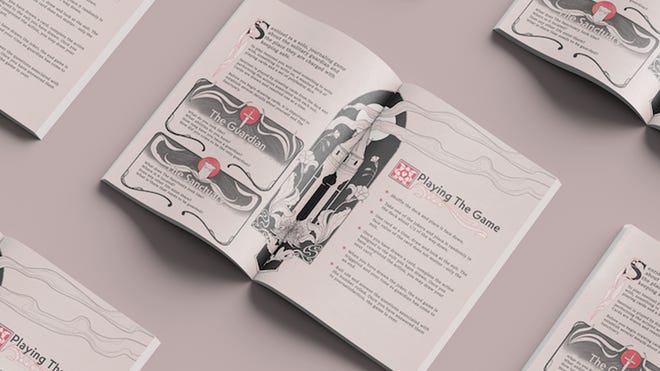 Dinocar
Who says making art needs to be hard or serious? In this colourful combination of roleplaying game and crafting activity, players control dinosaurs driving cars as they map out their world before travelling around it.
Julie-Anne 'JAM' Muñoz's talents as an illustrator and graphic designer on numerous indie gems is clear in her art-driven gameplay design that encourages players to work together to create a shared world of roads, landscapes and landmarks spanning both open countryside and urban sprawls.
Once players have created their world, their automobile-asauruses can journey across it, telling stories and discovering new details along the way. As suitable for kids and parents looking for a fun family activity as it is for adults who just love to get creative, Dinocar is an adorable artsy-crafty delight.
Back Dinocar on Crowdfundr.
Broken Cities
Imagine Italo Calvino's Impossible Cities where a group of players embody both Marco Polo and the surreal city of his dramatic retellings, and you'll get fairly close to Côme Martin's Broken Cities. The Group splits themselves amongst the city or the visiting Travelers and use a deck of cards to flesh out interesting details, social connections and - most importantly - the urgent problem plaguing the heart of this metropolis. While the Travelers simply want to have a good time, the city will pour its effort into enlisting sightseers as would-be sacrifices in the name of progress.
Back Broken Cities on Kickstarter starting February 20th.
Goblin Gonzo
Built on the bones of Mork Borg, Goblin Gonzo carries the RPG's punk-rock attitude into a standalone game filled with chaotic gobbos. Splashed with colourful artwork and full of new rules on everything from goblin brews to pissing contests, Goblin Gonzo lives up to its name as a wildly inventive and unabashedly messy spin on the familiar fantasy creatures.
The book includes brand new goblin classes - along with their mutations - and monsters for them to encounter in included scenarios set in a gobbofied carnival and castle. If you've ever had the urge to wallow in mud, set fire to things and talk to a pet rat, you're unlikely to find a better zine in this or any other month.
Back Goblin Gonzo on Kickstarter.
Soft Focuses: Second Edition
Soft Focuses is a journalling RPG that aims to give its solo player a window into the experience of living with ADHD. The game follows the player's character as they live out a normal day, experiencing moments influenced by their alter-ego's neurodivergence. Originally created by C R Legge as a way of providing an authentic way to help players understand ADHD, this new second edition released for Zine Month 2023 increases the game's realistic handling of ADHD, adding rules to simulate the effects that anxiety, autism, depression and menstruation can have.
Soft Focuses' revision also makes the game itself easier for those with ADHD to play, along with other improvements to both its accuracy and overall play experience. A uniquely sensitive and eye-opening experience, Soft Focuses demonstrates the power of roleplaying to generate empathy.
Back Soft Focuses: Second Edition on Crowdfundr.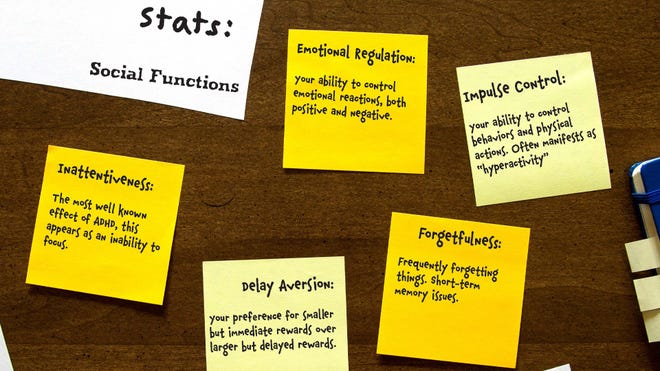 On the Way to Chrysopoeia
The modern world lacks a bit of magic. Two-player RPG On the Way to Chrysopoeia hopes to return a bit of that wonder and awe to the world by turning players into alchemists who transform their everyday sights and experiences into something fantastical. The two players communicate back and forth - this could be through letters, or even emails - as a Master and Disciple embarking on a legendary journey to the mysterious destination of Chrysopoeia.
Along the way, the players will weave people, places and events they experience in real life into a fictional narrative, combining the written records of their discoveries with keepsakes such as newspaper clippings, pictures and more. Originally released in French by designer Morgane Reynier, the game's Zine Month 2023 campaign will crowdfund an English translation in a gorgeous pocket-friendly travel journal, suited to taking with you on your next journey - real or imagined.
Back On the Way to Chrysopoeia on Kickstarter.
Hit the Road, Jack
If you always wanted your solo journalling games to smell more like burned rubber, spilled gasoline and desperate sweat, Hit the Road, Jack might be the joint of your dreams. Created by Kyle Tam, this title throws the player into a motorcycle chase down interminable highways as they attempt to shake a persistent tail bent on running them off the asphalt. (Disclaimer: Tam has previously written for Dicebreaker.) Tam describes it as the "greased up troublemaker cousin" to cult hit Long Haul 1984, which is a compelling sales pitch if tarot-based, chrome-and-adrenaline storytelling doesn't already hook you.
Back Hit the Road, Jack on Itch.io.
Grandmothership
Besides being the best tabletop RPG pun on this list, Grandmothership is also a meets-meets of two of the more popular indie titles released in the last couple of years. Armanda Haller's only slightly tongue-in-cheek creation combines Brindlewood Bay's structure of old ladies solving crimes with Mothership's '80s-inspired sci-fi aesthetic. There's also the binary stat structure of Honey Heist, for good measure - all characters act with either GRANDMOTHER or MOTHERSHIP. The result is a melding of aesthetic and design inspirations that can be played as silly or serious as a group desires.
Back Grandmothership on Crowdfundr.
Constellation Volume 1
Why have one zine, when you can have a dozen? Constellation gathers together 12 zines into a single book, some of which are seeing print for the first time. Sebastian Yūe's selection of zines includes both standalone games and settings for other games, running the gamut of player counts through solo and two-player RPGs to group games, and spanning genres from romance and action to sci-fi and horror.
Among the many highlights is Jacky Leung's Jenga-powered Project: Day Breaker, which pits players against Dracula on a space ship, and Alyx Bui's Chinese Ghost Stories We Tell Ourselves, which casts the players as members of a Chinese family dealing with ghosts. Meanwhile, Zedeck Siew and Munkao's Hundred Red Scales - part of the Thousand Thousand Islands series - draws from Southeast Asian fabrics in its folkloric adventure setting. Gourmet Street: Fantasy Street Food Adventuring offers a very different setting, inspired by food and gastronomy. A beautiful collection of experiences and worlds, Constellation is the perfect stepping stone into the world of zine RPGs.
Back Constellation Volume 1 on Kickstarter.
Four Kingdoms
Originally created as a teaching tool by designers at Japanese studio Tanuki Games, Four Kingdoms gives four players the chance to create a fantasy world together by drawing. Weaving together map-making, illustration and collaborative storytelling, Four Kingdoms can be played in a variety of ways - either as a standalone experience or as a tool to create a setting for another RPG.
After laying out the general vibe of their world, players draw cards to inspire additions to their shared landscape, adding detail to the world, its history and inhabitants until they draw all four aces. While Four Kingdoms is designed as a four-player experience, it can also be enjoyed by fewer players - or even alone - as an artistic, creative world-building exercise.
Back Four Kingdoms on Kickstarter.
Earth to Jupiter
Earth to Jupiter is a very different post-apocalyptic RPG. Taking place in the wake of an apocalypse on Earth, the solo player is Cassiopeia, who has taken refuge inside a mysterious University. They send messages across the galaxy to Jupiter, who set off on a journey across the cosmos before the Earth succumbed to its disaster.
Designer Pidj Sorensen's game guides the player through 12 prompts for their messages, with the option to continue beyond its structure if you want to. Included as a stretch goal in the gam's Kickstarter is a companion game that will add two-player gameplay and the opportunity to play as Jupiter.
Back Earth to Jupiter on Kickstarter.
Pelogos
Basil Wright's dreamily supernatural RPG Pelogos puts players in the shoes of Lantern Keepers, paranormal detectives, or the sea ghosts with whom they communicate. The game explores dealing with loss and grief, as the players help the living contact the ghosts of their loved ones - known as Echoes - from either side of the veil.
The game's spiritual setting is the Mercī, a sea of dreams that inspires creativity and is shaped by its inhabitants - for better and worse. As they venture through the otherworldly plane, the players will need to seek the information needed to bring peace to those left alive - or risk becoming lost themselves.
Back Pelogos on Crowdfundr.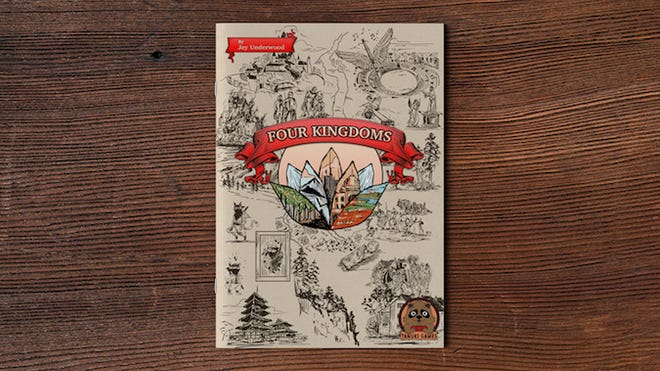 The River Spirit
Inspired by designer Nico MacDougall's reminiscences about their own hometown, The River Spirit asks its solo player what they would be willing to sacrifice to save a place special to them. As their hometown is threatened by a drought, the player uses a deck of cards to come up with memories of the town and its inhabitants.
These memories are then used to form new stories, offering the old memories to the River Spirit who dwells in a nearby forest to save the place they love. As the player journals their fictional hometown's history, people and culture in a book, they'll be asked to ultimately give up parts of their precious connection to avoid losing it entirely.
Back The River Spirit on Crowdfundr.
Hiria: The Eternal City
Multiverses are all the rage lately, whether it's Everything Everywhere All at Once, Doctor Strange, D&D or Magic: The Gathering. Hiria: The Eternal City imagines a city that exists across the multiverse, transforming as it passes between dimensions. It's up to the solo player to trek between these multiple dimensions in search of their quarry, recording their experiences of crossing the multiverse in a journal.
The city itself is created by pulling from a series of prompts, defining its architecture, atmosphere and culture. Likewise, the player will experience a variety of events and clues left by their quarry, from mysterious messages to city-wide occasions. Take a kaleidoscopic trip around the interdimensional city and see what you discover.
Back Hiria: The Eternal City on Kickstarter from February 14th.
Bullets & Bourbon: Reloaded
As you might guess from the image conjured by its name, Bullets & Bourbon transports players to the Wild West in the late 19th-century. Strapping on the spurs of cowpokes - be they bounty hunters, outlaws or simply people searching for something - the players travel between towns, picking up jobs and potentially planning their next big heist. Keeping with the western feel, the game uses decks of cards to resolve challenges - from gunslinging duels to horse races - in a blend of War! and poker. This Reloaded edition revisits designer Sean 'Mac' McClellan's earlier design for its first physical print run, featuring polished rules and new artwork.
Back Bullets & Bourbon: Reloaded on Itch.io.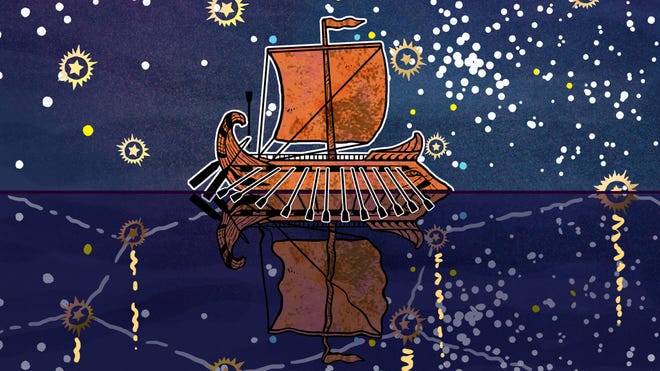 These Stars Will Guide You Home
Drawing from the epic poetry of the Odyssey and the Aeneid, These Stars Will Guide You Home sees its solo player both embarking on their own legendary journey, then writing up the record of their voyage hundreds of years later. The player navigates the seas using a star chart, discovering potentially dozens of islands along their route before they finally decide to settle down and found a home.
Once they do, the game shifts to one of their descendants, who must form a chronicle of the founding journey using the fragmented records that remain. A gorgeous, interactive interpretation of timeless classics played with a deck of cards and a coin, These Stars Will Guide You Home looks to be an epic trip well worth taking.
Back These Stars Will Guide You Home on Kickstarter.
Strictly Between Us
Step away from the table and move, as Strictly Between Us puts the expressive power of dance at the centre of a live-action RPG (LARP) that can be played with as little as four or as many as 20 players. Together, the players choose to either explore a relationship as it first begins to form, or as it withers away between a couple. The relationship is played out across three scenes, with players using Blues dancing to express the characters' emotions as they grow more or less intimate.
You don't need to know how to dance to enjoy the game, with Eli Seitz and Kristen Dabney's approachable book relying on simple rules, loose movements and including guides to getting started in a safe and welcoming way. The book accompanies playlists curated by DJ Julie Brown that provide a soundtrack to players' movements as they dance their way into a very different kind of roleplaying experience.
Back Strictly Between Us on Kickstarter.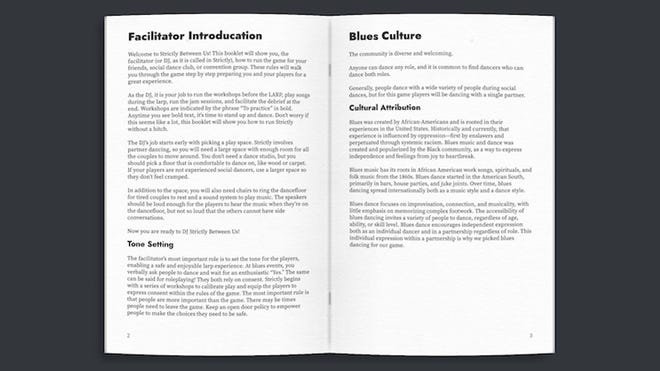 ---
The Ink That Bleeds
Solo RPGs can be a daunting prospect all on their own, and journalling games, which ask players to essentially write their own short fiction play reports, only add to the perceived difficulty. That's where Paul Czege's The Ink That Bleeds: How to Play Immersive Journaling Games comes in. Czege sells his project as a collection of tools, resources and helpful guidance for those interested and also intimidated by solo tabletop play.
The advice covers topics such as the immsersive-focused "write to find out" method, how best to handle real life bleeding into games, and how to care for yourself when the game alternatively bleeds out into the player's life beyond the page. There's also some general writing and worldbuilding advice as well as some commentary on why solo journaling RPGs seems to cropping up everywhere.
Back The Ink That Bleeds on Kickstarter.
Lordsworn
Fantasy and science fiction are full of stories where armies commanded by gods, generals and mythic figures do grand battle, but what happens to the 'little guys' after the pennants fall and feet turn for home? Lordsworn, created by Marren's Musings, gives players the tools to find out via a GMless storytelling game that explores the emotional journey away from a battlefield where their god now lies dead and defeated.
Lordsworn's mechanics are built from the Caltrop Core EX System, using three four-sided dice to construct and resolve roleplaying scenes between the group of weary and forelorn travelers struggling to understand their place in an unrecognisable world. Are they bitter and spiteful? Angry and looking for revenge? Relieved by the sudden loss of obligation? Will they lean on each other during their weakest moments, creating family out of shared loss? Or will the emotional chasm prove too vast for these not-quite-heroes to overcome?
Back Lordsworn on Kickstarter.
Tangled Blessings
Cassi Mothwin's Tangled Blessings runs the memory-destruction-and-recovery storytelling of Anamnesis through a dark academia-shaped pasta machine to produce a journalling RPG for one or two players set in a school steeped in magic as well as secrets best left buried. The player's story culminates in a head-to-head confrontation with their rival, but before that their character will skulk dark hallways and investigate the dusty, forgotten stacks of a library.
There's a dense horror theme at the core of Tangled Blessing for those willing to engage it. It uses a tarot deck to determine prompts that will lead characters into mysterious adventures but also interrogate their desires and goals as they progress through the years - what dark bargains will they accept and what price are they willing to pay for success, acclaim and scholastic excellence. And who out there will see your trajectory as a threat to themselves?
Back Tangled Blessings on Crowdfundr.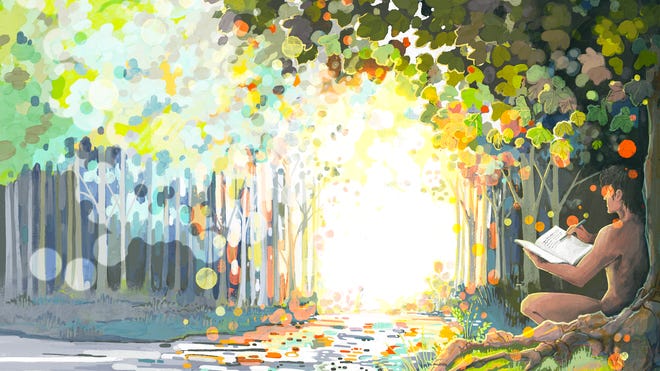 Zine Month 2023 Supplements
The Haunting of Abimond Manor
Cat Elm's The Haunting of Abimond Manor brings a classic haunted house adventure to RPGs, with a system-neutral one-shot that can be slotted into the fantasy RPG of your choice, from the ubiquitous D&D 5E to the brutal heavy-metal setting of Mork Borg. As the name suggests, the scenario draws influence from classic spooky tales like The Haunting of Hill House, turning the exploration of the abandoned manor into a dungeon crawl fit for any adventuring party - assuming they're brave enough to venture in…
Back The Haunting of Abimond Manor on Kickstarter.
Temple of Blank on the Planet Blank
Can't decide what adventure to play next? Temple of Blank on the Planet Blank is the Zine Month offering for you. This randomised supplement turns each book itself into a randomly-generated creation, with creator Jordan W Martin making over 100 unique variations of the zine from hundreds of possible dungeon rooms, items and creatures. Even the artwork and fonts have been mixed and matched, making it a wonderful patchwork quilt of an RPG book.
While the physical release will be limited to 103 copies, backers will have the option to pick up a random selection of three zines in a digital bundle. The adventures are compatible with whatever RPG you prefer to use, with a deliberately loose approach to guiding players through their adventure. Next time you find yourself unable to decide on a scenario, throw caution to the wind and let Temple of Blank on the Planet Blank decide for you.
Back Temple of Blank on the Planet Blank on Kickstarter.
Rolling with the Youth
With safety tools, inclusivity and diversity more important than ever at the table, Rolling with the Youth offers a suitably approachable guide to running RPG sessions for younger players - but there's no reason its advice can't be applied to veteran groups, too.
Covering topics such as making use of safety tools and knowing how to set rules and boundaries around the table, through to general tips on giving players agency and fostering their excitement and enthusiasm to make RPGs' collaborative storytelling as positive and fruitful as possible, author Jaclyn Lewis' experience as both a youth worker and game master is clear.
Despite the serious importance of the subjects covered in the book - such as ensuring that sessions are supportive of marginalised players and kept clear of harmful material - Rolling with the Youth's lighthearted title shines through in its positive contents, which include healthy reminders to allow yourself to be silly and provide your players with encouraging feedback.
Whether you're dealing with first-time players wanting to capture the magic of Critical Role at home or educating long-time players on making their tables as open as possible, this book looks to be a welcoming handbook with ageless advice.
Back Rolling with the Youth on Kickstarter.
AMMU: An Eldritch Extermination
Imagine the monster-traversing action of Shadow of the Colossus, crossed with the body-exploring fantasy of Fantastic Voyage and a healthy helping of the unsettling cosmic horror of the Cthulhu mythos, and you get AMMU: An Eldritch Extermination. In AMMU, players venture into the infested corpse of an enormous eldritch god on a mission to eliminate the rot spreading from its heart before making their escape.
Despite the somewhat icky subject matter, AMMU is a playful spin on the microscopic journey-inside-a-body genre, as players are sent on their quest by a flaming eyeball (which is also Ammu, it's a whole thing) and must contend with unique gameplay mechanics and challenges along each stop of their body tour.
It's also compatible with any RPG you want to use it with, meaning you could pit your classic D&D party against the mutated inhabitants of the monstrous being. Delightfully gross and crammed with slimy, swarmy, sticky moments, AMMU is a vividly entertaining romp from maw to gullet. Just maybe be sure to eat before you play.
Back AMMU: An Eldritch Extermination on Kickstarter.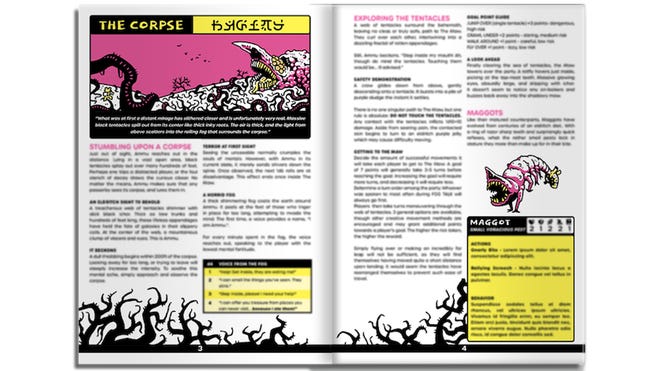 Decagone
This reality-bending scenario for sci-fi horror RPG Mothership puts players in the middle of a terrifying time loop. Even worse, they're trapped in a research station deep in the ocean. With the crew returning to an elevator every ten minutes, finding escape or help seems impossible - and they may not be alone in the abyss. Groundhog Day meets BioShock, Decagone is ideal as a tense one-shot for your next Mothership game - or potentially the start of a new campaign. If you can survive long enough, that is.
Back Decagone on Kickstarter.
The Sins of Eden Prime
The Sins of Eden Prime takes sci-fi horror RPG Mothership to a twisted religious colony beyond the reach of any god. As players explore the sandbox adventure, they may encounter heretics, cannibals and more across a number of new locations. There are also brand new weapons, mutations, encounters and threats to discover, soaked in a gothic dread that can be added to an existing campaign or used as a standalone trilogy of scenarios. Just, er, maybe don't eat any fruit you find.
Back The Sins of Eden Prime on Kickstarter.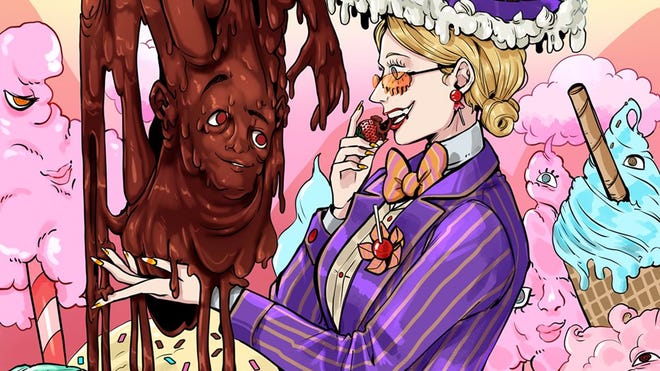 Candied Blood
Take Charlie and the Chocolate Factory, then make it even more messed-up. Candied Blood invites players to wander into a sweet factory - only to find that the factory is eating them, not the other way around. Ulysses Duckler's seriously twisted take on Willy Wonka is stuffed full of body horror and thematic richness as players either work together or against each other - or both, depending on how things go - to survive the nightmarish factory tour and become its new owner - or destroyer. Playable with RPG systems including Trophy Dark and To Change, expect a deliciously dark spin on a classic story.
Back Candied Blood on Gamefound.
A Butterfly Dies
Inspired in part by Mexican myths, A Butterfly Dies allows players to explore the prehistoric land of Michoacan as it undergoes an ancient ritual of renewal incited by a burning butterfly. The players can choose whether to help fulfil or prevent the mythical ritual's destructive yet rejuvenating cycle, with designer Marco Serrano's zine providing a detailed vision of how the world progresses with or without the players' involvement. Spanning volcanic mountainsides and forests inhabited by dinosaurs and alien creatures, A Butterfly Dies brings together nature, myth and tradition in a hex-crawl adventure for Stone Age RPG Primal Quest.
Back A Butterfly Dies on Kickstarter.