Roleplay as a cat or dog in D&D 5E-compatible RPG Animal Adventures: Secrets of Gullet Cove
Roll over, Beethoven.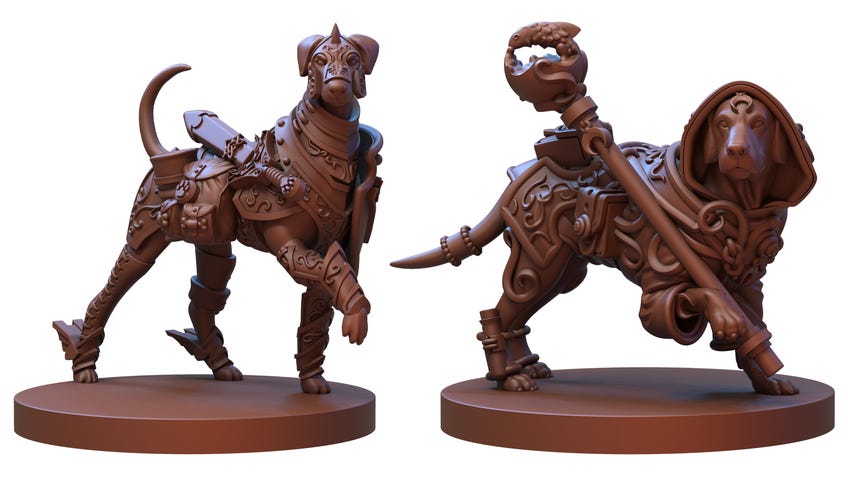 A collection of cat and dog miniatures for roleplaying games such as Dungeons & Dragons 5E is getting its own tabletop RPG universe and book in Animal Adventures: Secrets of Gullet Cove.
If you're unfamiliar, the Animal Adventures series features animals dressed like classic fantasy classes, such as wizards and warriors - except they happen to be cats and dogs instead of Dungeons & Dragons character races like humans, orcs or elves.
The first set in the series was Dungeons & Doggies, which included 13 canine characters such as Tedric the Chihuahua Rogue, Montague the Cocker Spaniel Bard and Cornelius the Golden Retriever Wizard. It was followed by Cats & Catacombs, which featured the likes of Pawkus the Bobtail Barbarian, Solan the Persian Warlock and the fearsome Necromeowncer.
As part of the previous Kickstarter campaigns for the 20mm models - making them compatible with most RPGs that support miniatures - creator Painting Polygons released basic rules compatible with Dungeons & Dragons 5E that allowed players to create dog and cat characters and play them in their campaigns. The rules included unique feats, magical items and class options, as well as a new deity for the dogs and lore info on Welcoming Dark, "the demiplane of cats". The campaigns each offered a custom one-shot scenario to play with either pre-gen or player-made characters.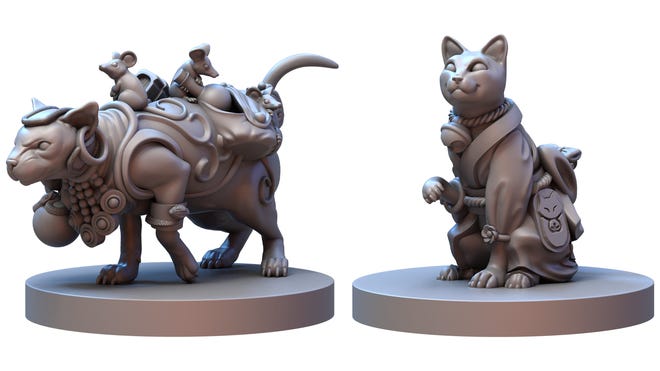 Animal Adventures: Secrets of Gullet Cove will offer up a complete set of rules that work with Dungeons & Dragons 5E, introducing brand new non-player characters and a series of multi-part adventures.
The book will take place in an original setting that can be used for a brand new campaign (if you're a newcomer learning how to play Dungeons & Dragons 5E, for instance) or incorporated into an ongoing one, establishing Animal Adventures as a proper universe. The book will include information on locations in the world, as well as secrets for players to include in their campaign.
Due to launch on Kickstarter on January 28th, Animal Adventures: Secrets of Gullet Cove will include 21 unpainted miniatures, of both the cat and dog variety. Extra models are set to be unlocked as part of stretch goals during the campaign, with paladin pooch The Warden of the Golden Collar exclusive to the crowdfunding run.
The hardback book, which is being put out by Godtear, Guild Ball and Dark Souls: The Board Game maker Steamforged, will cost $70 (£54) and include the rules, artwork and maps of the Animal Adventures setting, as well as the miniatures. A release date is yet to be announced. Still if you've been wondering what to buy if you want to play Dungeons & Dragons 5E as a cat or dog, look no further.