Play D&D in VR with digital tabletop platform Dungeon Full Dive
"I cast True Seeing."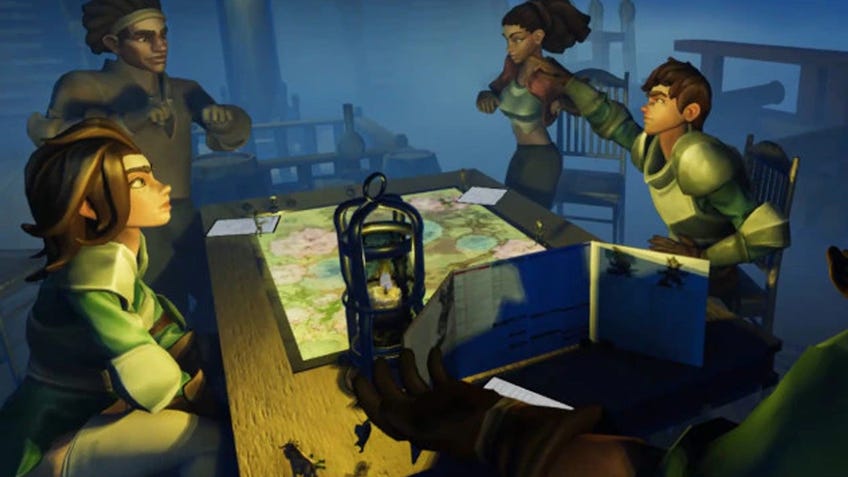 Become immersed in playthroughs of roleplaying games such as Dungeons & Dragons with Dungeon Full Dive, a digital platform that supports virtual reality headsets.
Dungeon Full Dive is a video game that will be compatible with PC and Oculus devices and will enable players to experience their tabletop RPG campaigns in a virtual environment. Whereas the majority of existing digital platforms that support tabletop roleplaying, such as Fantasy Grounds and Roll20, usually depict a virtual table or map for players to interact with, Dungeon Full Dive allows players to interact with the game environment itself.
Rather than using a mouse cursor, players will be taking control of a character who can move around and interact with objects within a virtual environment. Players will have the option to play Dungeon Full Dive with a VR headset, thereby enabling them to see the virtual environments in first-person and interact with things inside it with their VR controllers. According to the description on the game's Kickstarter campaign, players will be able to walk around environments that can be modelled after the player's current adventure - for example a forest, dungeon or tavern - using characters that they've created within Dungeon Full Dive.
The screenshots included in the Kickstarter description seem to indicate that players will still be using the familiar tools used to play TRPGs, including table and paper, but will be able to interact with objects such as weaponry or a giant d20 through the perspective of their character in the game. Players will be able to play if they don't have access to a VR headset, with Dungeon Full Dive supporting crossplay between both VR and PC users, players will be able to form their own parties or team up with new people online.
Dungeon Full Dive is being developed and published by TxK Gaming Studios, a company co-founded by the video game's creators - Khang Pham and Tom Bockhorn - with this being the studio's debut title.
The Kickstarter campaign for Dungeon Full Dive is live until May 27th, with a pledge of €30 (£26/$36) getting backers a lifetime license of Dungeon Full Dive when it releases for PC and VR devices in February 2022.