European RPG Studios Union emerges from dust of D&D's OGL storm to 'promote RPGs as art and protect creators'
Effort from French, German and Italian publishers states support of #OpenDND movement as first priority.
Three European roleplaying studios have formed a new union as part of the ongoing fallout from D&D's industry-shaking OGL plans.
The founding members of the European RPG Studios Union are Studio Agate, the French team behind decorated gothic RPG Shadows of Esteren and 5E-powered sword-and-sorcery game Fateforge; German publisher Uhrwerk Verlag, known for fantasy RPGs Splittermond and Malmsturm; and Italian company Acheron Games, maker of alt-history RPG Lex Arcana, the 'spaghetti fantasy' Brancalonia and Inferno, which adapts the Hell of Dante's Divine Comedy for D&D 5E.
In a joint statement, the ESU said that it would work to promote roleplaying games and advocate for the recognition of tabletop RPGs "as a genre of literature and form of art before national and European institutions", as well as serving to protect creators in the tabletop industry.
The ESU told Dicebreaker these efforts will include a push to enable eligibility for government subsidies like those offered to book, film and video game companies, and to promote academic study of RPGs and roleplaying design courses within schools and universities.
"We believe that roleplaying games are one of the most modern and relevant media to create interpersonal bonds. They are a tool to develop soft skills for the players," it said.
"Their distribution and practice needs to be encouraged, taught and supported by institutions just as for other artistic media such as movies, music and video games."
Among the protections the union hopes to establish for tabletop creators in Europe is recognition of their "legal and social status", particularly for freelance designers, writers and artists who contribute to tabletop RPGs.
"In France and in other countries, these creators have little social protection - unemployment, health care, etc. - and we want this to change," an ESU representative told Dicebreaker. "This goes further than paying freelancers better, it is a wish that the profession of RPG creator/designer be recognised. Freelance status offers many possibilities but it should be a choice, not an obligation for these creators."
The statement accompanied an homage to French artist Eugène Delacroix's iconic painting Liberty Leading the People, with the union's own leader instead waving the EU flag. The ESU told Dicebreaker that it was "working on" allowing tabletop RPG publishers and developers in the UK to join the union.
"It's not settled yet, but we believe that the UK is a major player in the European RPG industry and should be recognised as such," it said.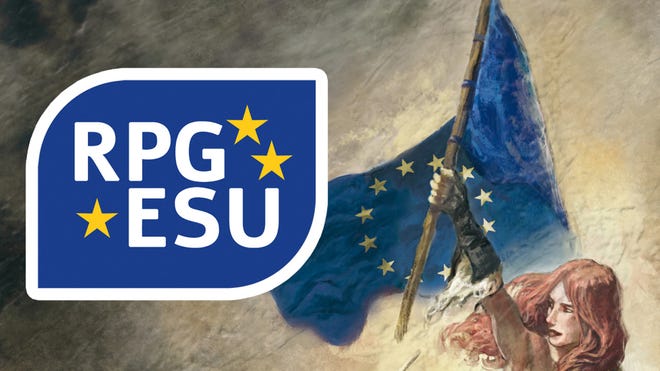 The union said its first priority would be supporting the ongoing #OpenDND movement, which formed in the wake of proposed changes to Dungeons & Dragons' Open Game License and has seen a reported 60,000 signatures of support from players and creators since. Having reneged on the most controversial aspects of its leaked revision of the D&D OGL, Wizards of the Coast released a public apology earlier this week and vowed to publicly playtest future iterations of the licence going forward.
"We stand ready to work with the actors of this movement to make roleplaying games more open and accessible, both for the public and for content creators," the ESU said. "The idea is to defend the open source spirit of the OGL which allows a microcosm to exist, to publish and to live from this work. Hasbro's current stance threatens many jobs in Europe."
The emergence of the European RPG Studios Union follows the creation of a workers' union at Pathfinder publisher Paizo in late 2021, the most prominent union in the tabletop space to date.
Away from tabletop RPGs, recent years have seen unions emerge at retailers including the US trading card giant Card Kingdom - along with the Bellevue location of its retail-restaurant hybrid Seattle Mox Board House - and board game seller Noble Knight Games.