Mix up D&D-inspired drinks with RPG cocktail book Mystic Libations
Co-created by Supernatural actor and Disney Imagineer.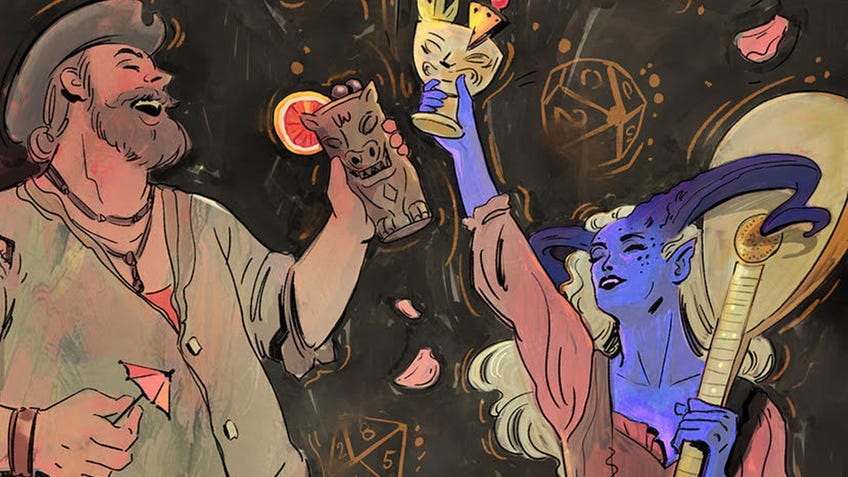 Create drinks inspired by Dungeons & Dragons and other fantasy RPGs with Mystic Libations, a cocktail book co-created by actor Todd Stashwick and Disney 'imagineer' Brandon Kleyla.
Mystic Libations: Critical Cocktails for the Thirsty Adventurer is a book containing 100 original recipes for various alcoholic and non-alcoholic beverages. Inspired by a history of custom drinks created for nights spent playing D&D and other RPGs, Mystic Libations contains ideas for cocktails and mocktails designed to be consumed alongside roleplaying.
The recipes have been co-created by mixologist Roy Hanzel, with the artwork for the front cover coming from artist Zelda Devon - who has worked on advertising for animated show Bojack Horseman and concept art for films such as last year's Doolittle - and graphic artist Skipper Hoss, who is responsible for the book's overall design.
Aside from the catalogue of drinks recipes, Mystic Libations also contains an adventure and a homebrew (hah!) subclass for players to use in their roleplaying games, as well as a collection of stories explaining the origins behind some of the drinks and more world-building fiction.
Stashwick has appeared in a number of television shows and films. including the 2015 12 Monkeys TV series, where they played the character of Deacon; modern fantasy show Supernatural; and the 2014 series Gotham, based on the Batman comic book franchise. Stashwick is also the founder of The Nerd Circus, a website that sells a collection of paraphernalia inspired by pop culture.
Kleyla has worked on more than 30 attractions for both Universal Creative and Walt Disney Imagineering, alongside being the lead decorator and writer behind Trader Sam's Tiki Bar and Trader Sam's Grog Grotto, the renowned hotel and bar at Walt Disney World in California. Kleyla has also created their own comic book series called The Untold Adventures of Trader Brandon.
The Kickstarter campaign for Mystic Libations: Critical Cocktails for the Thirsty Adventurer is live until February 6th, with a pledge of $40 (£30) getting backers a hardcover copy of the book estimated to arrive in June.