New "streamlined" Exalted Essence RPG corebook landing on Kickstarter next year
Pulp fiction.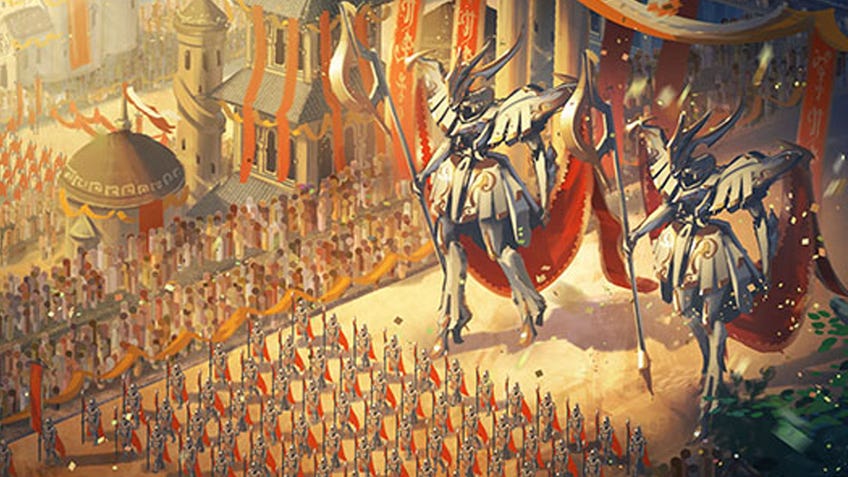 High fantasy tabletop RPG Exalted is getting a new corebook titled Exalted Essence next year.
Aimed at both new and existing fans, the upcoming book will present a more "streamlined" take on Exalted, according to a recent announcement by publisher Onyx Path Publishing.
It will also include ten player-character types, rules for sorcery and abilities (including the Universal Charms system), a range of storyteller antagonists, plus an overview of the world.
The Exalted RPG is set in a "forgotten mythic age" where the world is flat and full of spirits and gods. Inspired by authors Robert E. Howard (Conan the Barbarian), Lord Dunsany and Micheal Moorcook (Elric), it combines pulp with the operatic drama seen in classic epics such as Homer's Iliad.
Exalted also mixes Western and Eastern mythology, pulling out monsters and themes from both traditions.
Designers Monica Speca (Changeling: The Lost) and Neall Raemonn Price (Pathfinder and the Chronicles of Darkness) will be developing Exalted Essence, under the consultation of Exalted Third Edition developers Eric Minton (Paranoia supplements) and Robert Vance.
First released by White Wolf Publishing in 2001 (now part of Paradox Interactive), Exalted Third Edition is available through Onyx Path Publishing.
The publisher's previous titles include RPGs for Vampire: The Masquerade setting the World of Darkness, as well as modern myth game Scion and anthropomorphic animal adventures Pugmire and Monarchies of Mau.
Currently in the works, the Exalted Essence corebook will be taking to Kickstarter in 2020.