Grab 100 tabletop RPGs and support independent artists during Queer Games Bundle's third annual campaign
Monster Care Squad, Glitter Hearts, Cantrip and more are combined with a heap of video games, comics and zines.
The Queer Games Bundle has returned for a third year, once again offering hundreds of artistic creations in an effort to raise enough proceeds to pay the living expenses of marginalised artists. Among 2023's selection is nearly 100 tabletop RPGs, supplements, zines and other material available for just $60.
Organisers have wrangled together the work of 288 queer developers, designers and artists to collect 456 items. Video games compose a large portion of the bundle, but a wealth of comics, zines, asset packs and - of course - tabletop RPG can be found inside using the sort function on the bundle's Itch.io page.
Amongst the tabletop offerings is Monster Care Squad, Sandy Pug Game's more thoughtful take on the Monster Hunter video game formula. Rather than hunting down massive and magical beasts for body parts, players are a cross between veterinarian and pathfinder who cure mythical ailments in high stakes hunt-and-rescue scenarios.
Greg Leatherman's Glitter Hearts is queer magical girl anime storytelling for all body types and genders, using a simple conflict resolution system, a deep pool of moves and storytelling split between your normal lives and magical alter egos. Cantrip explores coming-of-age stories set at a magical school but lets the players collaboratively tell lighthearted stories together without the guidance of a GM or facilitator.
Whether you're looking for something explicitly sexual (reader beware: there are more than a few exposed orcs) or games that explore the emotional landscape of queer existence and relationships, there's something in the bundle to suit all comers.
As in past years, all proceeds will be split amongst artists who elect to receive money from the Queer Games Bundle. In a press release, organisers said these folks tend to be disabled, without steady income and otherwise reliant on selling their art to pay for basic living needs. Others struggle to break through the barrier between creating games as a hobby and making it a full-time career.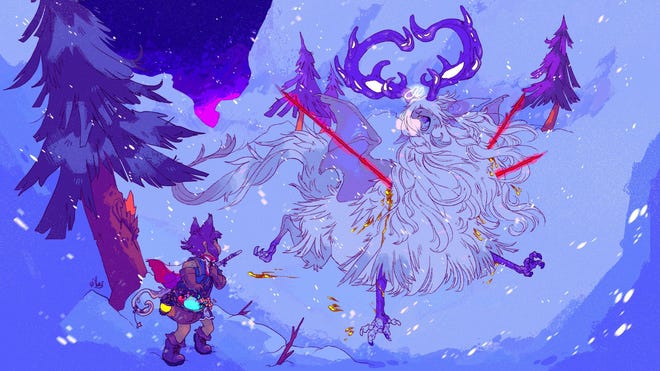 "The bundle is a concrete way to put funds into the pockets of those who need it, in exchange for great art that covers almost every genre and interest," the press release said. "All of these people want a better future and the opportunity to make a living as developers. The proceeds are split evenly among all participants who choose to receive funding. Our goal is a future in which there are no more starving indie developers."
Life for queer and marginalised people has become increasingly dangerous over the past few years, specifically within the US. The COVID-19 pandemic disproportionately affected (and still affects) the disabled and immunocompromised population - not to mention creating a swath of new chronic conditions and disabilities in its wake. An increase in transphobic political fear mongering amongst conservative politicians has created over 550 pieces of anti-tran legislation among states, 79 of which have already passed.
The Queer Games Bundle will remain open through July 8th. Organisers are offering the standard $60 version, asking for the price of a single AAA video game for all of the collected titles, but there's also a pay-what-you-can page with a minimum donation of $10 and a sliding scale. Read more about the bundle, its mission and the included games on its Itch.io page.