New TRPG series Adventure launches next month with a game by Grant Howitt and Chris Taylor
Adventure Presents: Tartarus Gate is on Kickstarter now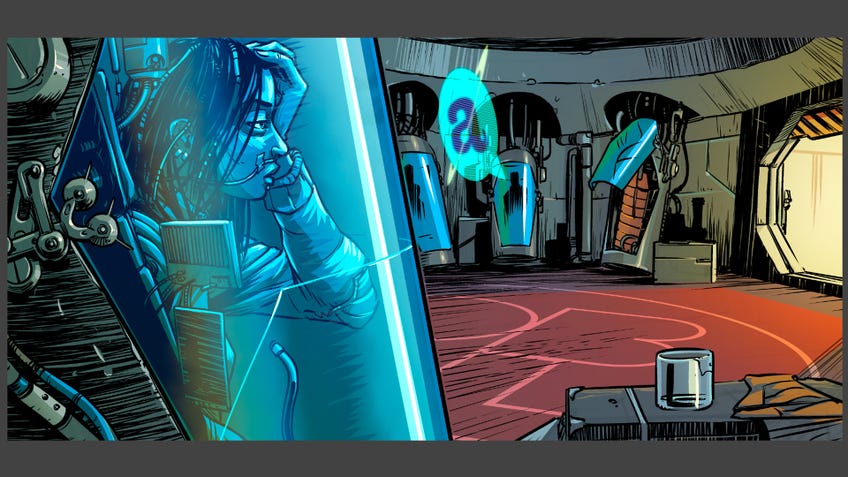 Publisher Rebellion Unplugged has announced a new line of tabletop RPGs designed to be more accessible for players, the first of which is on Kickstarter now.
Adventure is a series of tabletop roleplaying games presented in a magazine format. Each magazine will feature a complete role playing game with a series of pullout segments including rules, character sheets, a plotted adventure and GM reference materials. Digital character sheets are also available for those playing remotely.
The first game, Adventure Presents: Tartarus Gate launched on Kickstarter today. It is written by Grant Howitt and Chris Taylor, who have worked together before on dark elf RPG Spire and upcoming labyrinth exploration roleplaying game Heart. Grant is also known, of course, for authoring Honey Heist - a delightful roleplaying game about the duality of being a bear who is also a criminal.
Adventure Presents: Tartarus Gate is set in the year 2130 aboard the transport ship Charon as it makes a cargo run from Earth to the titular Tartarus Gate Waystation. Players will take on the role of unpaid interns who are primarily used for menial tasks aboard the ship. If that sounds like a dire situation, I'm afraid that's not the end of it - Adventure Presents: Tartarus Gate is a horror RPG. "Visual feeds with the lower decks have gone down," says the Kickstarter. "Something is moving. You're six months' travel from the nearest help. And you really need to impress your employer if you want to be made permanent."
Rebellion Unplugged is a relative newcomer to tabletop publishing - the offshoot of video game and comic publisher Rebellion was founded in November of last year. A video game board game adaptation of its hit series Sniper Elite is currently in development.
The Kickstarter Campaign for Adventure Presents: Tartarus Gate will run for twelve days and aims to get physical copies of the game to players in August of this year. It's a tight turnaround, but Rebellion Unplugged head Duncan Molloy is confident the game will be released on time, saying "We're superbly suited for this… we've been delivering 2000 AD to our many subscribers on a weekly basis throughout the lockdown, so we've got the systems in place to ensure we can deliver physical copies of Adventure Presents by the end of August."
Adventure Presents: Tartarus Gate will be on Kickstarter until the 14th of July. A pledge of £8 gets you the digital edition, £10 covers a physical copy and for £12 players can get their hands on both formats.