Black Library Advent Calendar brings a Warhammer-themed end to 2020
Straight from Santa WAAAGH!
Games Workshop has made a 2020 holiday advent calendar available for pre-order, but it won't come packaged with random orks and Terrans. Instead, the miniatures purveyor is providing 25 large art prints from the various worlds of Warhammer.
The Black Library Advent Calendar collects pieces of artwork from the Black Library team, who create the novels, comics, audiobooks and other media within Warhammer's various universes. Each piece of art is individually sleeved and numbered, creating a little suspense each morning. The artwork draws from Warhammer 40,000 and Age of Sigmar, but also dips into the lesser-explored Games Workshop worlds of Necromunda: Underhive and The Horus Heresy for inspiration.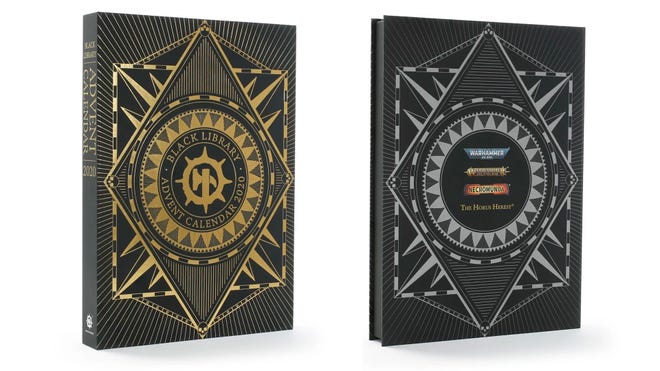 The prints run A3 or 29.7cm x 42cm - that's 11.69" x 16.53" for the Standard System adherents - and the 25th sleeve includes a specially foiled print to cap off the celebration. All of these are packaged in a black box with foiled ornamentation, complete with a few classic Warhammer skulls. Inside, the Black Library's artists have written a special message for fans.
In the past, the Black Library ran digital advent calendars that offered a new piece of digital art, audiobook story or seasonal comic issue each day. They began what could be a new tradition of physical boxes last year, though 2019's calendar delivered homages to classic movie advertisements.
The Black Library Advent Calendar 2020 is available now for pre-order. Shipping will begin on November 14th, according to Games Workshop's website, and is limited to 1,250 copies.