Two of Warhammer's most imposing minis are headed to Age of Sigmar video game Realms of Ruin
New heroes for the Stormcast Eternals and Orruk Kruleboyz.
A duo of new characters is coming to the Warhammer video game Age of Sigmar: Realms of Ruin.
Warhammer: Age of Sigmar is a skirmish miniatures game set within a fantasy world occupied by warring factions. Playable armies include the heroic Stormcast Eternals, the ancient Sylvaneth, the mischievous Gloomspite Gitz and the sinister Daughters of Khaine. During the game, players command their armies to move, attack and perform other abilities, using dice to determine their success against their opponent.
Realms of Ruin is a strategy video game developed and published by Frontier Developments that's set to be released on November 17th. In the game, players can choose between a selection of different warlords and may lead one of four factions into battle within the Realm of Ghur. Players will be able to command their army through their respective warlords through either a single player campaign – featuring a narrative created by Black Library author Gavin Thorpe – or challenge their friends and strangers through the multiplayer mode.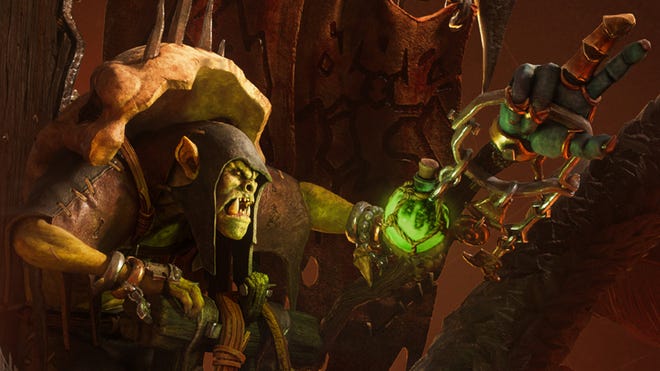 Each map will require players to think carefully about their surroundings as well as their opponents, ensuring that they take every advantage they can in order to win. As well as playing competitively, players will also be able to work together with friends in co-op matches as well. There is also an option to make your own battle maps through the Map Editor feature.
Dicebreaker can exclusively reveal that, on top of the heroes featured within the base game, two additional heroes will be available for players through downloadable content that's set to be released shortly after Realms of Ruin's launch. The DLC's release date is currently yet to be announced.
One of these heroes will be Yndrasta, The Celestial Spear, a Stormcast Eternal champion forged by Sigmar themselves. Yndrasta's Age of Sigmar miniature features her impressive white wings, as well as the powerful spear, Thengevar, she uses to slay scores of beasts throughout Ghur. Players controlling Yndrasta in the video game will be able to swoop in and out of combat using her wings, as well as inspire their allies.
A trailer for Warhammer Age of Sigmar: Realms of Ruin.
The other DLC hero will be Gobsprakk, The Mouth of Mork – a Orruk Kruleboyz commander who comes with the first flying unit for the Orruk Kruleboyz in the Warhammer video game. Gobsprakk's miniature sees the ork riding an enormous Corpse-Rippa vulture, which he can use to cast spells and fling curses from on-high. His Realms of Ruin counterpart enables players to fly above the battlefield as a mobile hero capable of rallying his troops.
Both heroes will be included within the Warhammer: Age of Sigmar – Ultimate Edition, which costs £65 ($75), otherwise players can get each hero individually for £4 ($5) each or both as a bundle for £7 ($9).