Deep Sea Adventure studio Oink Games debuts on Kickstarter with two new titles and a revisited classic
Time to open the piggy.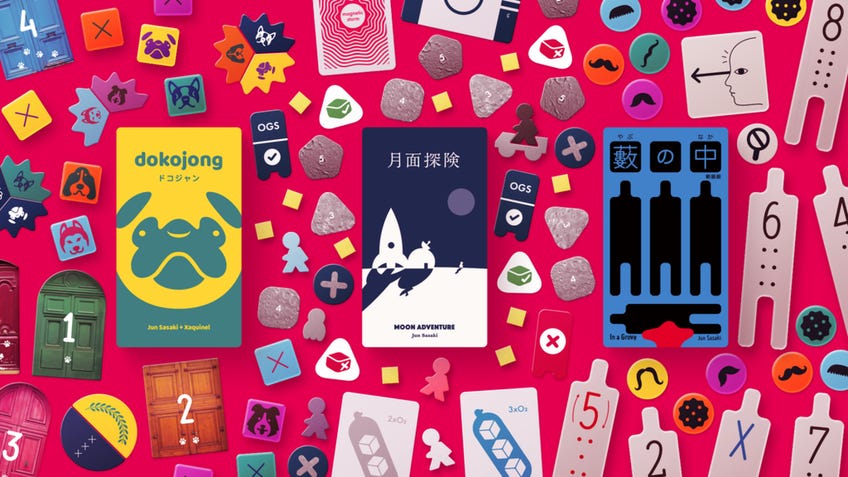 Japanese design studio Oink Games has launched its first Kickstarter campaign in the hopes of funding three board games as a combined package.
Known for inventive titles such as A Fake Artist Goes to New York and Deep Sea Adventure, Oink Games has previewed the next three additions to its catalogue. Fans and players can purchase all three together via the crowdfunding campaign, along with the chance to add several past games to the order.
Moon Adventure builds on the mechanics of the popular Deep Sea Adventure by staging a desperate bid as two to five players search for crucial supplies to survive their escape from the moon. Hazards such as "magnetic storms and limited oxygen supply" will harry players' efforts the entire time. Oink Games listed an expansion pack for Moon Adventure, but more details aren't yet available.
Dokojong, also for groups between two and five, tasks players with finding dogs that have been hidden amongst a grid of tiles. Deceptively simple, the goal is to find where your opponents' have stashed their pooches without revealing too much information about your own sequestered pet. Social deduction, logic and a solid bluffing face will be necessary to come out on the top of this dogpile. Oink Games stated Dokojong was developed in collaboration with Caru Uta designer Shunya Shiina.
The third offering in the Kickstarter is a revised edition of 2011 bluffing and deduction game In a Grove, "reborn with new components and rules". An expanded number of detectives can now attempt to solve a case of incompetence in a town where murder happens every day. Oink Games said the rules have "been adjusted to make the game more interesting" and that more details to that end will be added later.
The Kickstarter campaign for Oink Games' three-game bundle has already doubled its initial goal of $9,525 (£6,986) and will continue running until February 26th. Backers can grab all three games for approximately $62 (£45), which will ship in three waves - the first should arrive in March of this year, while the others are planned for April and May. All three titles will be available at conventions and retailers at a later date.