Join Dicebreaker in the Metaverse this Sunday as we play RPG Blades in the Dark!
Tune in on Sunday for a high-stakes heist.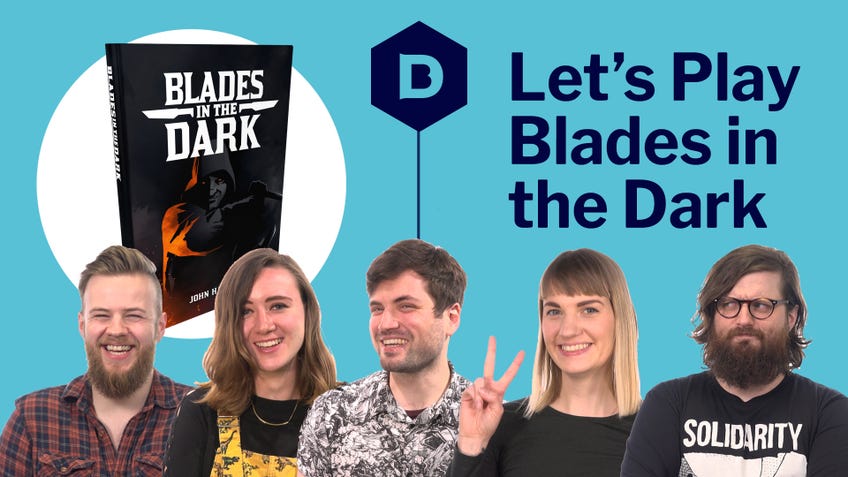 Watch the Dicebreaker team attempt to steal a powerful magical artefact from a terrifying foe in a special Blades in the Dark RPG playthrough as part of the Metaverse this Sunday.
The Metaverse is a new digital event taking place this weekend. It's run by ReedPop, the parent company that owns Dicebreaker along with our lovely sibling websites and events such as Eurogamer, Rock Paper Shotgun, PAX Unplugged, MCM Comic Con and more.
The Metaverse will be held online from August 13th to 16th, and will include all the sorts of things you'd find at a physical convention - including panels, talks, workshops, meet-and-greets, merch and cosplay.
Various guests will be making an appearance throughout the show, including stars of video games such as Overwatch, movies and TV shows including Star Trek: Picard, manga creator Junji Ito, Mad Max film director George Miller, Batman writers and artists, and many others.
That includes the entire Dicebreaker team, who'll be taking to the (virtual) stage on Sunday August 16th at 10pm BST for a special playthrough of RPG Blades in the Dark. (Which you may remember we played last year as part of a special Christmas-themed heist - if you haven't watched that yet, it's certainly a trip.)
Join Johnny, Lolies, Matt, Wheels and Meehan as our motley crew of criminals - including a Disney villain, a street urchin, a fast-talking scoundrel and a literal clown - embark on a heist to steal the Vessel of the Old Gods from the formidable Lord Scurlock. Will the gang of assassins, scoundrels and ne'er-do-wells achieve infamy and fortune? Or will they disappear into one of the many dark corners of the city of Doskvol? Only time - and a bunch of dice rolls - will tell.
As well as Dicebreaker's own RPG antics, you can catch a live play of Rick and Morty vs Dungeons & Dragons on Sunday 16th at 1:15am BST, as well as the rest of the Metaverse's gaming sessions, including a live-play of party game Jackbox by some of the Overwatch cast and a discussion with fantasy author R.A. Salvatore, writer of several Dungeons & Dragons books.
You can watch the Metaverse on the New York Comic Con YouTube channel next weekend, August 13th to 16th, and see the full line-up on the Metaverse website.