Here are some of the best tabletop sessions from PAX Online x EGX Digital 2020
Queue up some of the best videos you might've missed at the online convention.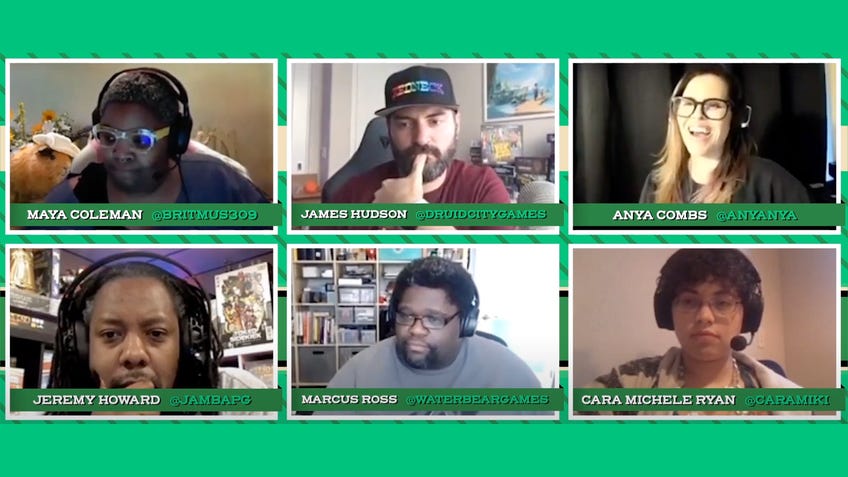 PAX Online x EGX Digital has seen some excellent tabletop gaming panels take place this week, covering everything from living card games and Magic: The Gathering to tabletop RPGs, Dungeons & Dragons and much more. These streams may have come and gone, but it's not too late to catch them if you missed them the first time around or want to relive the magic of the virtual convention. (Which is hosted by ReedPop, Dicebreaker's parent company.)
With so many panels to choose from across the 24-hour, nine-day show, however, you might be a tad overwhelmed with where to start. That's why we've collected some of our favourite panels from the show right here. These are far from the only tabletop-related videos you can watch from PAX Online x EGX Digital - there are plenty more in the full schedule there for you to discover and enjoy - but they're some of the very best.
Learn how to get your kids into tabletop RPGs, find out the connection between Magic: The Gathering and JRPGs and more besides, with these tabletop panel highlights from PAX Online x EGX Digital.
What can Magic: The Gathering and JPRGs learn from each other?
Featuring the creative team behind With a Terrible Fate - an online publication about storytelling in video games - this panel seeks to answer the age-old question, 'What can Magic: The Gathering and JRPGs learn from one another?' Two seemingly very different types of media are pushed and shoved together in this rather unconventional panel about worldbuilding and narrative exploration. Will we get the answer we need? Find out by giving the surprising little panel a watch.
The History of Japanese Board Games
Long have Europe and the US reigned supreme in the halls of board game discussion, so it's about time we had a conversation about Japanese tabletop design. This panel is dedicated to highlighting some beloved classics - particularly the abstract kind - and shedding light on some more modern examples of Japanese board games, such as Machi Koro and Love Letter. There's even discussion of where to play these games remotely, so you and your friends can start experiencing them straight away.
Diversity is Not a Gimmick - Prioritising Inclusion in Tabletop
Starring the folks at Skybound Tabletop - the studio behind titles such as party game Superfight and The Grimm Masquerade - this panel focuses on the importance of working towards a more diverse tabletop industry. Expect discussions on why diversity is important, the obstacles currently preventing a more diverse collection of creators from making games and what we can do to change that. Don't miss this incredibly important conversation that's long overdue.
Engaging Children in Tabletop Roleplaying
Do you have children? Wish those children were more interested in tabletop roleplaying games? Well, this is certainly the panel that you've been waiting for. Featuring a team of professionals from both the tabletop RPG industry and the world of education, this panel will provide advice on how to introduce TRPGs to your kids. From selecting the right game to ensuring that players can interact on a meaningful and sensitive level, these panellists are sure to provide the knowledge you need to get your youngsters started.
Let's Play Romeo and/or Juliet LIVE!
The Dicebreaker team are back on our classic adventure book nonsense once again, this time exploring the world of Shakespearean romance - sort of. Romeo and/or Juliet is a hilarious chooseable-path adventure book starring two of literature's most famous lovebirds: this time they might not actually die, maybe. Watch as we perform terrible accents, ponder the exact size of a rooster's testicles, have a delicious breakfast and fumble our way through various shenanigans in the fair city of Verona. Do not part in such sweet sorrow with us, enjoy the chaos of our Let's Play filmed especially for PAX Online x EGX Digital.
Cyberpunk Red RPG playthrough with guest GM Cody Pondsmith
Cast your minds back to last year - it's very difficult, I know - when our very own Alex Lolies, Johnny Chiodini, Michael Whelan and Matt Jarvis visited PAX Unplugged to film a very special playthrough of Cyberpunk Red, the newest edition of the beloved roleplaying game. Joined by co-designer Cody Pondsmith, the adventure was suitably wild and ended with the team continuing their irresponsible ways in the streets of Night City. People have long requested a sequel to this playthrough and so the team returns - now featuring yours truly, sans a Lolies - to enact yet more chaos. Once again GM'd by Cody Pondsmith, this playthrough of Cyberpunk Red is perhaps the most out-of-control piece of roleplaying we've ever done - if that doesn't tempt you to give it a watch, I don't know what will.