Create a marine paradise in fish-placement board game Aqua Garden
A whale (shark) of a good time.
Aqua Garden puts you in the role of an aquarium manager striving to create the most successful establishment in town by buying and placing fish with the help of your sole employee.
Designed by Totsuca Chuo and published by Uchibacoya, Aqua Garden is a game for one to four players who must manage advertising, optimal fish placement and more if they want to wrangle the top tank award from the other aquariums in town. Players collect fish, sharks, turtles, coral and other aquatic life from a community board and place them in their own collection of six viewing tanks. Advertisements draw in revenue, which will eventually allow the purchase of larger creatures and more elaborate displays, while events and special collection milestones allow for a variety of strategies.
??????????????????

???????????????????? https://t.co/cQeJ8dfC4M pic.twitter.com/vFf5I6BHuR

— uchibacoya piece (@uchibacoya) October 28, 2020
But only employing one worker stymies players' ability to grab fish willy-nilly. These creatures can only be placed in tanks close to your employee, who moves around the establishment throughout the game. Marine life has pretty strict living accommodations - smaller fish do not want to share water with a shark, and turtles demand seaweed - so the impact of each decision must be considered carefully.
The fish are represented by frankly adorable wooden pieces (seriously, look at that happy whale shark), and the turn-based rondel game board seems to promote a relaxing, thoughtful playstyle that matches the feeling of walking through an aquarium.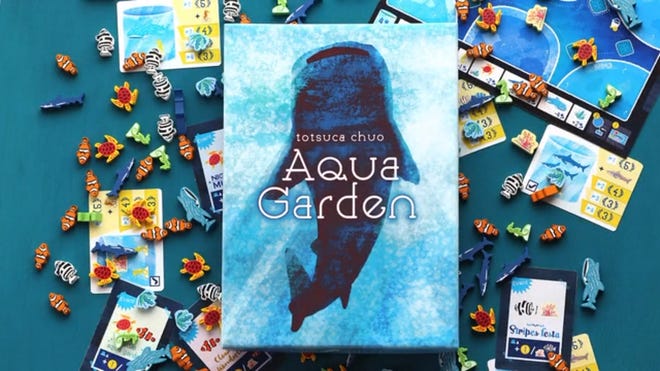 Aqua Garden is the second game from Totsuca Chuo. Their first, The Arctic, has been added as a stretch goal reward available at certain tiers.
The Kickstarter campaign for Aqua Garden, which reached its funding goal in less than 30 minutes, is live until December 13th. A pledge of ¥4,770 ($46/£35) will get backers a physical copy of the game planning to ship in July of next year.