Boyfriend Dungeon's official tabletop RPG makes sexy weapon smooching a group activity
Always wear protection, such as a fencing glove.
Do you yearn for more time with the anthropomorphic Rapier that lives down the street and you see in the coffee shop sometime? Eager to once again catch the elevator with the claymore that works two floors above you? Ready to bring this very specific thirst to RPG night and wrangle all your friends into smooching anthropomorphised weapons? Boy, are you in luck.
Boyfriend Dungeon TTRPG: Life On the Edge has been developed to suit exactly this purpose, extending the world and narrative conceit of Kitfox Games' hit 2021 action-RPG/dating video game to the tabletop. The studio has partnered with designer Maso Perez to create a digital tabletop game where players can portray weapons or wielders, tackling dungeons and the dating scene as a group.
Up to four players - plus a Master of Ceremonies facilitator - can jump into Life on the Edge and its system of two six-sided dice that will feel very familiar to anyone who has played a Powered by the Apocalypse-minded tabletop RPG. The Steam listing for the pen n' paper adaptation says it will be "in the vein of (but distinct from)" the Boyfriend Dungeon video game, which focused on a single character dating (and swinging) one of several weapons that have very attractive and very kissable human personas.
Releasing in December, Life on the Edge will consist of a 50-page core rulebook, a character sheet for each of the six broad weapon templates and a 5-page quickstart adventure that serves to introduce groups to the system and world of Boyfriend Dungeon as a tabletop RPG. All of these resources can be downloaded as print-ready resources from its Steam page - ignore the warning about needing the Boyfriend Dungeon video game in order to play, as that's just a Steam protection for all DLC.
Weapons will determine both forms of their appearance during character creation, striking a balance between the shape and material of their violent side and the fashion sense and physical appearance of their human persona. They will also pick two Edges, which are mechanical boons to aid them in combat, and a Flaw that reflects their personal weaknesses as both a weapon and person.
Roleplay will hinge on the bonds between player characters and their individual struggles - some of these can be very intimate and close to their heart (e.g. family trauma, self-confidence) or something they externally strive to achieve or overcome. Regardless, it will hold them back from love and expressing their true selves and the characters' bonds deepen over the course of play.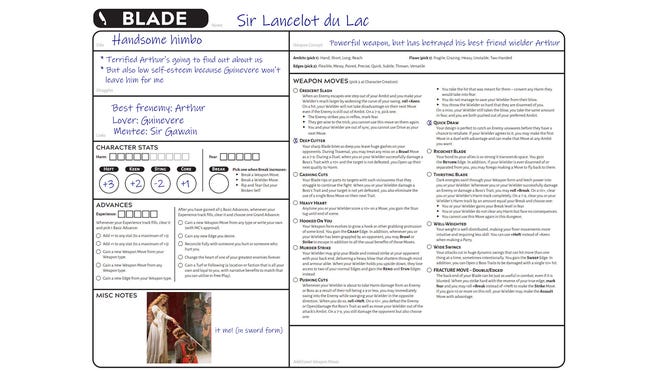 That's right - don't forget that romance is a pivotal part of Boyfriend Dungeon, and the same is true for its tabletop counterpart. While many of the weapon moves focus on combat encounters and emerging successful from toe-to-toe face offs with your mortal foes, players may choose to spend as much time conversing with other weapons and bearing their cores to each other in vulnerable scenes. The preview pages on offer don't convey what those tools will look like, exactly, but it wouldn't be a Boyfriend Dungeon game without the chance to actually date some boys (gender neutral, as the weapons come in all sorts of expressions and orientations).
Kitfox Games will be hosting a play session of Boyfriend Dungeon TTRPG: Life On the Edge on November 23rd at 1 pm Eastern via their Twitch channel, so that'll be a great time to catch a better look at the translation coming later in December. More information, including eventual links to download the digital files, can be found on the game's Steam page.
If the thought of dating in a tabletop RPG has you a little leery, that's understandable! While structured roleplay can be a great avenue for exploring romance as a common facet of interpersonal relationships, it should be done with care, consideration and plenty of built-in tools provided by the RPG's designer. Kitfox hasn't mentioned anything about these in the preview page, and Dicebreaker has reached out for more information.