Joan of Arc designer is working on an open-world cyberpunk board game about solving murders
But early details about Cyber Odyssey's setting raise questions of cultural sensitivity.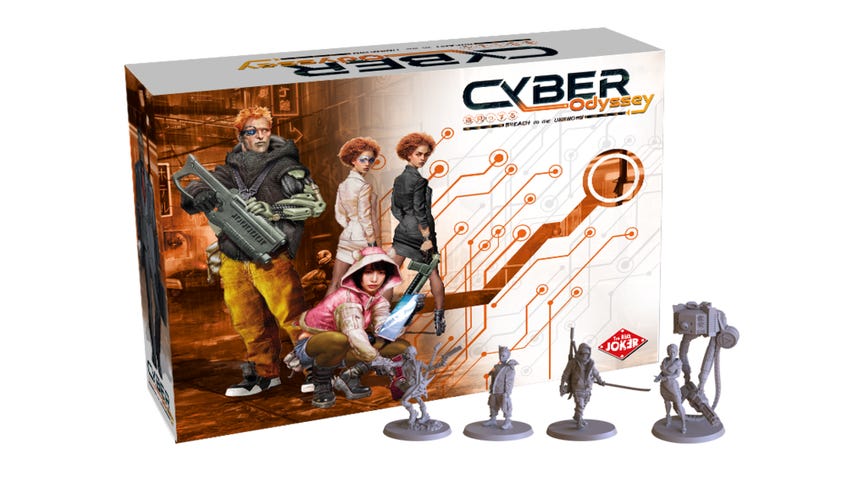 French publisher Red Joker Games and Time of Legends: Joan of Arc designer Pascal Bernard have teamed to create Cyber Odyssey, a cooperative board game about unravelling a murder spree before the ramifications destroy the tech-laden city of New Eden.
Cyber Odyssey invites one to four players to take on the role of unlikely heroes in an open world of rampant capitalist waste, technological ubiquity and a corporate stranglehold on nearly every facet of an individual's life. This group travels around the five districts of New Eden in search of clues to a rash of murders that has everyone from service workers to CEOs doubting their own safety. Clues gathered along the way will help solve investigation cards and advance their progress towards identifying the criminal.
Work isn't the only reason to wake up in the morning, though. On players' turns, they can position their heroes on the board to take part in illegal street races, purchase new and stylish equipment, visit bars and shows with their network of friends, or simply recuperate from the eventual damage inflicted on those who resist the world order. Organisations will help the characters accomplish what's necessary, and players can choose to throw their lot in with the government, mafiosa types, one of the countless corporations or more radical elements. All have the capital to invest in players' interest as long as they return the favour.
Cyber Odyssey represents New Eden across five game boards but also allows for more intimate, small-scale encounters. When two characters meet on the board, they can elect to fight or deal on a personal level. This zooms the camera into a single room or alley and opens up specific abilities - whether a gun or a slick word solves the problem is up to each player.
Batman: Gotham City Chronicles and Mythic Battles: Pantheon miniatures artist Arnaud Boudoiron has been tapped to design dozens of 1.4-inch pieces for Cyber Odyssey to represent the many heroes, antagonists and unassuming denizens of a city eating itself from within. Other artwork depicts tokens representing individuals as either henchmen wielding bats, cloaked and hooded hackers, heavily armed UNAE Robotic forces or overtly sexualized Cybernetic Club Dancers. It's worth noting that the club dancers are the only non-hero women represented in the current teaser material.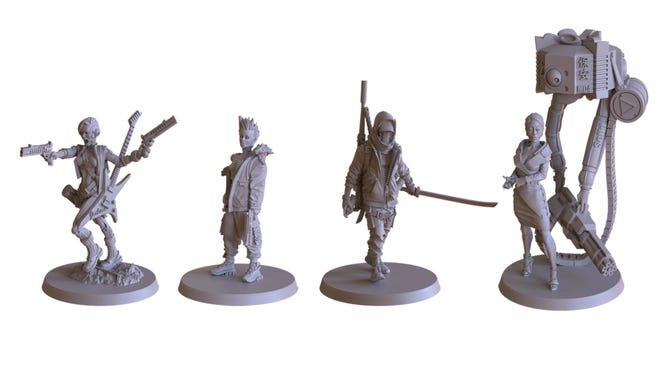 The worldbuilding behind the narrative in Cyber Odyssey strikes a peculiar tone. In describing the events that led to the murders now destabilising New Eden, the designers say "an event called the Breach has shaken the Western Network: the infiltration of Eastern agents". The Western Network is described as a combinatory force of the American and European matrices - whether this refers to physical resource lines or something more digital is unclear - with New Eden at its core. The Eastern Network would then likely be composed of countries such as Japan, China and eastern Russia.
Cyberpunk has long relied on an element of Yellow Peril undergirding its foundational worldbuilding. Pan-Asian influence run rampant wouldn't end capitalism but instead squeeze the Western values from it and render it culturally alien to those still living under its thumb. Cyber Odyssey's artwork already shows neon signs in the Chinese or Japanese alphabet. Some characters are portrayed in broadly Asian-style dress and tattoos while wielding glowing katanas.
We won't know for sure how Red Joker Games and Bernard approach these tropes until Cyber Odyssey launches its Kickstarter campaign in mid to late March, but vilifying Eastern influence while indulging in its cultural affectation is a damaging artefact of cyberpunk best left in the past.