This smart wargaming table wants to do all the complex thinking for you
Computer: engage Waagh! protocol.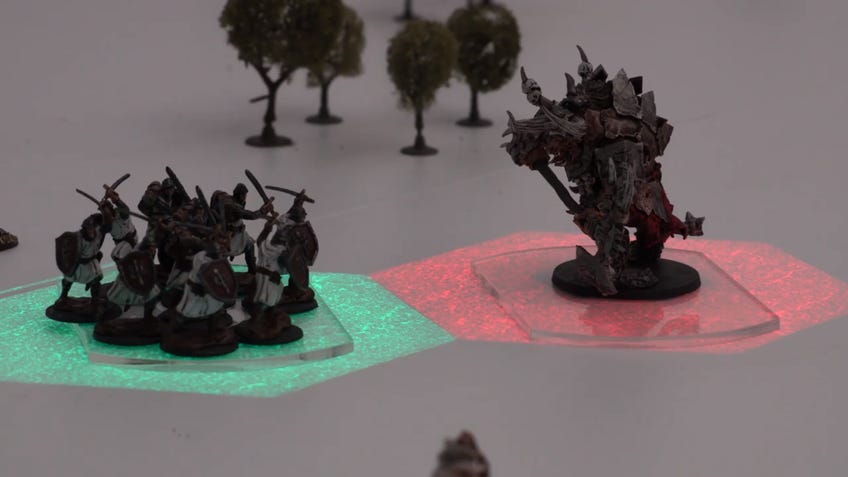 UK-based Valkyrx Gaming is developing a smart wargaming table that removes as much of the crunch and calculation as possible while providing access to lights, sounds and digital terrain to enhance battles.
The Intelligent Wargames Table is a hexagonal 33-square-foot surface equipped with a computer, speakers and a digital layer beneath the surface used to convey information during battles. It can track individual units or entire squads as they move, and players can store battle stats so that when adversaries meet, the table will automatically crunch the relevant maths. It uses coloured hexes and flashing patterns to communicate info back to players; a video showcase on Valkyrx's website highlights winners, losers, status effects, stealthed units and spell ranges on the table during play.
The company says tables can be linked together in blocks up to 500-square-feet to coordinate massive battles and multiplayer skirmishing. Touchscreens synced to the table provide more detailed information about each player's army and unit and can be used to preload game modes and army statistics before battle begins.
Valkyrx has tapped a team of designers and artists to develop its own in-house miniatures game system with the smart table in mind. Days of the Valkyrx is a high fantasy setting detailing a pitched war between the Forces of Light and the Forces of Darkness, along with their associated factions - the company says the table can be used for any genre of wargaming, from historic scenarios to far-flung science-fiction worlds. Valkyrx will be producing miniatures for use in Days of the Valkyrx or other games, but it advertises a reader set in each figure that will track relevant battle information when used on its proprietary smart table. It's not clear if this same feature could be used for systems such as >Warhammer: 40,000 or Age of Sigmar.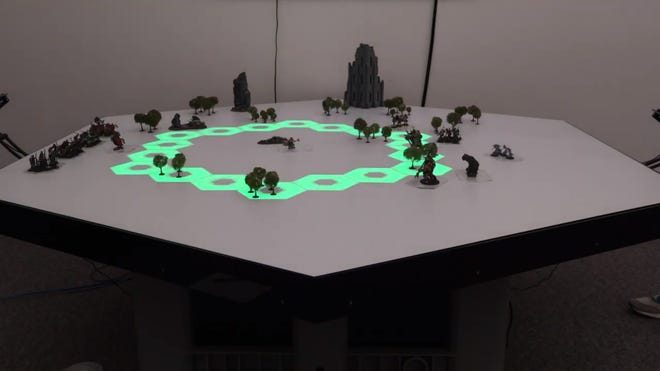 Interested players can see the Intelligent Wargames Tables in action when Valkyrx opens its first game centre in Edgbaston, Birmingham in March of next year. The large warehouse-style store will house dozens of size configurations available to rent. Pricing information is not available at this time.