Weird West RPG Deadlands wrangles three adventures into a new hardcover book
Get a dog, little longy.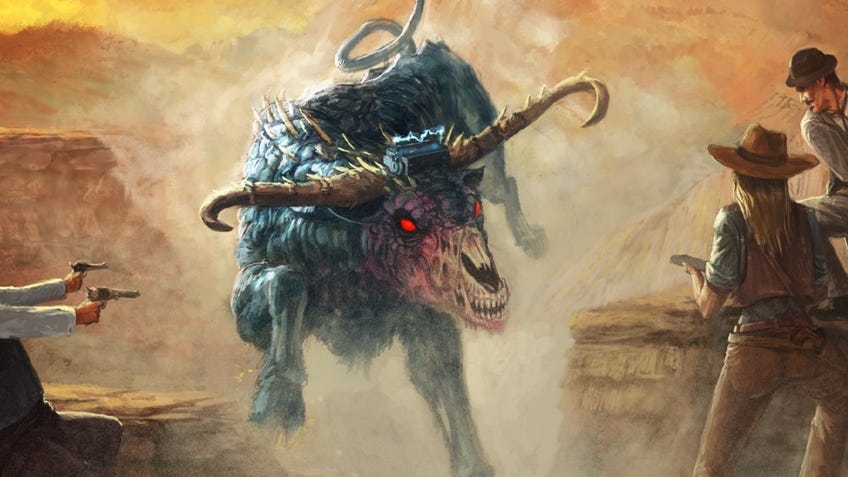 Deadlands creator Shane Lacy Hensly has Kickstarted a new bovine-focused campaign for the Weird West RPG called Blood Drive.
The hardcover book combines three previously published PDF adventures from John Goff - Bad Times on the Goodnight, High Plains Drovers and Range War - and adds new maps, artwork and other materials that provide everything a Deadlands group will need to run them.
The Kickstarter page describes Blood Drive as "a good old-fashioned cattle drive from Hell" that starts in Texas Hill Country, where players will acquire the herd. They will move through New Mexico, Colorado and Wyoming, facing haunting scenes and horrific encounters as they attempt to secure payday on the other end of the trail. Would-be cowpokes should prepare for ghosts, infernal machines, monstrous infestations and - worst of all - other humans looking to rustle their critters.
Blood Drive will include character archetypes, pawns and double-sided maps to allow new or long-returning players the choice to jump directly into a game and learn about the world through play. There's also information on working Blood Drive's adventure hooks into existing campaigns.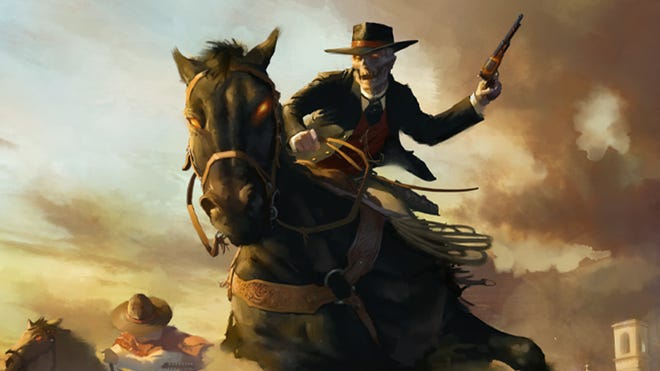 Hensly created Deadlands in 1996, with Pinnacle Entertainment Group publishing the western and horror mashup setting. A decade later, it published a second edition called Deadlands: Reloaded that reworked the game to use the Savage Worlds engine. Deadlands updated again in May of this year, releasing The Weird West edition of the game to further update the system and the in-universe timeline to prepare for new adventure supplements. Johnny is particularly fond of Deadlands and found The Weird West a welcome revision to the franchise.
The Kickstarter campaign for Blood Drive runs until December 14th. Backers can rope a PDF or hardcover print for $25 (£19), with shipping expected to begin in May of next year.