The next D&D 5E sourcebook is for the astrology girlies
Will you be rising for this one?
The next sourcebook for Dungeons & Dragons 5E features a lot of content designed for fans of astrology.
The Deck of Many Things set features a physical version of the D&D item, as well as a guidebook and a new sourcebook called The Book of Many Things. An iconic item in the history of the tabletop roleplaying game, the Deck of Many Things is a set of playing cards that players can draw from both within and outside of the narrative, with each card having its own unique effect. Whilst some effects caused by the deck are positive, plenty of others aren't, leading to the deck gaining a reputation for ruining entire campaigns thanks to the chaos it inflicts.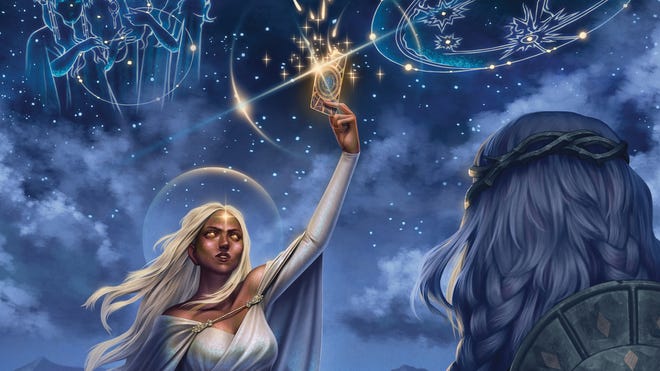 As well as adding 44 new cards to the deck, the Deck of Many Things set will include a collection of new ways to use it, many of which revolve around stars. The sourcebook features a brand-new adventure surrounding the origins of the deck for players to embark upon, with the story proposing that each of the cards were once stars that fell from the heavens. Some of the events of the adventure take place in a realm focused on stars and featuring characters inspired by constellations, such as the appropriately named Asteria.
Alongside this, players will be able to use the Deck of Many Things to tell their characters' future. Certain people within the world of the fantasy TRPG have the ability to see coming events, with players able to visit these people and have their fortunes told by the DM drawing cards from the deck, which serves as a set of tarot cards in this situation. Using the guidebook, the DM will be able to read the character's future through the cards and potentially provide them with some guidance on what to do next.
The first episode of Dicebreaker's own D&D actual play series, Storybreakers.
Another aspect of astrology featured in the next set for Dungeons & Dragons is the inclusion of a collection of in-universe star signs. When creating their character or playing with The Book of Many Things, players will be able to choose a star sign for them. Whilst this doesn't affect character stats or abilities, it does serve to provide some additional backstory. Furthermore, players will also be able to determine what their star sign would be in the world of D&D with the book.
The Deck of Many Things set will be released on November 14th at a price of $99 (£79).