Dungeons & Dragons creator says Planescape sourcebooks contain no AI-produced art
Wizards of the Coast isn't repeating the mistake of Bigby Presents, but we still don't know what its internal policy says.
Dungeons & Dragons' new trio of Planescape books will contain no artwork created by AI algorithms or popular machine-learning models, according to a representative from Wizards of the Coast.
The popular tabletop RPG is returning to the multiversal world of Planescape and its keystone city, Sigil, in a setting sourcebook, official adventure and new monster manual, none of which will contain illustration, artwork or design produced by algorithmic AI software such as Midjourney, DALL-E or Stable Diffusion.
During a press event for Planescape: Adventures in the Multiverse, lead designers Wes Schneider and Justice Arman discussed the setting and adventure that players will explore later this year, and plenty of artwork depicting the weird planar bridgeworld was shown to press in attendance - grand landscapes and architecture filling the torus-shaped city, a cosmopolitan mixture of demons, devils, githyanki and Modrons, and the more fantastical outlands.
"All the artwork in Planescape is made by humans and Wizards' no-AI policy was in place for this product," the representative said.
When reached directly for comment, Wizards of the Coast pointed towards a statement posted to the D&D Beyond Twitter account in the wake of criticism towards AI art used in the Bigby Presents: Glory of Giants sourcebook released earlier this year.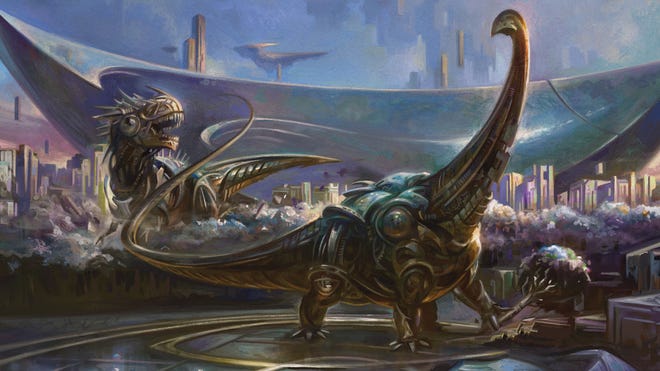 Glory of Giants came under fire from fans after one of its artists revealed that they had used AI tools to "enhance" original illustrations created for the sourcebook. Wizards claimed that it was not aware of the use of AI tools before the artist's disclosure, returning the upcoming book to its editors to "rework" the illustrations and remove the presence of AI-assisted elements.
"While we weren't aware of the artist's choice to use AI in the creation process for these commissioned pieces, we have discussed with him, and he will not use AI for Wizards' work moving forward," Wizards said at the time. "We are revising our process and updating our artist guidelines to make clear the that artists must refrain from using AI art generation as part of their art creation process for developing D&D art."
Those revised guidelines are yet to be made public, with Wizards making no further statements on the proposed changes beyond those expressed in its original tweet.