D&D-inspired comic series Skullkickers gets 10th anniversary book and RPG campaign
Co-created by Avengers and Rick & Morty vs Dungeons & Dragons writer Jim Zub.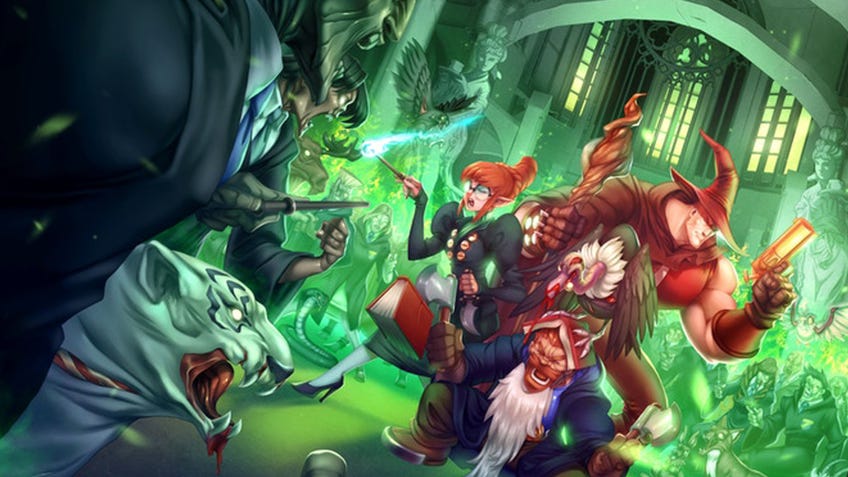 Join a magical school and become part of the Skullkickers world in a hardcover book celebrating the 10th anniversary of the Dungeons & Dragons-inspired comic series.
Caster Bastards and the Great Grotesque is a graphic novel and 5E campaign set in the world of Skullkickers that finds the series' characters going back to school - in this case, a magic school. The Academy of Serious Sorcery and Holistic Occult Learning is an institution filled with magical secrets and creatures that the series' two mercenary heroes - Rolf Copperhead and Rex Maraud - and the players will have to survive and conquer.
The tabletop roleplaying adventure included alongside the comic story contains an entire narrative for players to experience for themselves, as well as a selection of unique spells to cast and magical items to collect. Throughout the adventure, players will explore a nine-storey tower populated with various monsters to battle and traps to outsmart - all inspired by the world and characters of Skullkickers.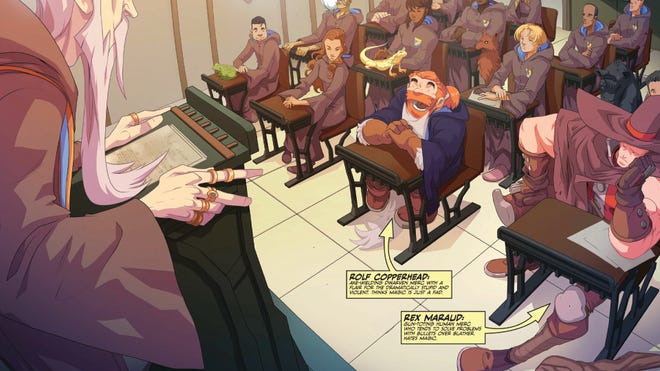 One major mechanic included in the Caster Bastards and the Great Grotesque adventure is chaotic spells, which twist the effects of any magic cast by players or NPCs. Whenever a spell is cast the GM must roll a d12 - if the result is equal to or lower than the spell's level then a random side effect occurs. Instead of announcing the effect, the GM is required to let it run its course until it makes itself known to the players.
Skullkickers is a comic book series that parodies the world of Dungeons & Dragons and fantasy tropes in general. Following the adventures of Rolf and Rex as they slaughter their way through hordes of monsters for coin, the Skullkickers series ran between 2010 and 2015 after being picked up by Image Comics publishing.
The Skullkickers series of comics was created by Jim Zub, Chris Stevens, Edwin Huang, Misty Coats and Marshall Dillon. Caster Bastards and the Great Grotesque was made by the same creative team behind the original Skullkickers, alongside game designers Mike Olson, E.R.F. Jordan and Clint Cronk - as well as several other writers yet to be announced.
Since creating Skullkickers, Zub has worked on comics including Marvel's Avengers, as well as several other tabletop-related comic series - such as Munchkin, based on the party board game, and D&D spin-off Legends of Baldur's Gate - and unconventional crossover Dungeons & Dragons vs. Rick and Morty.
The Kickstarter campaign for Skullkickers: Caster Bastards and the Great Grotesque is live until October 3rd. A pledge of CA$14 (£9) gets a copy of the digital version, with the physical version requiring a pledge of CA$40 (£24).