Buckle up for a Fast & Furious board game with the upcoming Highway Heist
Dominoes Toretto.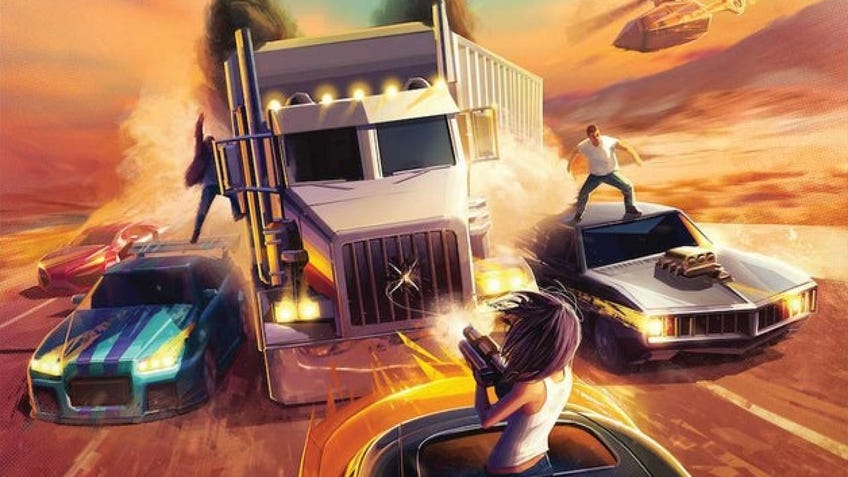 A tabletop adaptation of the massively popular action movie series Fast & Furious has been announced as part of a spree of new releases by Funko Games coming in May.
Fast & Furious: Highway Heist allows players to take on the role of Dom, Roman, Letty and presumably other members of The Family in a cooperative board game for two to four players that runs approximately 50 minutes per session. According to ComicBook.com, Highway Heist provides three different scenarios - Semi Heist, Tank Assault, Chopper Takedown - that deploy varying win conditions and use of the character-based skills to clinch high-stakes victory.
It also reported that vehicles will boast their own stat blocks that will augment and perhaps even enhance character stats when they get behind the wheel. Different combinations unlock new abilities, incentivising specific choices and taking advantage of an open seat. During each game, players can expect to be moving in and out of their vehicles, much like the action set pieces from the film franchise. Swinging over breakneck paths climbing a mountain? Why not hot-swap the Charger for Skyline?
Not much else has been revealed about the contents of the game, so those wondering if Vin Diesel will have his likeness sculpted in plastic will have to wait until the game is released in May of this year.
Other Funko Games titles announced for 2021 include ESPN Trivia Night, Disney Princess See the Story Game and an Alice in Wonderland expansion for the Funkoverse Strategy Game. The tabletop publisher is a branch of collectibles manufacturer Funko Pop! that publishes or licenses multiple titles, such as the Groundhog Day and Back to the Future board games and its own Funkoverse Strategy Game using the ubiquitous big-headed toys.