Crime caper RPG Fiasco's new boxed second edition is out this week
Lights, camera, chaos.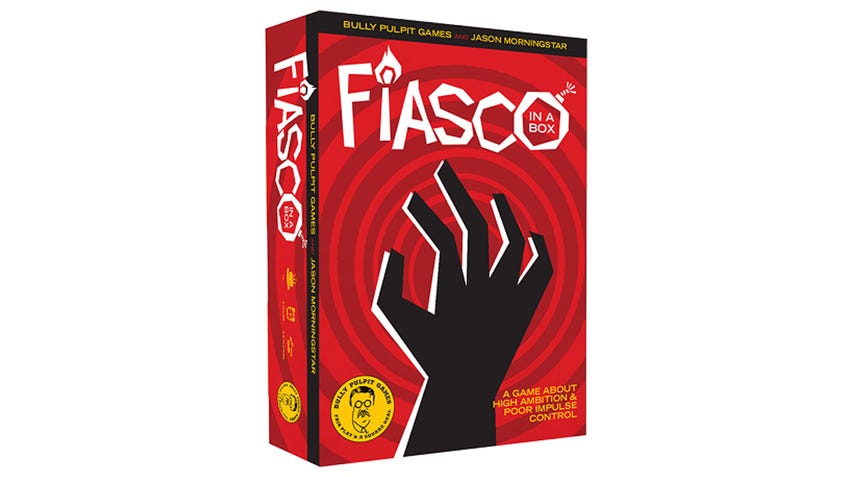 The second edition of movie-inspired RPG Fiasco is coming to retail stores later this week following the game's successful Kickstarter campaign.
The Kickstarter campaign for the new edition of Fiasco raised $230,291 in under a month when it launched last August. The game arrived with backers in December 2019, ahead of its wide release this month.
The latest version of the tabletop roleplaying game replaces the dice and index cards used with Fiasco's first edition rulebook with a deck of cards included in a new all-in-one box set. According to publisher Bully Pulpit, the change is designed to simplify setup and general gameplay, enabling players to create the kind of settings and stories they want with less hassle than the original.
Fiasco is a rules-light RPG in which players collaborate to act out various scenes during two acts, much like actors would in a film. The game is GM-less, meaning that unlike games such as D&D it isn't one person's job to drive and direct the story. Instead, all of the players are encouraged to pool their ideas together and decide how the different elements connect with their characters and the overall story, known as a playset.
The game is inspired by darkly comedic movies, such as the Coen brothers' Fargo and Burn After Reading. As players improvise scenes based on their character motivations and the influences around them, the outcome can either be positive or negative for each of the characters based on the cards drawn and the group's decisions.
The new edition of Fiasco includes three playsets: Dragonslayers, Poppleton Mall and Tales from Suburbia. Within each playset, players decide the relationships between their characters, as well as their needs, important locations and objects based on the cards included in the box.
Fiasco was created by Jason Morningstar, the designer behind games such as Ghost Court - a party game where players are deceased prosecutors and defendants in a spooky courthouse - and RPG Night Witches, where players become a band of female Soviet pilots who must carry out daring missions under cover of night.
As well as Fiasco, Bully Pulpit has been responsible for releasing RPGs such as Star Crossed, the two-player game about unspoken romantic tension by Alex Roberts, and another game by Morningstar called Winterhorn.
Fiasco's new edition is set to be released in selected retail stores on August 12th, with a list of participating stores available on the Bully Pulpit Games website.